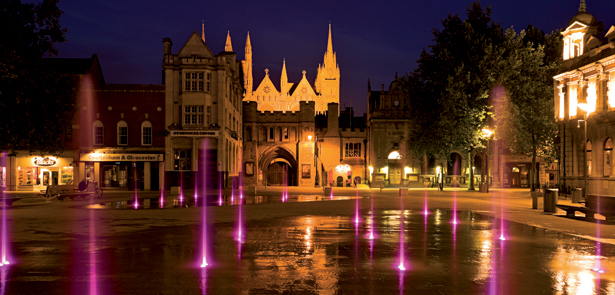 As Peterborough's cathedral is set to celebrate its 900th anniversary, Dr Angus Kennedy OBE, the Chair of Peterborough's economic development company, Opportunity Peterborough, shares his own views on how the city's changed and why the future looks bright for Peterborough.
You've been Chair of Opportunity Peterborough for nearly a year now. How have you found things at the helm?
It's been a really interesting year with a lot of change. We've seen the new Combined Authority Mayor introduced, which offers a great opportunity for us to work more collaboratively across the area to maximise growth. On a larger scale things like Brexit negotiations are causing some uncertainty so it's been tough to navigate sometimes but as an organisation we are remaining alert to the opportunities and challenges facing local companies so we can ensure Peterborough, and its surrounding economic centres, remain attractive places to do business.
I've been on the Board of Opportunity Peterborough (OP) since it was founded in 2005 and it's been a joy to see how the city's blossomed over time; given the economic turbulence since then, Opportunity Peterborough and the city have been unbelievably resilient. It is worth remembering that Opportunity Peterborough started as an Urban Regeneration Company (URC), looking at how to re-invigorate the city and encourage investment into it. Since then it's taken on a much broader remit that's benefitting a far wider geography than Peterborough.
You've obviously seen a great deal of change taking place in Peterborough, and have been very active in facilitating this over the last 12 years. What's your connection with Peterborough?
I was born in Helpston and stayed in the area until I left to go to the University of Nottingham at 18. I went to school at Dogsthorpe, and went to Deacons for my secondary education.
Although I've lived in other places, the familial and childhood ties always bring me back to Peterborough. Plus I'm a POSH supporter! The start of my time working in Peterborough was when Opportunity Peterborough was set up as the URC. It coincided exactly with the time that my job in Birmingham at the Castle Vale Housing Action Trust (HAT) finished. The HAT was a Government backed regeneration programme turning round the fortunes of a very deprived area of the city which I ran for 12 years. At that point I'd decided to set up my own business up and do some non-executive work, which at Opportunity Peterborough is unpaid.
I decided that I wanted to give something back to the place where I grew up so being on the Board of Opportunity Peterborough, which then led to the opportunity to Chair Cross Keys Homes from 2008 to 2017 too, has meant a lot to me. I want to see positive changes and both of these organisations are doing just that.
Having known the city for so long, how do you feel Peterborough has changed?
Well the most obvious one is the sheer size of the city. When I was young, Peterborough was home to roughly 70,000 residents and it was still very much a manufacturing town. You had the major industries of Perkins, Baker Perkins, Hotpoint, as well as the agricultural giants like British Sugar; I remember you could smell the sugar beet all over Peterborough in November and December when it was being harvested. These major employers are still very much part of the city's economy which is a testament to the strength of industry here.
Peterborough was also very much a railway town at that stage, it still had big engine sheds and a lot of people employed in the industry.
Having seen it grow, I think it's remained a working city; that part of its character hasn't changed. Peterborough grew tremendously during the industrial revolution, and what we've seen in the last 10-15 years is the city diversifying so it isn't too dependent on one industry or one big employer for its prosperity. It has worked very hard to bring new organisations in and to upskill the workforce to make it an attractive place. You only need to look at some of the cities and towns, particularly in the north, which were one horse, one industry towns, and the struggles that they had over the last 20 years to realise how important that work has been.
So what's given rise to this huge growth in Peterborough? Before Opportunity Peterborough there was the Development Corporation which famously had Roy Kinnear in a centurion outfit talking about 'The Peterborough Effect'. How big a role did that play?
The Development Corporation brought huge investment and success to Peterborough, and we're still benefitting from it today. It was set up in the late 60s and helped bring significant employers to the area like Thomas Cook. One of its most enduring legacies has been the fantastic Parkways that make it so easy to get around by road. There was a huge amount of investment generated from it and I think it was a period of growth that laid the foundations for where the city is today.
Considering that, it's very interesting to look back historically – 150 years ago Stamford was bigger than Peterborough. You can chart Peterborough's growth with the establishments of the railways which, coupled with Peterborough's location, meant it became more of an industrial centre. When I did my dissertation for my University degree, I focused on the changing nature of village life in Helpston, where I grew up. At the time, and even for the early 70s, it was surprising how many people commuted to London, a trend which still exists to this day.
Even with the benefits of a development corporation coming later during the 70s, I think it took Queensgate coming to the city in the 80s to make Peterborough much more of a travel destination. It's odd it took that long given that Peterborough's 30-40 miles from the nearest economic centres like Nottingham, Northampton, Lincoln and Cambridge.
I think the thing about Peterborough I've always felt, is that in a sense it's got a unique location because it's neither north, south, east or west. Although we tend to be classed as East Anglia or East Midlands, you are actually much closer to Leicester and Nottingham than you are to Norwich and Ipswich. It's that place which is in the middle of all, which is both an asset and a disadvantage.
So there have been periods of huge investment but after the Development Corporation ended the city gradually began to lag behind in economic development terms. Ultimately this lead to Opportunity Peterborough being founded to help make the city more of an appealing prospect for investors.
The redevelopment of Cathedral Square which was coordinated by Opportunity Peterborough has definitely brought a new life to the city centre and helped built more of a positive perception of Peterborough. You could say it marked a new era?
Absolutely. I think the change has been truly transformational. It was a very major step to redesign Cathedral Square and demolish the high-rise block behind it to create what I think is a really attractive city centre which itself has then generated and increased business.
A classic example of how people had previously looked at Peterborough was when my company got some consultancy work here in the early 2000s. Two of my colleagues came here and they struggled to find anywhere to eat on a night in the city centre. You had the real attraction of the physical in terms of the Cathedral and the potential of the St John's Square and Cathedral Square, but actually, it was a long way from being an attractive proposition 13 years ago.
Looking at what's going on now, the work on South Bank and Fletton Quays is great to see and it's just a shame it couldn't have started earlier! Obviously we've got to ensure that work continues to drive sustainable, long term investment, which is equally transformative.
Do you think the physical regeneration goes hand in hand with the reputational change of the city?
Peterborough has been great at reinventing itself and that ambition for growth has been supported by political will. Over the last 20 years different Council leaders have said "we are open for business" which is really significant.
The Smart City programme, which is led jointly by Opportunity Peterborough and Peterborough City Council, has also been a key part of this. It's garnered international acclaim and the city is being asked to share its expertise in places like India where they're setting up new Smart Cities, right through to international conferences in Taipei, Amsterdam, Copenhagen and Saudi Arabia. It's a sign that the city is embracing new, and more sustainable, ways of working and the OP team has done a tremendous job.
Despite the economic recession, there is a much broader range of economic activity opportunities in Peterborough than there were in the past. If you think of the different range of jobs that are here now; a thriving creative and digital sector, a booming financial and businesses services sector, and then we still have our longstanding manufacturing and agricultural sectors that are performing very well. It's also worth noting that in spite of the accessibility to London the house prices here are still relatively affordable.
In the time of recession you feel it is places like Peterborough which could survive better because we are not reliant on one business, one big factory or one big type of employer, and doing business here is very cost effective. It's got huge resilience.
Looks like the city's poised for a very positive future then! What do you feel are the challenges and opportunities now facing Peterborough?
Well I must mention the plans for the University of Peterborough! Of course we've got a University presence at the moment but it's a key piece of the puzzle that the city's missing. We are one of the biggest cities without one and I think it would really kick us on to another level, especially if we're going to support an increasingly diverse economy with a huge variety of disciplines and sectors.
To keep pace with growth, we need to be evaluating our infrastructure so we can attract new companies and retain our growing industries. We also need to be very mindful of public sector resources too. They've now been stretched for more than a decade so we must look at alternative resources as much as we can.
Promoting the city in the right way is also going to continue to be a huge challenge. There's massive competition and we need to show the energy the city has, making sure we're shouting about just how key a role it's playing in things like Smart City leadership, and boosting the region's economy. Flipping it round, Opportunity Peterborough must help everybody here understand how they are individually benefitting.
I think one of the strengths of Peterborough is that it is multi-cultural. It has strong, long established Italian and Asian communities and in more recent years we've had significant numbers of people from European countries too. There's been lots of change but there's been peace, unlike some other places. At the end of the day, one of the problems in educational terms is we have a 100 plus languages being spoken in schools, but ultimately, that can become one of the city's strengths – a diverse workforce and population.
As I said earlier, with the new Combined Authority being established, there's more opportunity for greater collaboration across the county and beyond to influence local government, secure investment for larger geographies and bring economic benefits to more than just one specific location.
We've talked about the city, what's on the horizon for Opportunity Peterborough?
The saying that I use is that we need to remain "fleet of foot". Organisations that can remain agile and flexible are the ones that will survive and prosper. If you look at the other URCs that were set up like Opportunity Peterborough in the early 2000s, virtually none of the others exist. To me, that's a sign that Opportunity Peterborough has been able to respond, react and deliver whatever the agenda is of the City Council and other clients. It's in a good position to move things forward positively as we move into next year and beyond.
With 2018 being the Peterborough 900 celebrations too it's a brilliant opportunity for everyone to show just how much the city has to be proud of and instill the confidence people should rightly feel in a city that's maintaining an enviable trajectory of growth.
Leave a Reply