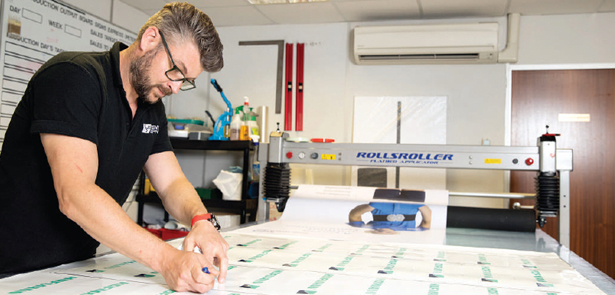 Looking to refresh your company's image? It needn't cost as much as you might think. Signs Express director Michael Tame explains how easy and cost-effective it can be to reflect your brand and leave an impression through well-placed signage, vehicle wraps and office graphics
Signs Express Peterborough supplies and installs every conceivable type of signage. For businesses this includes essentials such as health and safety signs, office wayfinding solutions, banners and vehicle wraps to make your car, van or fleet stand out from the crowd. But if you're looking to make a decisive impact on your company's image, without the accompanying outlay, it's Signs Express' office and reception remodeling service that really comes into its own. Through the use of modern vinyl, frosting and acrylic materials any business can achieve a fresh, contemporary look – without the hefty price tag! Director Michael Tame explains: 'The world of architectural vinyl has moved on considerably over the past 10 years, particularly the last four or five. The great thing about modern vinyl is that it can be engineered to give all sorts of effects: wood, marble, brass, glass, chrome – you name it. At the top end this can look very convincing indeed, with the wood effect, for example, even having a grain to it.'
FRESHER IMAGE
Office refurbishments using vinyl are already popular in America and Japan but are only beginning to catch on here. Vinyl's incredibly flexibility means it is possible to give office or reception spacesamakeover with minimal disruption. Michael gives the example of tiredlooking doors: 'Instead of changing all the doors, you can simply take them off their hinges, re-cover them in say a wood-effect vinyl finish and then rehang. It's quicker than replacing with brand new doors and for a relatively modest price you've got a complete refurb look.' One of the biggest opportunities within an office environment is the walls. 'There's lots of white space there but more often than not it isn't used because people don't realise you can design just about anything to put up onto it. For instance, you could print your company's letters or logo onto vinyl, which can then be cut out and stuck onto the wall, along with a suitable image or whatever. So for relatively small amounts you can put the wall space in your business to use.'
Michael offers further examples of the ways in which wall spaces can be transformed, with inspiring images, phrases or company timelines all proving eye-catching ways to liven up tired or dull walls, all while building your brand and sense of professionalism. 'Or you could display your company's internal communications message within staff areas, to reinforce your corporate identity or drive home key messages. It's all about making the most of all that wall space.' There's a type of vinyl suitable for every surface, and some types can be peeled off without fuss to refresh the look from time to time. Vinyl's flexibility means that anything can be printed onto it and because it can be cut to any size the only limit really is your imagination!
MAPS FOR EVERYONE
Another specialism is Braille and tactile signage, an area that was further developed after Signs Express was approached by the Peterboroughbased RNIB to manufacture its Map for All products. 'Map for All is trademarked and registered by the RNIB. They'remaps designed to be read by sight or touch, so both visually impaired and sighted people can figure out where to go,' explains Michael. The maps are primarily used to show the layout of public areas such as bus stations, museums and shopping centres. 'You can find examples of the maps we've made at all of the major train stations along the East Coast Main Line, from London to Edinburgh.' Partnering with the RNIB required significant investment on new machinery but has brought together two of the city's enterprises to create and further develop new products for those with sight loss. It's another local success story destined to improve the lives of people across the country.
IT'S A WRAP
Van and car graphics continue to form a staple to Michael's business. Signs Express offers everything from basic livery to complete vehicle colour changes, using techniques ranging from low-cost lettering transfers to partial or complete vehicle wraps. By carefully considering design it's possible to achieve a significant impact with just a half or three-quarter wrap. The team at Signs Express includes an in-house designer who can help bring your ideas to life using your print-ready logo or high resolution images. 'An element of design time is included in the price and because we can download templates of every major vehicle, including trucks and vans, we know that the design will fit your vehicle without having to go out and measure it.' A full survey and bespoke design service is also offered for other more specialist projects, in collaboration with some of Peterborough's top design agencies. Over the years Signs Express has grown to become one of the oldest and biggest sign makers, all backed with the security, technology and comfort of a national brand. Sign by sign, vehicle by vehicle, office by office they're transforming the way we see our world and helping businesses to look and feel the best they can.
Signs Express (Peterborough)
Unit 12, Saracen Business Park, Newark Road, Peterborough PE1 5WS. 01733 340008, www.signsexpress.co.uk/branch/peterborough
Leave a Reply