Ray and Paul: Bedrooms 2 Go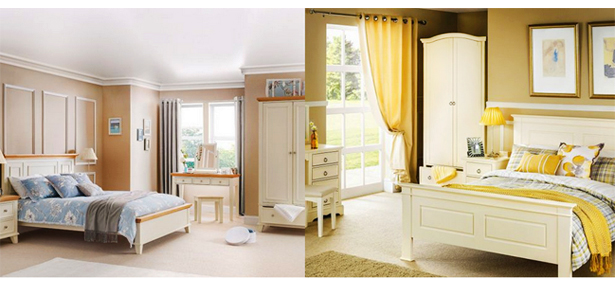 Ray and Paul have been helping people turn houses into homes for over 33 years. Firmly rooted in Peterborough where they have established a loyal customer base, the family business has become synonymous with quality and decent service when it comes to supplying and fitting carpets, flooring, curtains and blinds. We talked to MD Paul Shaw about the new ranges, the prize giveaway and why traditional values still matter
With a brand new showroom just opened, Ray and Paul have expanded their offering to include Bedrooms 2 Go: complete rooms of high quality furniture and accessories that can be delivered free the same day – and to celebrate the fact, they're giving one lucky Moment reader a full £1000 bedroom makeover!
You have a big new showroom just opened on Shrewsbury Avenue. What can customers expect to see there?
Downstairs we have all the carpets and flooring, then a spacious curtain room at the back. Then the whole of the upstairs is bedroom furniture with nine lovely room settings, where you can see the whole bedroom – our new Bedrooms 2 Go ranges. What we've done is focus on good quality bedroom furniture – not the usual flat pack stuff. Design is really important to us, because we're doing complete interiors. That means there's also nice designer bedding, lamps, pictures, plus of course we can do the carpets and curtains to go with it. So people can now get the complete bedroom – and at really keen prices, as well.
And designs by Kylie Minogue and Holly Willoughby!
Yes, our designer bedding brands! The Kylie Minogue designs are really glitzy, lots of diamante. The Holly Willoughby is much more classic, but it's all very designer led – and amazingly good value for money.
So, what exactly is Bedrooms 2 Go?
It's a new service that we've just introduced. What it means is that if it's on display, then it's actually in stock, so you can order it and have it delivered the same day – free of charge. It's specially built and ready to go – no flat packs. And because we also specialise in carpeting and have our own fitters, you can have that too. So, if your bedroom's looking a bit tired, you can come to us in the morning, make your choices from the showroom and by the end of the day can have carpet fitted and the bedroom furniture installed. You can even have curtains made – all in one go.
Does it surprise people that you can deliver the same day?
It surprises people that it's an option, to order in the morning and have it installed in the afternoon. You don't have to have it the same day of course – it's your choice! Many people choose to wait a day or two. We also offer interest-free credit, so it's a bit of a no-brainer, really! We have two finance options. One is straight 12 months interest-free credit, which requires just a 10% deposit. Or, if you'd rather keep the payments very low, we also do a three-year plan which has only a very low rate of interest to pay. We can do whole bedroom furnishing from about £5 a week.
What is it that allows you to keep prices keen?
We're very involved with some major house builders. If people are buying a new home, it's generally our carpet going into them – and our curtains, too. 80% of our business comes from that, and there's been a big uplift in that area – house building is really on the up again. We also do a lot of show homes, so we have a lot of experience of supplying and fitting and can offer good advice on matching up different elements. But that side of the business also allows us to give a good price. We get great savings because we're buying in such large quantities, so we can pass that saving directly on to our retail customers.
Is there a Ray and Paul style?
We try to cater for the widest range of tastes – all different tastes and designs. But, fundamentally, the Ray and Paul way has always been the same – it's about turning a house into a home. We've been passionate about that from day one, and we're still just as passionate. The thing that keeps me going personally, is the loyalty of our existing customers. We're now in our second or third generation of customers, because the family have always used Ray and Paul and wouldn't dream of going anywhere else. That gives us a level of responsibility, to make sure they get the service they expect. But 98% of our business comes from wordof- mouth recommendation, and I believe that's simply because we care; turning houses into homes is a real thing, not just something we say. It's what we believe in.
What do you think it is that keeps those customers coming back and recommending you to others?
We don't apologise for being traditional; service still counts here. I know the way things are with the internet, where you can just click a button then return it if you don't like it, but we would rather make sure we supply people with the right things in the first place. We want them to be happy, and will do everything we can to make sure their buying experience is a good one. Having an expert come to your house with a range of samples, measure up, give you proper advice and a price that includes everything, made up and complete – and carpet to go with it – that's invaluable, really. You can't get that on the internet. We have our own fitters, too. Anyone can sell a carpet, but not everyone can fit it to a high standard. We became aware a couple of years ago of a shortage of carpet and flooring fitters, so we started our own training scheme and trained our own fitters – and now the guys from the original training team are training the new ones! So, we have our own fitters turn up – in uniform, and in a Ray and Paul van – and you know you're going to get it done properly, by experts. That matters a lot.
What new things do you see ahead?
People are buying much better quality carpets now, and some of the fibres are just amazing. There are lovely soft-touch nylons, and colours are coming back in, too. After 33 years in the business it's really exciting for me to see these new fabrics and carpets. People are going back to curtains again, too, rather than blinds, because I think they want a home to feel like a home, not like an office – something with a bit of warmth and colour and texture.
And finally, the big bedroom makeover… To mark the launch of Bedrooms 2 Go you're giving away £1000 of furniture – but what can someone get for that?
You can get a whole room of furniture for that – eight of our nine designs would be within that budget. And they are really outstanding. You can go to any shop and buy furniture, but we want to supply furniture that people are going to love for years to come – so every time they open that wardrobe, it's a positive thought, not that the door's wobbly!
To be in with a chance of winning, simply visit Ray and Paul's Facebook page at www.facebook.com/RayandPaulPeterborough, like and comment – what's YOUR recipe for a perfect night's sleep!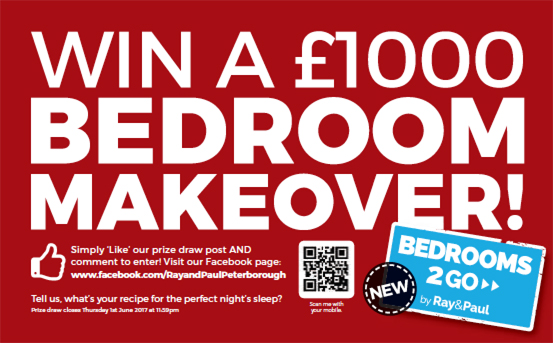 Ray & Paul Interiors Shrewsbury Avenue, Peterborough, PE2 7BX 01733 775533
www.rayandpaul.co.uk
Leave a Reply