Preparing for jobs of the future…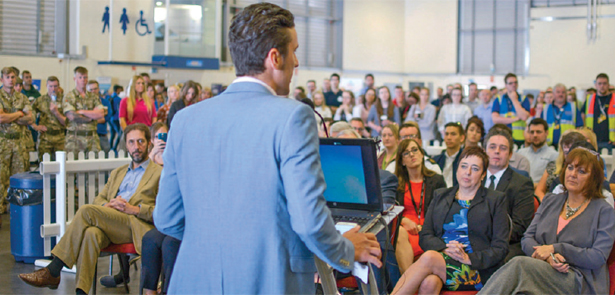 The importance of quality career guidance is greater than ever due to the fast pace of change in technology and, consequently, the labour market. Jobs of the future, and the specific skills that they demand, need to be showcased in order to inform the future workforce and help raise their aspirations. This is where The Skills Service comes in...
Nationally, the Careers & Enterprise Company, an employer-led umbrella organisation set up to inspire and prepare young people for the fast-changing world of work, has adopted eight benchmarks of 'good career guidance', which include:
● Learning from career and labour market information
● Linking curriculum learning to careers
● Encounters with employers and employees
● Encounters with further education and higher education
● Personal guidance. Regionally, the Greater Cambridge Greater Peterborough Enterprise Partnership (LEP) is leading on career guidance through its 'Signpost 2 Skills' initiative, which is delivered in Peterborough and the surrounding areas by The Skills Service.
Part of Opportunity Peterborough's economic development portfolio, The Skills Service is a brokerage that links businesses, schools and training providers, organising activities that help schools meet their requirements for careers information and guidance. These activities range from 'Meet the Professional' talks and mentoring to CV workshops and mock interviews to enterprise challenges and careers fairs. All of these embed the 'good career guidance' benchmarks, helping young people to understand the full range of learning opportunities available to them, both via academic and vocational routes, and encouraging them to learn directly from employers about the world of work and the skills that are valued.
Case studies
The 'Duck Production' enterprise challenge develops key skills in team working, leadership, negotiation and problem-solving. Through a manufacturing simulation, Year 7 and 8 students gain an understanding of key roles within the workplace and are encouraged to demonstrate entrepreneurship. Representatives from local businesses take on the roles of buyers and bankers and always feedback positively about the experience: 'It was great for us as a local business to be able to support The Skills Service and work alongside the students and teachers at the school. We were encouraged to see such a positive and enthusiastic group of young people that will be Peterborough's next generation of business entrepreneurs.'
Lisa Hall, XL Displays
Each year The Skills Service organises a series of mock interviews for all Year 11 students at Arthur Mellows Village College in Peterborough. A wide range of local employers carry out the interviews, giving a valuable taster of the skills needed to be successful in interviews for either employment or further education. 'The opportunity for a young person to be to be given a mock interview, in a safe environment, by a complete stranger with structured feedback must be viewed as an invaluable pre-career activity. I feel confident that the performance of any person having attended one of these events will be enhanced enormously when they attend subsequent real interviews associated with any aspect of future employment or education.'
Chris Holt, Senior Engineering Specialist, Perkins Engines
Some events also support the school curriculum by offering CPD for teachers around how to effectively involve employers in the classroom. Twenty five STEM (Science, Technology, Engineering and Maths) teachers attended a recent event designed to address identified skills gaps in STEM industries by helping teachers to embed employability into their lessons in order to inspire young people about STEM careers. 'I made some fantastic contacts at the meeting with science teachers from our local schools. This is a great way to form sustained relationships with schools, sharing resources and creating new projects that will allow students to put their learning into context and link it to their future opportunities.'
Lisa Taylor, Mundipharma
Contact the Skills Service on 01733 863696 or email to find out more. Like 'TheSkillsService' on Facebook or follow @UK_Skills on Twitter.
Leave a Reply