Peterborough Regional PR & Media Awards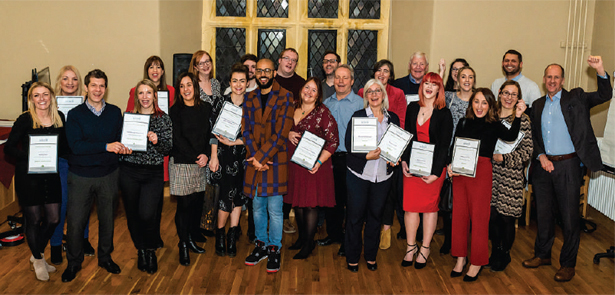 Since 2011, Athene Communications has hosted the Peterborough Regional PR&Media Awards, establishing it as a key date in the diary of local marketeers and PR people!
The awards are not only an opportunity for local individuals and businesses to have their work recognised, but also a chance to celebrate the collective success of the city and the wider region. In December 2019, the Peterborough communications consultancy held their eighth awards evening – with a record number of entries from across a range of companies, big and small. And as the un-named decades (neither the noughties nor the teens!) came to a close, Athene Communications also took the opportunity to take a look back on the highlights of the last ten years in Peterborough.
The winners across the categories were:
Speed&North West Anglia Hospitals Trust for Internal Communications of the Year
Joint Winners Karen Cornish and Susan Broccoli for Communicator of the Year
Toby Venables for Journalist of the Year
Susan Broccoli for Community Contribution of the Year
Longhurst Group for Communications Team of the Year
PECT for Communications Campaign of the Year.
MOMENT OF THE DECADE
In light of the decade theme, the company asked attendees and social media audiences to decide on their 'Moment of the Decade', in and around Peterborough. The poll saw Tim Peake's Space Capsule at Peterborough Cathedral crowned the winner. The exhibition resulted in tens of thousands of people pouring through the doors of the Cathedral, boosting visitor numbers by 600%. The opening of the new Peterborough City Hospital at Bretton and the Olympic Torch coming through the city came in as close runners up. The audience were also asked what they would like to see achieved in the next ten years, with the most popular choice being the development of the embankment into a creative quarter.
This was closely followed by a desire to see more green space in the city centre and those looking forward to the opening of Peterborough University. It will be interesting to see how these aspirations evolve over the coming years, hopefully with future PR Awards celebrating the work behind these initiatives. Richard Astle, Managing Director of Athene Communications, spoke about the awards and the positive place it has in the industry across the region: "Congratulations to all this year's winners! When we started the awards back in 2011, we wanted to create an event that would showcase the talent across the region and the hard work that teams and individuals have been up to that year. We also wanted to showcase all that is good and positive about Peterborough.
"It's great to see the event grow into a prestigious awards night, with entries coming in from all over the region. We hope that it continues to grow and that we can see more of the innovative, insightful work that is being carried out year after year. "We're already looking forward to the awards in December 2020 and seeing what great work everyone gets up to at the start of the next decade."
• If you would like to be added to Athene's mailing list to ensure that you don't miss out on information of this event or the chance to nominate your work, please email
Leave a Reply