Peter Boizot: 'All I ever wanted to do was give back to Peterborough…'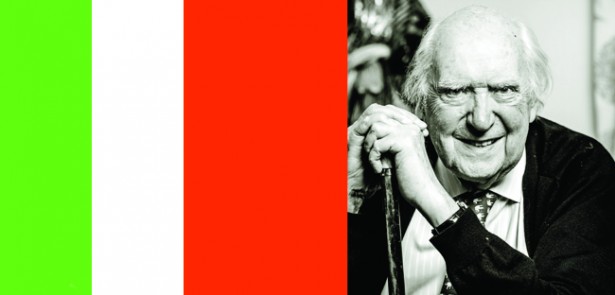 In his long and incredibly varied career, Peter Boizot has been a toy salesman, barrow boy, art collector, deck hand, jazz lover, theatrical entrepreneur, seller of fake antiquities and chairman of Peterborough United FC. Best know as the founder of PizzaExpress, he has also, arguably, poured more of his personal fortune into the cultural life of his home city than any individual before or since – all of which his new book, Mr Pizza and All That Jazz, recounts in marvellous detail. Toby Venables talked to him
YOU'VE DONE A HUGE VARIETY OF THINGS IN YOUR LIFE, BUT UNDOUBTEDLY PIZZA HAS BEEN THE DEFINING INFLUENCE. DO YOU REMAIN CONNECTED WITH PIZZA EXPRESS?
I'm a bit out of touch now. We have 500 branches of PizzaExpress – they're in China, India, all over the place – but I can't undertake to visit them all. They keep paying me a president's fee, even though it's not really mine any more.
'I have had millions. I've had 15-20 million quid in my time. But it's gone now'
YOUR PASSION FOR PIZZA HAS MADE YOU A GREAT DEAL OF MONEY OVER THE YEARS…
I've made a lot of money, but I don't have a lot left! I've donated a lot – to the Cathedral, to King's School – so I've given a lot of it away. I don't know why I did that, particularly – I just felt I wanted to. But yes, I have had millions. I've had 15-20 million quid in my time. But it's gone now.
A GREAT DEAL OF THAT WAS PUT INTO CULTURAL PROJECTS IN PETERBOROUGH, AND DESPITE HAVING BUSINESS VENTURES IN LONDON AND AROUND THE WORLD YOU'VE DONE A HUGE AMOUNT FOR YOUR HOME CITY, AND STILL LIVE HERE – WHY THAT DEDICATION TO THE PLACE?
All I ever wanted to do was give back to Peterborough. I did a lot of the things I love doing in Peterborough: I went to the football, to the theatre and cinema, I was a chorister at King's School… I grew up in All Saints' Road, in Peterborough, and my dear old dad used to meet these Italians who came over working in the brickyards. One Christmas he brought one chap home for Christmas dinner! I've always loved Italy and the Italian people, and that has proved quite significant to my success.
'The family made a pizza specially for me, and that was where it all started. I thought it was the most delicious thing I'd ever eaten – and of course it changed my life'
YOU MENTION CHRISTMAS DINNER – AND FOOD HAS BEEN CENTRAL TO YOUR LIFE – BUT I KNOW YOU'RE ALSO A VEGETARIAN…
I have been since I was five. My dear mother fed me well on things like raw liver, which I didn't like. And one day in the 1930s we went up to Scotland in a little Austin 7 and she said 'When we get to Scotland, you'll be able to eat steak!' But I said 'I don't want to…' I was a bit of an independent child – but also my father had told me tall stories of the monster cows up there. So, really, I became a vegetarian up in Scotland. I've eaten a lot of fish and chips, but I don't even eat that now. I decided to make it no flesh at all. I just don't want to eat flesh. I'm also of the opinion that I could make a bistro that was solely vegetarian. People would say that wouldn't work, but I'd like to get that going. But now I'm 84, and I don't have the money!
SO, THERE YOU ARE, A YOUNG VEGETARIAN WITH A LOVE OF ALL THINGS ITALIAN, AND YOU DISCOVER PIZZA… HOW DID YOU FIRST COME TO ENCOUNTER THAT EXOTIC FOOD, AS IT WAS THEN?
Well, that was to do with the headmaster of King's School. Hornsby was a wonderful headmaster, and he had a lady teacher who wanted a boy to go to an Italian family in Florence, to… [cont]
Leave a Reply