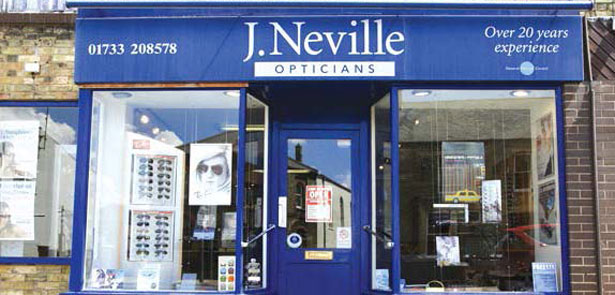 In the early stages of our careers we're all faced with the same task: get on the first rung of the ladder and start climbing. But what happens if you've been steadily making progress for years only to find yourself with nowhere left to climb? For Kelly Randall and Jan Neville there was only one option: they decided to start their own businesses. We talk to the respective owners of Freshwater Bathrooms and J.Neville Opticians about their experiences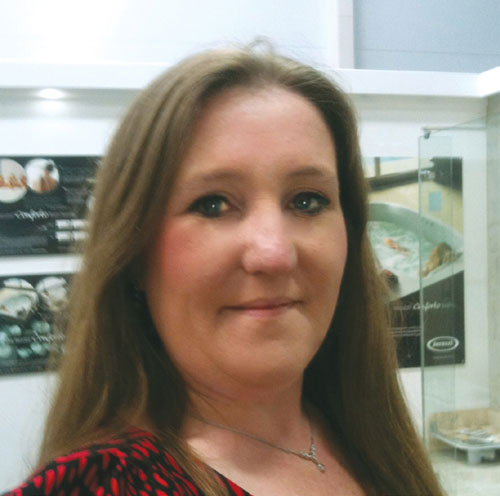 After spending the best part of a decade working for international bathroom and tiling specialists, Porcelenosa, Kelly Randall felt her career had come to a standstill:
I had worked my way up from sales assistant to managing the showroom and had got to the point in my career where I couldn't go any further. To be honest, I was starting to get a bit bored because it was the same thing every day and a lot of stress and pressure essentially for someone else's gain. So I made the decision to go out and do it for myself
In 2011, Kelly took the plunge and established Freshwater Bathrooms in Fengate. While it was time to move on, the nine-year stint at Porcelenosa gave Kelly a thorough grounding in the industry, which she believes was absolutely imperative.
I didn't have a clue about the industry when I started. I've learnt so much about everything from what sort of adhesives you use, to water pressures or different types of toilets. There's no way you could set up your own bathroom company and be successful if you didn't have a high level of prior knowledge. I don't think it matters what industry you're in, if you decide to set something up you need to have a lot of experience in that sector
The venture was completely self- funded and cost £70,000 worth of savings to physically build the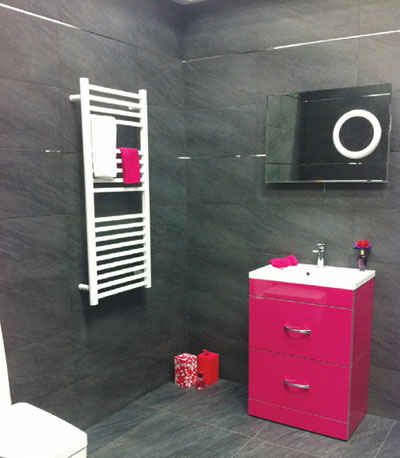 showroom and buy the stock – a figure that makes Kelly shudder to say out loud! Fortunately, she was able to save a mini-fortune on labour thanks to the support of her family who literally helped her build everything. They were also on hand to keep Kelly sane during the first few months when she reveals there were plenty of tears and tantrums:
There are times when you feel like you don't want to do this anymore, that you want to lock the door and never see the place ever again in your entire life! For me, having my family to support me For me, having my family to support me was so important to kind of egg you along a little bit and make sure you don't get divorced, which could quite easily happen!"
Two years later, Kelly still faces a punishing schedule. Running the business single-handedly, she works seven days a week and is juggling many different hats. By her own admission, Freshwater Bathrooms has completely consumed her life.
I'm absolutely shattered all the time and I have no social life! But I knew it was going to be really hard work, and I was under no illusions about the amount of hours I was going to have to put in. And I wouldn't have it any other way. Every morning when I unlock that door, I walk in and think – 'this is all mine. This is nobody else's, it is all mine', and it makes all the sacrifice worth it
At some point, Kelly realises she is going to have to employ someone to help her run the business. But she is also acutely aware of the potential problems of hiring the wrong person, particularly for a small business.
Because this is my baby, I find it very difficult to trust anyone else with it. If I left anybody here for a day, I would spend all day worrying that they weren't treating the customers right, or they'd closed up and gone home early. And then there's the bathroom knowledge, you've got to know what you're talking about. If somebody came in and were faced with someone just sitting behind the desk, you're going to do yourself more harm than good. If you lose your reputation, it's so hard to get it back. So for me it's like trusting somebody with the keys to my house. That's the kind of level, so it is quite hard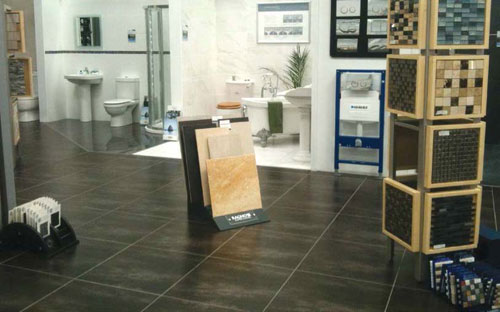 On the other hand, having total control and independence does have its perks. The self-confessed "bathroom geek" reveals that being able to choose new bathroom products gives her the feeling most women would get if they bought a pair of Jimmy Choo shoes! And the buzz she gets from a sale is so much stronger because she knows she is completely responsible for that success.
Ultimately, Freshwater Bathrooms combines Kelly's two passions: bathrooms and people, and she is certain she made the right decision:
There's nothing I like more than a finished bathroom and a smiley customer, I absolutely love it! I'm determined Freshwater Bathrooms will work, and I'm going to do everything I can to make sure that it does. But even if for some reason it didn't in the future, I wouldn't look back with any regrets
Contact Information
Unit 1 Titan Drive
Fengate East
Fengate
Peterborough
PE1 5XG
01733 897679
Leave a Reply