Running The Business – Samantha Hale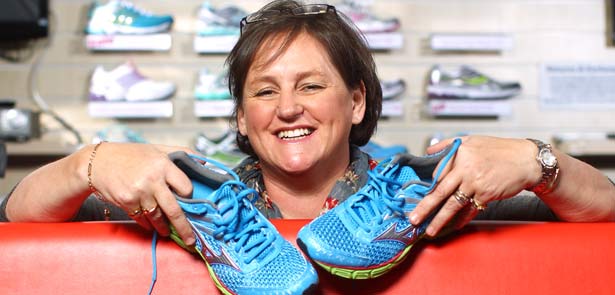 Samantha Hale's first job was grooming horses for an Olympic three-day event rider, and she's since gone on to combine sport and business in groundbreaking ways. Her Advance Performance stores in Peterborough and Cambridge cater to the needs of runners from amateur to professional level, and she's recently gone back to her roots with the launch of a new, equine-based business
TELL ME HOW YOU GOT STARTED IN BUSINESS.
I had a career with horses at a top level when I was a youngster – a long time ago! I worked with Olympic horses and that thrill kind of never left me. I didn't particularly enjoy school. I wasn't very academic, never wanted to go to university or anything – so horses were my life, and I decided I wanted to do that. And I had some great experiences and met some lovely people and that set me up for life, in a way, giving me pride in my work and instilling a hard work ethic. I still look back on that as being a really good time, in spite of the very long days. But you don't make lots of money out of grooming, so real life kicked in and I had to do normal jobs, like working for Marks and Spencers, Boots, John Lewis… Then I set up my own business writing CVs for people, which was great when my son was a youngster.
THAT'S A BIT OF A LEAP, FROM HORSES TO CVS…
I've always been reasonably good with words, and it was just something that I could do from my kitchen table when my son was young. I used to interview people and write their CVs for them, and bind them up nicely and off they went. That's how Advance Performance started too – that started from home, in a back bedroom, and then just went from there.
WHAT WAS IT THAT SUGGESTED ADVANCE PERFORMANCE – A SHOP SPECIFICALLY FOR RUNNERS – AS THE WAY FORWARD?
I just saw a gap in the market, really. Running seemed to be a growing sport, and I could see how we could help them to run safely, and also treat the ordinary man in the street like an elite athlete and give them all the products and services they would need to achieve their own goal, their own potential, whether that be running round the block, or doing the Race for Life or an ultra- marathon. So, over time, we became experts in the technicalities of running shoes, which helps to prevent injuries and things, and heart-rate training, and training properly. We used to go off to running races on a Sunday morning with a pasting table to tell people how good we were, and then one of the larger running shoe companies heard us speaking and thought "Actually, they're talking some sense…" Then, all of a sudden we outgrew the house, and took a bit of a punt on taking a little shop in Peterborough as a kind of destination store, which was instantly successful. Things moved very quickly from there, and now we have the two stores in Peterborough and Cambridge, 16 staff and quite a big turnover.
WAS THERE NOTHING LIKE THIS IN PETERBOROUGH AT THE TIME?
There wasn't anything like it anywhere, really. And people said "No, it'll never work…" But we just knew that it would. And it was difficult, because we grew very quickly, which affects your cashflow, particularly when you don't start with any money. We just started with an idea, and it went and we had to keep up with it! Lots of personal things happened in my life around that time as well, which made it a kind of sink or swim situation for me – but luckily I swam.
BUT YOU'RE NOT A RUNNER YOURSELF?
No, I've never been a runner. But I've always been used to working with elite atheletes, such as the event riders, and had an interest in sports – and competed myself in various sports. But I just became an expert in running. It interested me, and from that I became a businesswoman, so I suppose that became the most important thing for running the business. But also, I then gathered the right people around me, who were the experts in running, to develop and grow what we do.
WHAT DO YOU OFFER THAT'S DIFFERENT?
We try to offer a whole experience, so you don't just come in and choose the colour of the shoes you like or the brand – you come in because you know you're going to be served by people who know all the quirks of the different shoes, the biomechanics of the body… It doesn't matter if you're just walking around the block or running marathons; we're still looking at how your feet move and how that then affects your knees and your hips. Then we put you in the right shoes. We're only interested in what is right for each individual customer, whether that's the right running top or the right socks or whatever. My staff are also trained to do add-on things, so if you're running the London Marathon, first of all we'll put you in the right shoes. But if you then go out and train too hard or get an injury, we've then got a sports therapist, so we can deal with that, and we can make sure you get the right nutrition because we've got a nutritionist in store. We have experts in all areas to treat anybody like an athlete.
IS RUNNING SOMETHING YOU COULD SEE WOULD GROW IN PETERBOROUGH?
There were things like the Great North Run and the London Marathon that were becoming bigger. And also I just realised that it was pretty easy to just go out of the door and run. It didn't involve gym memberships and things, so it seemed quite sustainable. And it just took off immediately.
I've never compromised on service or advice or working with the right people. We've never gone down the discount route. It has to be absolutely right. Everything we say to a customer, I have to be able to be able to go home and sleep at night knowing we've done a proper job for them. It's that kind of ethos that has kept us above the game when all our competitors are out there discounting and going down the cheaper route.
Leave a Reply