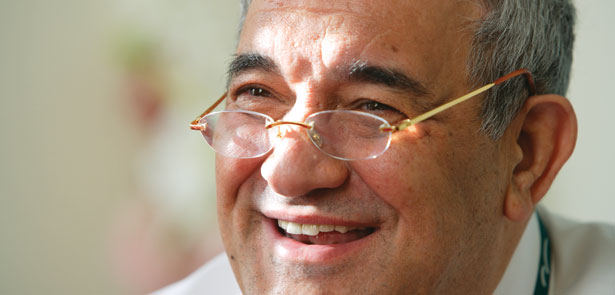 There has hardly been a decade in Peterborough's recent history when it wasn't undergoing some kind of significant development. But this time, it's different. This time, there's a vision. The Business Moment talks to the Leader of Peterborough City Council and key catalyst, Marco Cereste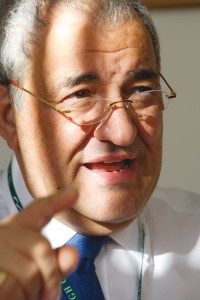 THERE'S A LOT OF WORK GOING ON IN THE CITY CENTRE AT THE MOMENT, WITH PLENTY MORE TO COME. WHAT'S THE CURRENT STATUS?
What we're trying to do now is complete the public realm works so we can give the second part of the lift to our city centre. Hopefully that will make it a much more enjoyable experience when people want to visit, to shop, and will attract more businesses. We're doing it in sections so as not to disrupt trade, and all the work we're doing at the moment is putting in utilities, so that when we're done they don't have to come and dig it all up again.
'VISION' IS A RATHER OVERUSED TERM THESE DAYS, BUT DO YOU HAVE A VISION FOR THE CITY CENTRE?
Absolutely. I know exactly what I want to see in the city centre and it's going to take the next 18 months – maybe even two years – to complete. I want to see more people living in the city centre, I don't want to see boarded-up units above shops, I don't want to see empty offices, I want to see people living in the city centre so the city centre becomes somewhere alive and vibrant, even at night.
WHAT NEW FEATURES WILL BE BROUGHT TO THE CENTRE?
Part of the vision is new accommodation for 250 students above the Hereward Centre, in Midgate, and we are now negotiating with the Cathedral about a very select, nice development in the Cathedral Precinct. We will be looking at redeveloping the Haven car park, so we can bring accommodation right into the city centre. We will be looking at rationalising local authority buildings, and we will be talking to anyone else in the city who wants to make better use of their first or second floor space, to see whether we can help them with planning – or anything else – to bring many more residents, and potential accommodation, into the centre of Peterborough. That will make a huge difference. Add to that the South Bank, the Riverside development – the site of nearly 300 brand new zero-carbon homes – you begin to understand how we're trying to change the city centre, with more people living there. That will attract a different type of business. You will see more restaurants, more food shops and that sort of thing, actually on Bridge Street, on Long Causeway and so forth, because people will be living there.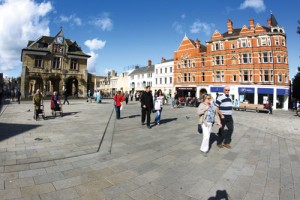 WHICH WILL, OF COURSE, CHANGE THE WHOLE FEEL OF THE CITY IN THE EVENING…
Absolutely. It changes the entire dynamic. And clearly it's in our interest to take forward the university status of the city, which means more students, and more student accommodation. Students bring life to city centres. They want places to eat and drink, and places where they can spend their time, so I think we will see a really big change to our city centre over the next two to five years.
OBVIOUSLY LONG-TERM THE IMPACT ON BUSINESSES IS POSITIVE, BUT DO YOU HAVE ANY CONCERNS FROM EXISTING BUSINESSES ABOUT SHORT-TERM IMPACT?
We've had one major open day where we tried to explain to everybody what we're doing, all the work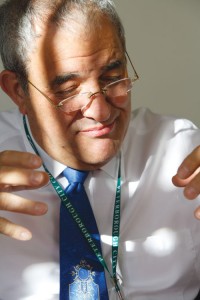 that's going on down Bridge Street. I have a very open communication with everyone so people know what's going on. Clearly it could have an impact on businesses and that's the last thing we want. I think in the end it will be well worth waiting for – look at the improvement in the square. It's an award-winning part of our city. Now we want Bridge Street, Cowgate and Long Causeway to be just as nice – somewhere really special. We're working with Queensgate and other traders to make sure we deliver what they want. We will become not just a local shopping centre but a big regional shopping centre, and that will be good for everybody. Primark is opening in November, we've got some fantastic new schemes, we've got schemes for Christmas lights, Christmas openings, things like that. By November people will really begin to see a difference because the first phase of the Bridge Street works should be completed. We're going to shut them down for the Christmas period because we don't want to disrupt trade at all, but then we will pick it back up again in January after the sales. We're aiming to have completion by the end of next year.
YOU MENTION PRIMARK, AND CARLUCCIO'S IS COMING. DO YOU THINK THIS SORT OF CHANGE IS NECESSARY TO ATTRACT MAJOR BRANDS?
Yes, Peterborough is growing and it is doing very, very well in many respects, but we need to have a holistic offering for everybody; shopping, a vibrant town centre, good culture, sport, all that sort of thing, they all make it a nice place to live. That's one of the great things about Peterborough – it is a great place to live. We just need to make sure we can continue to deliver that. My view is if you stand still, you die. We've had phenomenal growth over the last ten years, and we need to improve on what's available, not just keep delivering what we've got.
TWO KEY ATTRACTIONS IN THE CITY CENTRE ARE QUEENSGATE AND THE CATHEDRAL. IS IT DIFFICULT TO RECONCILE THEIR VERY DIFFERENT NEEDS?
Well, I would say that Queensgate is the cathedral of shopping! We've all got to be very cognisant of the fact that Queensgate is a huge attraction, certainly now they are investing more money, and intend to grow and become even more of an integral part of our city. I think the same with the Cathedral. We have this fabulous Cathedral – one of the finest in the world, never mind the UK – and it's probably one of the least visited. So I think we need to do whatever we can to make sure that the Cathedral takes its rightful place in our heritage, and of the UK, not just Peterborough. People will come to visit the Cathedral and be in awe of what we have in our city, and then they may want to do a bit of shopping, and have a cup of tea or whatever – it's all part of bringing people into our city.
HOW DOES THIS DOVETAIL INTO THE CATHEDRAL'S PETERBOROUGH 900 CAMPAIGN?
That's a really great initiative, because it's about our heritage. I don't think people understand how much heritage there is in the city. The 900 campaign from the Cathedral and all the things they want to do – the restoration work, the education, all of that sort of thing – is phenomenal and I'm very much a supporter of it. Also take into consideration all the other historic places we have in the city which are worth a visit, we need to major on that as well. We need to have a tourist policy, for example. But the city is really moving, it's moving in the right direction, and I think it's just a question of time before we get to where we need to go.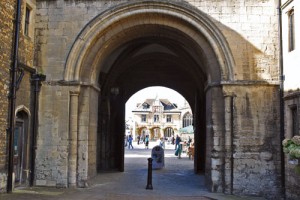 WHAT ABOUT PLANS FOR COWGATE, TO MAKE IT MORE OF A WELCOMING GATEWAY TO THE CITY?
We're spending a huge amount of money down Cowgate to make it just that: more welcoming. We also need to do something about the buildings and the area surrounding the railway station. Fortunately, Network Rail are going to spend £45m on that railway station, including three extra platforms and extended platforms so you can have bigger and longer trains. But what's important is to get that area around the railway station redeveloped, and in such a way so that they flow into the city centre. I believe we have a couple of schemes that are going to enable us to do precisely that. There are one or two things that will become public very shortly which will see changes around Queensgate. I would say that what we've achieved in three years has been phenomenal, and in the next three years it will be even more phenomenal. The stuff that takes the longest is the groundwork, but when you've prepared the groundwork things then happen very quickly, and that's where we are with the city, we are doing all the groundwork and making sure we've got all the foundations right. Very shortly you'll be able to see things come out of the ground, for Cowgate, the Causeway, Bridge Street, plans for the station quarter. There will be things happening in North Westgate, we've got our fingers very much crossed that we can begin to address issues in Northminster with residential accommodation. And then of course the new entrance to the Cathedral, which will make the Cathedral grounds more open to the public. We're working very closely with the Cathedral to offer better access there. In five years time Peterborough will be a totally different place, and you will start to see the difference shortly. The city is moving in the right direction. I just wish I'd been council leader ten years ago when we had the best economic times we've ever known!
PETERBOROUGH HAS MANY WIDE, OPEN PEDESTRIAN SPACES BUT IN PLACES THEY GIVE WAY QUITE SHARPLY TO BUSY ROADS. HOW DO YOU DEAL WITH THAT?
Our vision is to be able to cross Bourges Boulevard instead of having to go over a bridge, and that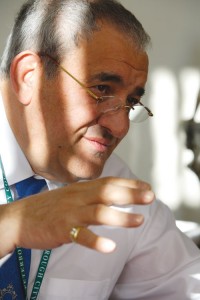 does present some pretty huge logistical problems. We know exactly what we need to achieve and we know how to do it, but we also know what it will cost. And the cost for doing something like that is extraordinary. But we will get there, because one way or another we will finance it. We, as a city, have been unfortunate in that we get top-sliced more heavily than many other cities, for reallocation of central government money. For example, some years we've lost as much as £4m from what we should be getting, which has gone to other councils to help them sort out their problems. I feel very aggrieved about this. Why the hell should we be subsidising incompetent councils? The public will never take them to task if they're taking money from me to subsidise them, so there's no incentive for them to ever become efficient or effective, whereas we are efficient – over five years we've taken over £105m-worth of costs out of our services, and our services have hardly changed at all. It just goes to show what kind of challenges are facing the local authority. But we've come up to the mark every time. Next year's going to be an even bigger challenge. But if we can resolve the financial challenges we will deliver what the people of this city want and, it will be something they can be proud of.
REDEVELOPMENT: THE GRAND PLAN
The whole city centre was designated a conservation area in 1969, and contains key landmark  buildings that are a significant part of its identity: the Cathedral, the Guildhall, and St John the Baptist Church. It also has a number of important civic spaces and squares. Although dominated by nineteenth and twentieth century buildings its medieval layout remains. Stone is
a predominant feature of the east-west axis, with the greenery of Long Causeway and Bridge Street offering a striking contrast. There are a number of distinct character zones: Cowgate; Bridge Street and Long Causeway; Priestgate; Westgate and the Cathedral and Precincts. A detailed appraisal was recently completed to assess all these factors with a view to formulating a co-ordinated plan for future developments. Government guidance requires local authorities to publish proposals for the preservation and enhancement of their conservation areas, and so public consultation on the draft Peterborough City Centre Conservation Area Appraisal and Management Plan was open to public comments until 15 October 2012. Taking into account this feedback, the appraisal is to be adopted as planning guidance and will be a material consideration when making planning decisions affecting the area.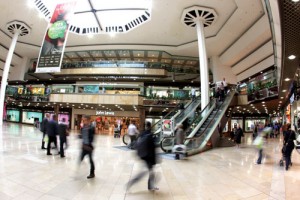 THE CONSERVATION AREA DRAFT
MANAGEMENT PLAN
The appraisal identifies a number of issues and enhancement opportunities for the conservation area. The guidance and proposals in the draft management plan seek to address these and manage change to avoid harming the areas special character, and include, in summary:
■ Continued implementation of the City Centre Public Realm Strategy to improve the visual appearance.
■ Support for new development of a high design quality where it will preserve and enhance the area and respect the prevailing scale of buildings.
■ Improvements to buildings that make a negative contribution to the street scene.
■ Support for the management of the Cathedral and Precincts guided by the policies set out in the Cathedral Conservation Plan (2011).
■ Protection of views to positive landmarks
■ Prepare revised shop front design guidance.
Examine making an Area of Special Control of Advertisement Control to help improve the street scene.
■ Amend the boundary of the conservation area to include numbers 5 to 27 Cowgate for the continuity of the conservation area.
■ Protection and management of open spaces and trees.
■ Encourage the reinstatement of traditional materials and detailing to buildings where appropriate.
■ Promote buildings of local importance for their positive contribution to local character.
■ Review and update listed buildings in the Cathedral Precincts.
KEY ENHANCEMENT
OPPORTUNITIES
The Draft Management Plan included the following observations about the key enhancement opportunities it had identified:
• Downgrading the section of Bourges Boulevard to the south of the city Centre would re-integrate Lower Bridge Street and the River Nene with the historic core. This would bring major benefits
to the southern section of the Conservation Area, including the setting to Memorial Gardens and reconnection with the river.
• The proposal to erect a new war memorial in Bridge Street presents an opportunity to create a new focal point within the city centre to complement existing historic focal points and squares.
• The aspiration to redevelop the Police Station site and road network creates opportunities to improve the setting of the Conservation Area on its southeastern boundary through a more appropriate development and less dominant Highways presence.
• An appropriate regular active use of the Guildhall would help enliven Cathedral Square further and increase opportunities for public enjoyment and interaction with this iconic city centre building.
• The successful 2010 bid to English Heritage for a three year 'Partnership Schemes in Conservation Areas' grant-funded package presents excellent opportunities to facilitate and financially support targeted improvements to the historic environment and public realm along Cowgate (e.g. reinstatement of appropriate timber windows and shop fronts).
• Improvements to buildings that have been identified to make a negative contribution to the townscape, or to have a negative impact on the setting of the Conservation Area, could include demolition and replacement with a more appropriate construction, or changes to the building's external appearance such as re-cladding in a sympathetic material.
• The re-use of upper vacant floors is an opportunity to contribute to the vitality of the city centre and help with regular building maintenance. Increased commercial vitality along Wentworth Street which is currently suffering from under- occupation and vacancy would bring greater activity to the street and help to integrate it better into Bridge Street. This can be assisted by significant improvements to the popular pedestrian desire line between Cathedral Square and Wentworth Street via the Barclays 'cut through'.
• Development sites within the Conservation Area are limited. The car park to the rear of Westgate Department Store is perhaps the last major opportunity site within the city centre and presents opportunities to restore the enclosure to North Street and Geneva Street and screen negative views to the rear elevation of Westgate Department Store. Other opportunities for development are presented in the replacement of existing unattractive C20 buildings where their demolition / redevelopment would constitute an enhancement to the character of the Conservation Area. Outside the Conservation Area, the redevelopment of North Westgate on the corner of Lincoln Road and Westgate can be used to enhance the visual amenity of the northwestern edge of the Conservation Area.
For more information and updates, go to: www.peterborough.gov.uk
Leave a Reply