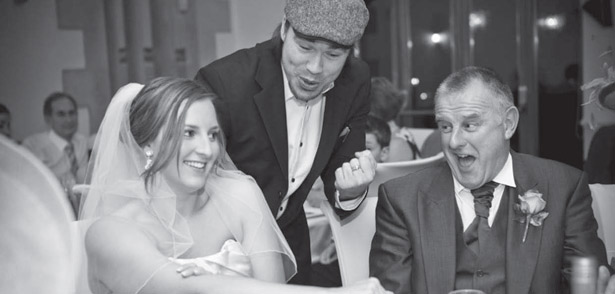 The difference between a "good" event and a "great" one is often that little something extra. A touch of magic, you might say. And where better to get that all-important ingredient than directly from a member of The Magic Circle? We speak to Michael McIntyre (M.M.C.), a magician specialising in the corporate industry, who knows exactly how to make guests gasp, giggle and enjoy a truly memorable evening
"People ask me all the time what my favourite illusion is, and to be honest it's whatever gets the best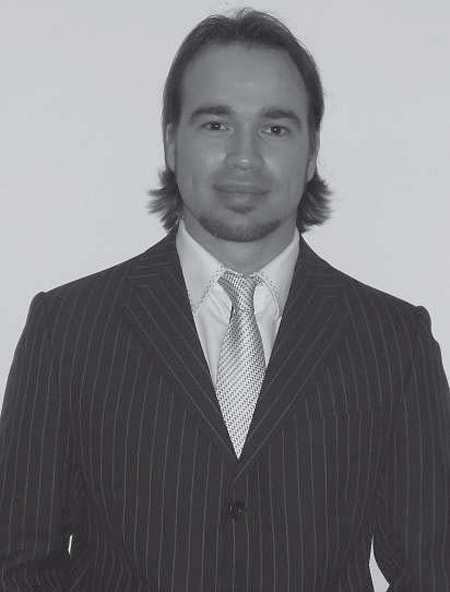 reaction," says magician Michael McIntyre (yes, he really is called Michael McIntyre). "For me, the joy is all about seeing someone's eyes light up, or making them smile and laugh. Sometimes the simplest illusion, from a magician's point of view, actually has the most impact."
Although there's nothing that sounds "simple" about swallowing needles, turning lottery tickets into a handful of crisp £20 notes, or making objects disappear – all of which are tricks Michael has up his (proverbial) sleeve. In fact swallowing needles is one of his more recent illusions, which he used to impress at an audition for Britain's Got Talent: "That was a really fun experience. I didn't
get through to the live shows but I got some really good feedback and was there for half an hour after
the audition entertaining the crew! So hopefully it was more to do with my style of performance – I
market myself as a close-up magician – where the magic happens either in the hands, or the
making it disappear."
It's understandable that this kind of "interactive minds, of the spectator – because I want people to feel part of the experience. So things like using a personal item of theirs, like a ring for example and magic" might not stage of the hit ITV talent show, but it does work well at more intimate functions such as champagne or cocktail receptions, weddings, or any kind of event where Michael can table-hop and perform close-up magic to small groups of people. His main source of work is the corporate
market, and he has done a lot of events in and around Peterborough, notably including
last year's Peterborough Evening Telegraph Business Awards. But as he says:
"I think whatever event you have there's room for magic to enhance it, whether it's a social, corporate or formal occasion," says Michael. "Magic is a great ice breaker and at events if I see someone
standing by themselves, I'll proactively try to bring them in and get them involved with the group. I get a lot of reward from that because growing up as a kid I was quite shy so I know what it feels like to kind of not fit in and stand on the sidelines and I think we've all probably experienced it from time to time. For me, a good magician isn't just someone who can perform magic – you need humour and people skills and to enjoy connecting with people."
Even when Michael isn't working, he is still prone to "breaking the ice" wherever he is and loves performing on the street to complete strangers.
On my keyring I carry a little Rubik's Cube that is small enough to hide in your hand, and one of my illusions is to influence people's decisions before they make it, so that the colour they choose always faces the top. So I'll try to read their body language and mess around with their mind for a little bit and even put a wager on it – £50 if I get it wrong! And often if I'm somewhere like a train, or just in the street, I'll get out my keys and just start meeting people that way. I've even
got work from it!
It's no exaggeration to say that Michael loves magic, and has done ever since he received his
first Paul Daniel's Magic Set – (something that any child of the 80's or 90's will remember!) But the
decision to turn his hobby into a profession only came 18 months ago, as a result of rather tragic circumstances.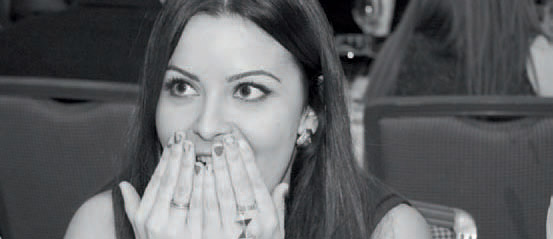 For five years, Michael worked as a paramedic in Peterborough but one night was called to the scene where his best friend was sadly involved in a fatal road accident. Not long after, he became severely unwell with cancer which meant he couldn't continue to work. It was at this time that Michael began to look at a career change:
Don't get me wrong, being a paramedic was rewarding but I lost count of the amount of deaths I saw. So I just thought, well what else could I do? I've always loved magic, and done it as a hobby at parties and things, so I started to look into it seriously. And part of this has been healing out of life
In fact, Michael's natural ability for entertaining has even led him down the path of acting on
occasion – he was recently in Les Miserables (although he admits it's a blink-and-you'll-miss-it
kind of role) and will be in a new Angelina Jolie film, Maleficent, due for release next year. But
Michael's main focus is most definitely on magic, and he is determined to push the boundaries as
far as they will go – hence auditioning for things like Britain's Got Talent.
One of the boundary breaking ideas he has lined up is to do some magic in the style of Derren Brown's mind-reading through the airwaves on Cambridgeshire radio!
"It's a challenge", Michael reveals, "because you've got no visual aids to read body language. But I've got some ideas that I think will work well, and I'm excited! I think only those who are willing to push too far can really find out how far you can go."
As one might expect, the work of a magician can be pretty varied, as Michael (who's just returned from a gig in Majorca) explains:
One week I did a gig for Miranda Hart and the next week I did a rugby club in Essex – so the changes in environment can be from one extreme to the other. But I think the key is to treat everyone the same
Even hecklers? "Yeah, sometimes you'll get heckled if people have had a bit to drink," admits Michael. "But to be honest I enjoy that! The thing for me is to keep a sense of humour and I do have a few one-liners in reserve that I can bring out of the bag without offending anybody if needs be! If I do come across an alpha-male in the group for example, then I'll usually ask him to help me. I have some illusions where I let him read everybody's mind, and then he's on your side and I've found that
to be so much more effective."
As it turns out, Michael's biggest worry is teenagers! "When I do an illusion now, I know that if there are teenagers there, and they're impressed, they will quickly pull out their iPhones and type into YouTube to see if they can figure out how it's done! So the biggest challenge for me now is to make sure the majority of stuff that I perform can't be found on the internet. The last thing I want is some 13-year-old kid standing up and doing the trick better than me! Although that would be quite funny. I like to think I'd be humble enough to make him look good!"
But despite the added challenges, Michael applauds the use of technology and social media as it forces magicians to raise the bar. He believes in ten years time people will be using technology to perform illusions we can't even imagine right now. Even more importantly, it helps magic to become
mainstream – as he points out, YouTube was a massive influence in helping the incredible street magician Dynamo to become a household name and make magic cool again. Getting young people interested in magic is also something
Michael wants to encourage through the Peterborough Magic Society, which he has been a member of for years:
We did the Italian Festival last year, where we set up a stall and were performing street magic to promote the club and try to attract some younger talent. It was great, we got some big crowds, and the council have actually just contacted me to perform again in September. And there's loads of other things I want to start doing with the Peterborough Magic Club
Another prestigious club Michael is proud to be a member of is The Magic Circle, which is considered the centre of the magic society, not just nationally, but internationally.
I think anyone who wants to be a professional would want to be in Magic Circle – first of all it gives credibility. They have their own exams that you need to pass to get in, with auditions, interviews and three examiners, so they don't just let anybody in. And when you're in the Magic Circle, a new world opens up to you. They have an extensive library where you have the privilege to go and read some of the great magicians, and it's like a treasure trove, you can go as deep as you want. Sometimes when you're reading some of the old, old books on some of the great magicians, you'll come across an illusion, a real gem that you think wow, I could use that, it's got potential. Then you put your own stamp on it
Another benefit is that you can use M.M.C after your name to denote inclusion in this prestigious society, and in Michael's case, this might also help distinguish his name from his nominal doppelganger – the comedian Michael McIntyre! While having such a recognisable name has arguably been a help to Michael at this stage of his career, it has played havoc with his private life on a few comical occasions such as an attempt to order a pizza delivery around the first of April.
An effort that went out the window after revealing his phone number ended in "007"…
If you want to hire Michael to bring humour and a touch of magic to your next corporate event, wedding or party, view his website: www.michaelmcintyremagic.co.uk or call 07909 986 007.
Leave a Reply