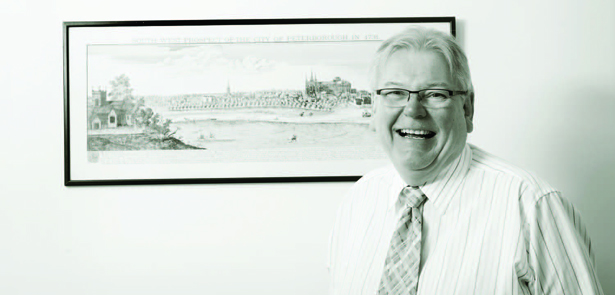 After five decades in the business, one of Peterborough's best known and most respected accountants, Chris Collier, is retiring from Rawlinsons. Benedict Vanheems finds out what his plans are
SO CHRIS, YOU'VE WORKED AS AN ACCOUNTANT FOR 47 YEARS. THAT'S A LONG TIME. YOU MUST HAVE MIXED EMOTIONS ABOUT RETIRING?
In one respect 47 years is a long time so I feel a need to slow down a bit. On the other hand I'm certainly going to miss the social contact with staff and clients – and that feeling of being wanted by the clients.
TAKE US BACK TO THE BEGINNING. HOW DID YOU COME TO JOIN RAWLINSONS?
I was at boarding school in Worcester because my parents were moved to Peterborough two years before I left school. I had already made my mind up that I wanted to become an accountant. So my father asked the two next door neighbours which was the best accountancy firm in Peterborough. They both said Rawlinsons. My dad decided to check them out first – he actually interviewed Denis Rawlinson, owner at the time, and John Knott, a partner in the business before I even knew anything about it.
UNCONVENTIONAL WAY OF GAINING EMPLOYMENT! WAS THIS TYPICAL IN THOSE DAYS?
It was the old-fashioned way. Interestingly my father, who was a chartered surveyor, had a similar experience. He came from a family of millers back in the 1920s. His father asked him what he wanted to do when he left school and he replied 'I'm going to join the family business'. His father said 'No you're not. I've signed up for you with articles at Bruton Knowles in Gloucester'. They were worried about the recession in those days.
SO YOU JOINED RAWLINSONS IN 1967 AT THE TENDER AGE OF 18. WHAT WAS IT LIKE TO BE THE NEW BOY IN THE OFFICE AND HOW DID YOU PROGRESS?
It was certainly a different environment in those days. Initially I was in a room with three other people who were all very friendly and helpful. I was very quiet and shy and just got on with my work. But then the more you are at a place, the more you start mixing with people. Five years later I qualified as a chartered accountant. Then I became a partner in the firm in April 1974. By the mid-1990s it had almost been decided that when John Knott retired as senior partner I would take over. This happened in 1999.
YOU MUST HAVE WITNESSED QUITE A BIT DURING YOUR TIME AT RAWLINSONS. WHAT WERE HIGH POINTS OF YOUR CAREER?
The highlights are when you've really made a difference for a client. For example, buying some equipment for the first time by helping them to raise finance from the bank. That gives you a real sense of success – you're helping them to grow. Or when you've helped a client buy or sell a business. I remember two businesses being bought in the 1980s, which were hugely successful; you get a real feeling of elation when those sorts of things happen. It's also hugely rewarding when you've been talking to someone who is considering becoming a client and they finally do – to this day I still get a feeling of elation when that happens.
YOU TALK OF HELPING BUSINESSES TO GROW. CLEARLY PETERBOROUGH HAS ALSO GROWN A LOT OVER YOUR CAREER. HOW HAS THAT AFFECTED THE TYPES OF BUSINESSES YOU WORK WITH?
When I joined the office Peterborough was a comparatively small market town. We had lots of small farmers and were strong in the motor trade because we dealt with Peterborough Motors. We also had quite a few printers, pubs, corner shops – all sorts of things. Nowadays there are fewer smaller businesses, such as individual shops. But we've evolved, so along with working with owner-managed businesses, we've increasingly specialised, dealing with larger farmers, with schools and the new academies, medical practices and charities. The majority of business has always been in the Greater Peterborough area but there are people that have moved away but stayed with us, which is really nice.
DURING YOUR TIME AS SENIOR PARTNER RAWLINSONS HAS UNDERGONE SIGNIFICANT EXPANSION – TELL US ABOUT THAT.
In 2006 we merged with the Peterborough office of Thomas May and Co. We also managed to grow quite significantly by dealing with the academies, a new source of clientele for firms like ourselves. One of my partners also now has a charity conference with up to 200 people attending on an annual basis. So that's increased that side of the business. It's really a case of trying to move with the times.
YOU STRIKE ME AS SOMEONE WHO ISN'T SIMPLY GOING TO SIT DOWN AND WATCH DAYTIME TV DURING YOUR RETIREMENT. WHAT ARE YOUR PLANS? WILL YOU BE KEEPING ONE FOOT IN THE BUSINESS COMMUNITY?
I hope to remain active within it because I chair the Peterborough Business Support Group of the NSPCC. I will also continue as a consultant with Rawlinsons for a couple of years because one or two of my clients still want me to offer occasional advice. I love playing golf, although my body doesn't like it quite as much! So while I'm thinking I might play three or four times a week, it will probably be just a couple of times a week that my body will accept!
SOUNDS LIKE A SENSIBLE MOVE! TELL US MORE ABOUT THE PETERBOROUGH BUSINESS SUPPORT GROUP.
It started back in 1996. I missed the second meeting because I wasn't sure if it would work as there were so many other charities collecting in the Peterborough area. Then somebody phoned me up and said that in my absence I'd been elected treasurer! At that stage I had two young children, aged three and four, so the NSPCC was close to my heart. So I thought, yes, I want to help. One of the things I did very early on was run the London Marathon. I'd trained for it for six months and raised about £6,500 for charity. Then in 1997 David Grigson, Emap's finance director at the time, said he hadn't got enough time to continue as chairman of the group. I was asked if I would take over. At first I thought I'd give it a couple of years, but I'm still chairman now. During my chairmanship the group has raised well over £650,000 for the charity, all of which is used locally for the care and benefit of local children. My wife Carol organises one of the largest individual events – a Strictlystyle event with 240 people attending. Last year it raised just more than £20,000. We're hoping to raise as much or more this year. We had said that this year would be the last year we do it, but if it's as successful we may be obliged to continue!
IT SOUNDS LIKE YOU'RE GENTLY DIPPING YOUR TOE INTO RETIREMENT, RATHER THAN STOPPING COMPLETELY.
I think it's very dangerous to be working flat out one minute and stopping the next.
DO YOU HAVE ANY OTHER PLANS FOR YOUR RETIREMENT?
Carol and I both like travelling, so we're hoping to do more of that. We mostly travel within Europe but we also love Mexico and Carol loves New York because of the shopping. I like going to New York because of Central Park – I can relax there while Carol goes off and does her shopping!
COLIN CROWLEY, THE NEW MANAGING PARTNER, HAS A TOUGH ACT TO FOLLOW. HAVE YOU GOT ANY SAGE WORDS OF ADVICE FOR YOUR SUCCESSOR?
That's an interesting one! I'd say be yourself and remember it's the client that's king. Make sure we give our clients the same personal service we've always given them. People need to feel that we are interested in them, which we definitely are, rather than just being a number.
WOULD YOU LIKE TO SHARE ANY FINAL THOUGHTS WITH YOUR TEAM?
I believe I'm leaving a strong team behind. Rawlinsons isn't dependent on one person – all the partners and staff are an integral part of the business. My secretary-PA has been with me for 37 years, for example. Not everyone has been here that long of course, but we have a lot of continuity, which is reassuring for our clients. I've no doubt that Rawlinsons will continue to adapt and thrive over the coming years and I look forward to watching it do so.
GOOD LUCK WITH YOUR RETIREMENT CHRIS. IT SOUNDS AS IF YOU'LL BE AS BUSY AS YOU'VE ALWAYS BEEN! 
RAWLINSONS 01733 568321 www.rawlinsons.co.uk
Leave a Reply