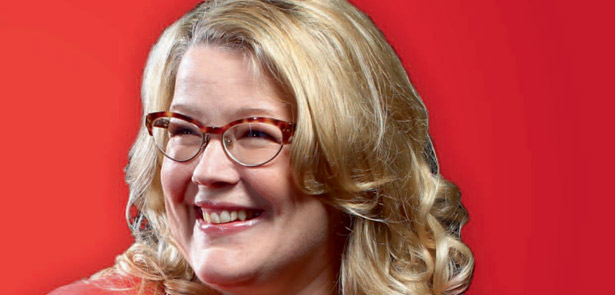 It's been just over two years since Alison Duff set up the purpose-built Calmababy centre in Peterborough – the first such centre in the UK. At the time, some people thought she was "a little crazy" – but the family-run business more than doubled its projected custom in its first week, and earlier this year was selected for the Goldman Sachs 10,000 Small Businesses programme. She talks to The Business Moment about her outstanding success
What exactly is calmababy?
Calmababy is a privately-owned company with a social conscience. It was first set up to teach classes to parents, and then we expanded that into pregnancy – so it's a company of classes and educational workshops for parents. We really focus on minus nine to 4 years old, so pregnancy to pre-school. We opened our first centre in October 2010 – actually 10/10/10! – on Oundle Road with a swimming pool, a teaching room and Selina's Tea Room opened on the side of that a year later. That we can find, it's the only centre of its kind in the whole of the UK – and, at the moment, As far as we know it's the only centre of its kind in the whole of the UK, and, at the moment, the only one we can
find in Europe.
You mentioned that the business has a social conscience… What is it setting out to achieve?
We mainly focus on bonding and well-being. The well-being of the parent, the child and the relationship between them. We do this through classes and workshops. For pregnant couples what we're hoping to achieve is that they have the most pleasant birth experience they can through education and informed choices, and bonding with the newborn baby through certain classes,
like baby massage, newborn flotation and baby swimming, and then when they get a little bit older,
ToddlerCalming workshops and swimming classes. The Centre is also a very social and supportive environment – for mums and dads to come and spend time together in a child-friendly space.
How did the business get started?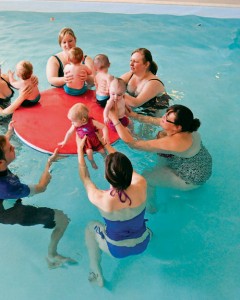 It started 11-12 years ago when I first left Barclays Bank and retrained to be a baby massage instructor. I had always had this end goal of having a place where everything could happen. At the time, there wasn't a swimming pool in that vision because I hadn't trained in anything water-based, but as it grew I did baby massage classes and then we started training teachers, with the International Association of Infant Massage. It soon became obvious that mums liked the classes and the social aspect so much that after the course was finished they still wanted to come. So then I trained to be a baby yoga teacher, and started doing that as a rolling class so they could come week after week, and then baby swimming followed. We hired pools around town to do the classes in, but I could never find time to meet the demand. Then we added pregnancy and aquanatal yoga, and started to link up with people like Birthlight to do other workshops, with the whole aim of having this centre. But it took me three years to find the right premises. I got the keys to that in June 2010 and we opened in October.
The "right premises" must have been quite a challenge given some of your more specialist needs. Was there a lot to do?
We were, I suppose, quite brave in that we took this almost derelict builder's yard which had a huge empty building, and basically dug a hole in the middle. We were lucky that we found a landlord who was forward thinking and supportive enough to allow us to dig that hole in the middle of his building! And then, because we are a small family business, we did a little bit at a time. We opened the pool and the teaching room, then a year later we opened Selina's Tea Room, then we literally opened the outdoor area and play area a couple of weeks ago.
I understand that this is no ordinary pool and that it's purified by ultraviolet light…
Yes, we have a huge UV system in the plant room, and we use bromine in the water. You're never going to get a swimming pool with no chemicals in it, so we use bromine, which is salt-based, rather than chlorine which is very harsh. Bromine's a lot kinder to the skin, the eyes and the lungs. And it means less chemical content. The primary form of sanitation is the UV, and the whole content of the pool gets filtered every two hours. It's an expensive system to run and bromine is probably four times the cost of chlorine, but we wanted a pool that was specialy tailored for babies and pregnant women.
Who from the family is actively involved in the business?
Well, there's me – I'm the director. There's my mum, who manages Selina's Tea Room. Selina is my grandmother – my mum's mum. We decided to name it after her as she died just before we opened the centre and she taught my mum to bake amazing cakes so it seemed fitting to name the space after her. My dad also works in the tea room. My sister-in- law also works in the tea room and does a bit on reception. My brother is involved in a more business liaison sense. He is an area manager with
Rightmove, but he helps me as a sounding board if I need to discuss anything.
Leave a Reply