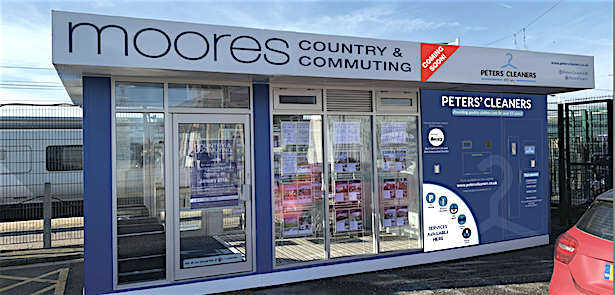 Busy commuters passing through Peterborough station don't have much time, something innovative businesses are working to address
Today's harried, hurried commuters don't have the time to sit about or wander. Tight schedules and the day-to-day pressures of work and home mean that every minute is precious. Commuters passing through Peterborough Station are no exception and with trains to catch there's little opportunity to complete all those pressing errands.
But some businesses are coming up with innovative solutions for the time-poor commuter, by bringing their services to them. No need, then, to set aside time to head into town – and more time to spend at home with the family.
Peters' Cleaners
Vicky Whiter is one of those business owners getting on track with her dry cleaning company Peters' Cleaners. This local institution has just opened a drop-off and pick-up service on the London-bound platform of Peterborough Station.
'Local businesses are changing the face of the station to make it more useable for the busy commuter,' explains Vicky. 'In our instance we wanted to provide an option for those who don't have the time or inclination to take all their clothes down to the dry cleaners at the weekend. Our new service offers an alternative that fits in with their schedules and frees up their time.'
Established for more than 55 years, Peters' Cleaners proves that a little lateral thinking can go a long way to making your service more relevant to customers' changing needs. The fully automated service at Peterborough Station is simple. Users sign up online to receive a membership pack that includes a set of membership cards. To use the service they simply drop off their items at the unit, together with one of the cards so their items can be traced.
People can drop off anything that fits through the slot on the front of the unit, including work wear, delicates, shirts, evening wear, plus items for basic repair. Users receive a confirmation email and enjoy the same turnaround times as staffed shops, with a standard turnaround of two working days. To collect, users scan their card at the unit and the internal carousel selects and releases their items through the slot.
Peters' Cleaners isn't just innovative in their new offer – they're ground breaking. The unit is the very first 24-7 automated drop-off and pick-up service for dry cleaning and laundry outside of London.
Moores Estate Agents
Local estate agency Moores has also brought their services to the commuter with its new unit, alongside Peters' Cleaners. They offer a meet-and-greet service for commuters, taking the time to get to the nub of their needs before driving them round suitable homes that meet those requirements.
'Larger stations like London or York are more of a destination these days,' says owner Vernon Moore. 'People are there to buy and to enjoy the shopping experience, whereas once stations were seen as something of a bleak place. We are seeing people moving their businesses up to the station so they can offer their services more easily. In our case it means that rather than having to battle into the centre of town and go looking for us, we're right there, ready and waiting for them.'
Vernon is tapping into a trend among commuters looking for somewhere to live that's convenient for commuting by train, shrinking total commute times as far as possible. It makes sense – there is little better place for an estate agency than on the train platform itself!

Peters' Cleaners
www.peterscleaners.co.uk

Moores Estate Agents
www.mooresestateagents.com
Leave a Reply