Office space: Brightfield Business Hub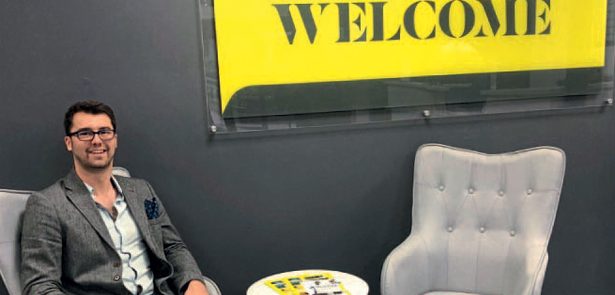 Brightfield Business Hub is a serviced office and co-work space that offers so much more
At its core, the hub is here to support local businesses. It does this in many ways, not least by hosting business support, education, training and community events for businesses of all sizes. Some of these include the Women's Business Network, which aims to provide an opportunity for women to meet, inspire, educate and support each other in new business ventures, career advancement, returning to the workplace or any other related topics.
"We love the Brightfield Business Hub: Loads of parking, a brand new gym, great people, meeting room space and facilities. We moved here from another business centre in town and are really happy with our decision. We have definitely found our home and will be here for a long time."
Alex Curtis, Managing Director,
The Lead Engine
The network holds quarterly events offering access to carefully selected subject matter experts and inspirational speakers, chosen for their ability to deliver on the core promise: to inspire, educate and support. Then there is the Start-Up Network, created to help small businesses and startups, providing a place to come and work with others for free onceamonth. This informal network gives freelancers, homeworkers and people running their own business the opportunity to connect in a neutral environment, to meet new, like-minded people, to brainstorm, problem solve and support each other in a friendly, semi-social environment. Where possible it will include the attendance of an experienced business adviser, on hand to answer questions and provide guidance where needed.
"From the staff to the tenants – everyone at the BBH has connected with each other, creating new business and personal relationships. Also, a shout out to the café staff who have created a hive for people to converse throughout the day, and to Michelle who has created a great calendar of social and networking events. The team at Trusted Media absolutely loves the hub!"
Dean Lynn, Managing Director,
Trusted Media
And the latest addition is the Peterborough Business Expo. This took place in October and will be an annual event with the aim of bringing together businesses small and large from across Peterborough and the wider county of Cambridgeshire, to showcase their business, services and products, to learn and grow – TOGETHER! These events complement those hosted at the hub by other local businesses looking to share their expertise. Beyond events and networking, the hub benefits from an on-site café serving fresh food and drinks throughout the day. There is also a tenant gymnasium (a public open gym is coming soon), not to mention the newest addition to the services available at Brightfield Business Hub: an on-site salon offering women's hairdressing and beauty treatments, plus a traditional men's barber experience, which opens in December. All of this makes Brightfield Business Hub a great place to do business.
"It's great to be part of the business community here at the Brightfield Business Hub. Clarity Stack has quickly called the centre home, with the BBH team proving excellent at supporting our ambitions as a fast-growing company. There's an ever-growing list of business events and activities we can benefit from, and our team can make great use of the impressive communal facilities."
Ben Harper, Managing Director,
Clarity Stack
Leave a Reply