Man with a plan: new regional mayor James Palmer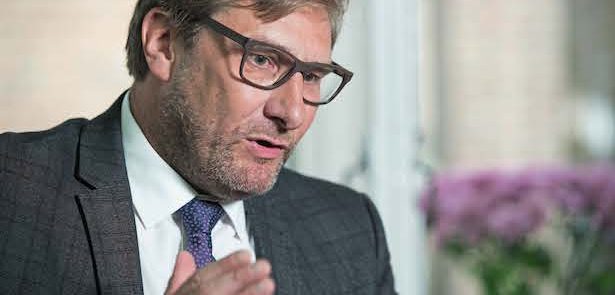 May's local elections saw six regional mayors elected to office, including one for the new Cambridgeshire and Peterborough Combined Authority. The new mayoral positions promise to give the English regions they represent a stronger voice at national level, creating more opportunities for business and residents alike. With expectations running high, the pressure's now on for our new mayor, Conservative James Palmer, to deliver. So what's his vision for our region and how will we get there? The Moment caught up with James to find out.
First things first James, congratulations on winning the race to become mayor. How did it feel after months of campaigning?
I am absolutely delighted to have won and am clearly excited about the prospect of what we can achieve in Cambridgeshire and Peterborough. I'm a Cambridgeshire boy, so I care deeply about the area and want to get on and improve it for everybody.
The campaign began way back in December and the hardest part was campaigning at this level. The pressure you're under is intense, but if you believe in what you want to achieve and you keep your message clear, which I think I did, then the voters will give you a chance.
What was the main issue on the doorstep and how do you think your campaign was received?
The main issue was infrastructure. People can't get to and from work in the time they want to and it blights the whole county. Of course, Peterborough is the prime example of how it should be done. It's a new town so money was spent on infrastructure before the growth came along. Yet even with Peterborough, while travelling north or south is great, if you want to go east or southeast it's an absolute disaster. And it is holding our economy back.
The feedback I got from the public was very positive. The proof was in the turnout, which was pretty good for a local election. It always surprises me that people don't vote in local elections because local government is what affects you on a daily basis. Local politicians can make a massive difference to people's lives.
A lot of the initial media coverage questioned the point of the newmayoral positions, that they might simply add another layer of bureaucracy. But it's a lot more than that isn't it?
What it should be about is making local government slimmer and more efficient. And then there's the direct contact with central government, which I didn't have in my previous role as Leader of East Cambridgeshire District Council. Yesterday, for example, I spoke to the Secretary of State and have had contact with ministers throughout my campaign. They want to work with us. We have got an extraordinarily strong economy. We pay in about a £5billion surplus in tax revenue to the Exchequer every year, so investment into Cambridgeshire and Peterborough is investment into a strong economy that makes the rest of the country strong. Central government understands this.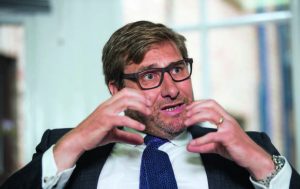 The benefit of having a mayor of Cambridgeshire and Peterborough is clear – the Government has already put in effectively £770million into our area, which is a massive investment. Then there's what we can get on top of that. Businesses and investors are constantly approaching me. They want to come here, but what's putting them off? Infrastructure and the cost of housing. My job is to create the infrastructure so the business growth can come in off the back of it.
"I'm a Cambridgeshire boy, so I care deeply about the area and want to get on and improve it for everybody"
Both Peterborough and Cambridge are successful cities, yet Peterborough is sometimes seen as the poor relation to Cambridge. How do you hope to change this perception?
Clearly they are both very successful cities in their own right. But they are very different. Peterborough has a very successful economy but generally lower-paid jobs. So how do we upskill the workforce and get more businesses coming to Peterborough? It's all about linkages, especially between Peterborough and Cambridge. Cambridge mustn't behave as an island because its current situation, with average house prices close to £500,000, is completely unsustainable. The successful tech businesses based in the city know they have to reach out to areas with more reasonable prices like Fenland and Peterborough. But at the moment they can't move north because the skilled workforce isn't there.
How can we address this then?
Apprenticeship schemes are a key part of my plan. They are particularly important in Fenland and Peterborough, where some schools are not doing as well under the current system. So we need to invest in apprenticeships and get those schools successful in getting children into the workplace.
The trouble with the current school league table system is that it is so heavily weighted on academic success. If schools also got league table points for the number of children they placed into apprenticeship schemes it would give a fairer reflection of the school's success. This is why I want to get recruitment professionals into schools – people with links to industry and who understand how to place people into the right jobs. And I am prepared to invest in doing that because it's so important. University is great for many students, but a science-based apprenticeship offers an alternative path, where young people can earn good money and get paid to go through the system rather than having to borrow to fund university. Young people need choices.
Both apprenticeships and university degrees will help to upskill the future workforce. Your manifesto states your strong commitment to a university in Peterborough.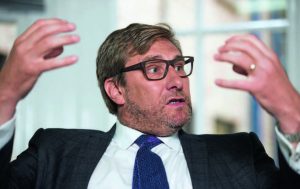 I think it's very important. If the university in Peterborough is clever it will train people in specific areas that are beneficial to the city of Peterborough. But universities are huge drivers of the local economy in other ways. If you build a university in the centre of a city it will support the nighttime economy. The new university is likely to have a view of the cathedral, which will help to promote the city to parents bringing their children to see the university – these things are all important.
The investment into the university will be around £60million, which some people may baulk at, but it's investment into the city's future. If you love where you're from and you can be educated there too, then you will be more likely to remain there rather than chase the jobs elsewhere.
"My job is to create the infrastructure so the business growth can come in off the back of it"

You mentioned house prices as being a major driver behind some businesses looking beyond Cambridge. This could be great for Peterborough.
Absolutely. Take AstraZeneca as an example – a hugely successful company that likes to invest in its locality. I was recently talking to Andy Williams of AstraZeneca about how we can get big brands to come out to Peterborough or Wisbech or wherever. Andy explained that the cost of living in Cambridge means many scientists have moved out to Ely. Ely is only 20 minutes by train from the city so AstraZeneca can easily set up a satellite base in there; they will go wherever the scientists are.
So if travel times from Cambridge to Peterborough were quicker, and clearly the cost of living in Peterborough is less, then it isn't unreasonable to expect scientists to move there with their families. And if you're also educating people in the city in that sector, through apprenticeships and university, then it doesn't seem so fanciful that an AstraZeneca of the future might move to Peterborough. The more quality education there is, the more opportunities there will be for people to earn money and stay.

It feels like Peterborough is on the verge of doing some really great things – the appetite is there.
Working on the Combined Authority from the start has been very pleasing. All of the council leaders appreciate what can be achieved. The vision of what can be done for Peterborough isn't perhaps as obvious as it is for Cambridge, which has horrendous traffic problems. But Peterborough's needs are equally tangible – it's investment in the right areas: upskilling the workforce and creating both physical and nonphysical links.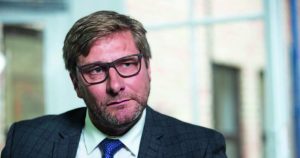 It's tricky, though, because investment tends to gravitate towards places where the work has already started. It's not always attractive for people to get involved when you are starting from scratch because there is so much work to be done.
I call it diggers in the ground. People will say 'it's never going to happen' but when the diggers are in the ground it's 'oh yes, it is going to happen'. And that's where we are in Peterborough. Once we get into the schools, once the foundations are laid if you like, people will begin to see that there is a long-term vision. The problem with politics is it's so short term, but this is a 30 to 50-year vision. I hope I will get it right in my time and that after four years people will begin to see what we're trying to achieve. And the beauty of it is that almost nothing we've spoken about is political.
Trying to get everyone working together for the common good isn't always straightforward.
That's politics, that's my job! What I need to make sure is that everyone buys in to why the money is being spent where it is. So if I'm going to spend a substantial amount in, for example, Peterborough, the Leader of South Cambs needs to see the benefit to South Cambs. By upskilling the workforce in Peterborough we are encouraging businesses to move to the city and therefore taking the pressure off South Cambs to build yet more housing. So you're protecting quality of life in the south of the county while investing in the north so people there get the opportunity to earn more money.
"Once the foundations are laid people will begin to see that there is a long-term vision"
 You've talked about improving linkages. What specific physical linkages do you have in mind?
I look with disbelief that our two major cities aren't properly connected. And let's add Norwich into the equation too. Going from Peterborough to Norwich on the A47 is a major hassle. Yet Norwich, Peterborough and Cambridge are all extraordinarily strong economic centres, so why aren't they properly linked?
It's about cross-pollination. Norwich sees itself as a bit of a tech centre and it's got a very successful university. Norwich and Peterborough should definitely be working together. People love triangles and there's a definite triangle there – Cambridge, Norwich, Peterborough – but it's broken. My job as mayor of Cambridgeshire and Peterborough is to look beyond our boundary if it means it's going to benefit our region. So if linking Peterborough to Norwich will help to strengthen our city then I should be lobbying for that, which I am. There's plenty of trade to be done, so much opportunity.
Even if Peterborough becomes better connected to Cambridge there's always a danger that Cambridge will demand more of your attention as mayor, simply because of its status as a world city.
What I'll do is challenge you. I get masses of lobbying from Cambridge but very little from Peterborough. What I would say to the people of Peterborough is, look, come on, if you want me to be in Peterborough I will come to Peterborough, so engage me. If there's something you need and you think I can help you, I will help you. I will do whatever I can. The economy in Peterborough is equally as important as the economy in Cambridge to the residents of Cambridgeshire. So I want the people of Peterborough to be demanding!
As Leader of East Cambs you achieved significant savings to the council's annual budget while overseeing 12% business growth last year. Clearly you have a very business-friendly approach. Can you weave the same magic across all of Cambridgeshire and Peterborough?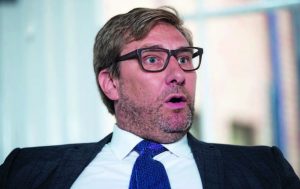 My job is to be mayor of Cambridgeshire and Peterborough, not leader of every district and city council. But I very much believe that the leaner you make a council the more successful it will be. At East Cambs we went from 14 senior members of staff to four. It makes the council more efficient and decision-making quicker, all while offering a higher quality of service with no cuts to frontline services.
How do you improve business? Through very clear steer. Rather than being obstructive, the planning department at East Cambs looks at every application with a mindset of 'how can we help this person or business' and it works to process applications ahead of deadline. We also achieved Enterprise Zone status for the Lancaster Way Business Park in Ely. This goes towards making East Cambs very attractive to businesses looking to relocate there and is probably why we ended up with 12% business growth. There's no reason why we shouldn't put those same parameters in place across the whole of the county. I want businesses to be able to say that Cambridgeshire and Peterborough is very pro-business and the place to go. We've already got the best brains here, now we just need the infrastructure. I will be encouraging my council leaders to make sure their planning departments are very pro-business and pro-growth; from my perspective I've got to create a Silicon Valley in Cambridgeshire. We've got all the raw materials to do it and we will get there.
So it's all about creating an environment that breeds success?
My dream is to get international technology businesses coming to Cambridgeshire and setting up anywhere in the county, including Peterborough. We can do that by creating the linkages required to foster that environment of success. And we will grow the workforce through apprenticeships and degrees so that everyone has the opportunity to work at a higher level if they choose to. I want a Cambridgeshire and Peterborough where everybody gets a better chance than they do now. It's easy really!
Leave a Reply