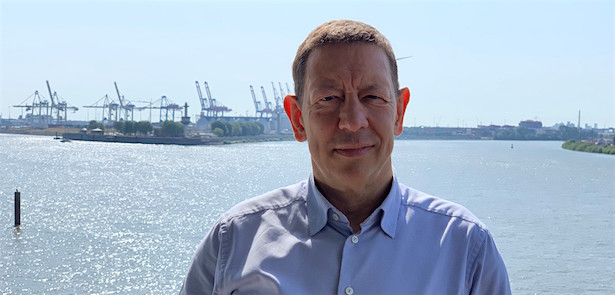 February 2021 saw the launch of a new Business Growth Service by Cambridgeshire and Peterborough Combined Authority. Tasked with making use of a £26 million package to support the growth and recovery of new and existing businesses in the region, it is to be managed by The Business Growth Company Ltd. The Moment talked to its newly appointed Chair, Nigel Parkinson.
First of all, tell us a little about your background…
I've had a pretty traditional corporate career. On leaving university my first job was working for Caterpillar dealerships in the UK and Nigeria that were owned at the time by Unilever. After a couple of years I thought that it would be interesting to work for the manufacturer rather than a distributor and subsequently joined Perkins Engines in Peterborough. I moved to Peterborough in the early 1990s and have had strong ties with the area since then, though I have also been fortunate to live and work in both the USA and Germany. For the last ten years or so my wife and I have made Cambridgeshire our home. My wife works in Cambridge and we have a lot of connections in the region. Perkins Engines was subsequently acquired by Caterpillar, and I was very lucky to be given a number of career opportunities that enabled my career to develop. In my last role I was responsible for Caterpillar's global marine business based in Hamburg, though most of my time was spent travelling. Having completed thirty years of corporate life, in March last year I left Caterpillar with a view to building a portfolio career. Throughout my career I have worked with many small to mid-size businesses such as dealers, distributors and sub-dealers helping them to grow which has been very enjoyable and satisfying. In October last year I established a consultancy practice to build on that same theme of helping business development, while also being interested in non-executive positions. Late last year I saw the advert for the Non-Executive Chair role at Cambridgeshire and Peterborough Business Growth Company Ltd and thinking that my experience could add value, I applied.
It sounds like the perfect role turned up at the perfect moment…
Fortunately, everything fell into place! I'm really passionate about helping small businesses and midsize businesses grow, and I have a lot of experience in that space – internationally as well as in the UK. So hopefully I can bring some value to this very positive ambition. The role is an extremely interesting one because on one hand it's public funding, but it's using the private sector to execute. I think that the concept of generating economic growth and economic wealth to create more employment is the right thing to do to benefit the region, and to help the region be more successful. The aspiration is to make Cambridgeshire and Peterborough a great place to live, work, learn and do business. I think that we have a lot of good foundations for that already in place so there is a lot to both build and develop on – so yes, I'm very, very excited about the role and the exciting goals that have been set.
Peterborough is undergoing huge change at the moment and seems to have vast potential – but one of the key obstacles has always been a bit of a lack of confidence on Peterborough's part. Have you encountered that?
I think what we have got in Peterborough is a history of companies like Perkins Engines, Baker Perkins, Peter Brotherhood and British Sugar, to name but a few, making the city their home and it's clear there are a lot of things that this city has done well at and can be proud of. But as well as being proud of the history we also need to build confidence with people about the future, and I think we are sometimes guilty of not talking up the strengths of Peterborough – the city has excellent transport links, along with the manufacturing history we've seen business growth in the financial, environmental goods and services sectors, and there is the ambition to be the UK's Environment Capital. We also have Cambridge down the road that brings a lot of people into the region and is something of a beacon. If we can build off this successfully then there will be benefits for Peterborough for sure.
Obviously there have been ups and downs with uncertainties over Brexit, but no one saw COVID coming. What kind of impact has that had on the Combined Authority's support for business?
You have to go back to the Local Industrial Strategy – the LIS – that was produced for the region. They exist for the various mayoral regions that are in place and the LEPs (Local Enterprise Partnerships) that are around the country (of which our Business Board is one). The LIS covered a number of key areas including infrastructure, housing, skills, and economy, and now they're starting to move into the execution phase. Then Brexit hit and slowed things down, but in terms of the Growth Company it's not been delayed that dramatically. There has been such an ambition and such an intent on this project – as well as other projects like the ARU Peterborough – my sense is that the Combined Authority has been able to really stay pretty focused on delivery, because unlike a lot of councils, the Combined Authority is project-orientated for business. It's not dealing with dustbins and other services which are the councils' responsibility, so my reading of it is that it has been able to remain very focused. Obviously, confidence in the economy has changed dramatically. But as we come out of, hopefully, the last lockdown we'll start to see things moving. COVID has impacted on business and our lives heavily. Throughout the pandemic though, in some cases, it is pleasing to note that we have companies in the region that have also flourished. What we're trying to achieve is to be working with businesses that have real opportunity for growth, and working with those that have products and services that can be exported. I think, regardless of the pandemic, most of those businesses that are viable and that have those kind of growth opportunities, have probably been doing relatively OK, or at least maintaining foundations to build from, and that should allow us to kickstart pretty quickly.
Presumably, as we emerge over the next year, there could also be quite a lot of new businesses springing up?
I think that it is highly likely that we will see a large number of startups post pandemic. It has already been identified as part of the regional economy recovery plan that support will need to be provided and actions are in place to put those services into place. As well as startups we hope to attract other investment into the region, be that international companies looking to set up in the UK, or other companies who operate in the UK looking to have some sort of presence in the region. So, in different ways we will see new businesses in the region which will be exciting.
Tell me a bit about the structure of the Business Growth Company and how it relates to the Combined Authority…
The Business Board, which is the LEP, established the Business Growth Company, of which I'm the Chair, to execute everything around business growth. The Business Growth Company is effectively the execution arm, though, as a company itself, it's really about how we are channeling the funds into private sector partners to execute four main activities. The intent is to keep the company as slim and efficient as possible, because it's all about making sure we spend the taxpayers' money wisely without adding unnecessary costs, and making sure we're flowing that money right through to where it's needed as effectively as possible, so that we deliver the positive outcomes and results that we are committed to.
How's that going to work in practical terms? If business people are out there hearing about this, how do they interact with you and how can it help them?
We will have a more official launch in May, after the mayoral elections, and there will be engagement, outreach work and marketing with materials going out to companies throughout the region. They'll be targeted to where people who work in those companies might meet, so we've been talking to various different parties to make sure we get the reach out there to identify those companies, especially those who wouldn't think about coming to us. There's going to be a website, contact information including a signup system where businesses will be triaged by their needs and matched with appropriated support. A major service will be using a business advisor to meet with that company, discuss the opportunities, and then signpost them to tailored services, depending on their needs. That will include investment funds, the potential for capital for equity, helping particular companies find skills, and also helping them from an export perspective, linking them to the right people to help with exporting. Another pillar is really around creating inward investment, attracting either international companies into the region or UK companies that don't operate in the region today. We have a number of different touch points, depending on the needs of the companies that we're looking to work with.
There's this figure of 26million… how is that going to be used?
Principally on those four pillars. One is around business advice, and a big chunk of the growth will coming from advising companies to enable them to achieve growth. Then we've got skills, and how we match companies with the skills they need to be successful. It's not quite a traditional skills brokerage – it's wider than that – it's about helping identify what skills are needed, making sure we can link people to companies, the right talent; linking companies to the university and the university to schools to ensure that the right courses and the right skills are being developed. And then we've got investment around capital equity as the third pillar. And the fourth pillar is inward investment. So, the money will flow through those four pillars. Of those four, business coaching is probably the most significant in terms of where we see a lot of growth coming from.
You mentioned ARU Peterborough, which in a way, is the biggest thing that is happening – certainly in Peterborough. How does this dovetail with it, and are you liaising with what they're going to be doing? Presumably, part of the potential is creating not just a workforce, but people with skills that can stay local…
Exactly that. I would describe it as a symbiotic relationship. It's a separate project and it sits outside the remit of what we're doing, but it's very symbiotic for exactly the reason you say. We talked about skills… The nice thing about the timing for the university, compared to traditional universities from decades ago, is that we're linking the university to local businesses to ensure that the offering that comes out of the university is addressing the skill set needs for the future, whether that's data-driven digital capabilities, bio science, agri-tech, additive manufacturing, battery technology… There's a whole range of subjects that we think will go through the university that will allow us to upskill the talent that will then stay and work in the region – and in types of job, hopefully, that are higher paid because of the skill set that they need, which then also helps us add to the economic growth in the region. But there's another element to this, and that is to what degree we can utilise some local companies to have innovation centres or collaboration centres on the university campus, so that students can see and participate in what local companies are doing. Again, it's part of that attraction, and keeping that student body involved in the local community.
It's quite a varied region from a number of points of view – and while Cambridge doesn't really need to be sold to anyone in Britain or anywhere else, elsewhere there is this untapped potential. So what do you think are going to be the big growth areas?
The region is certainly varied and I would say don't underestimate how the influence of Cambridge could help the rest of the region. I think there is potentially a lot of opportunity around supply chains and supporting businesses, particularly as we get the infrastructure around the region tighter with Cambridge itself. With the Fens clearly agri-tech is a big opportunity. In the Fens, we've got 50% of the country's most fertile land, so there's opportunity related to food production that has been developed and we know about, but there's also the potential to build around agri-tech businesses. And then, we've seen growth in financial, environmental products and services sectors that can be built on. I think there's some natural evolution that will take us further into things like additive manufacturing and digital technology. Also looking at climate change and the green economy, net zero activities around energy technologies such as batteries and hydrogen cells are likely to be areas of growth. So, I think we've got potential in the areas where traditional technologies are turning into new technologies, which is very exciting.
What do you think the biggest challenges are likely to be?
I've been asking the same question! At macro level, we could reach all the targets by just focusing on Cambridge. But that's not the point. The point is, there's a levelling up agenda here in the region, and we need to make sure we truly take this opportunity and help those areas that need more economic health than they had previously. That could be challenging, because if the companies aren't there to work with, then you've got to find other ways of bringing companies in, which might take a little bit longer. But other than that, the main challenge – and this is my responsibility – is to make sure that the services that we're offering are the services that the companies want and need, and that taxpayers are getting great value for money. We need to be flexible, to introduce new services that meet the requirements of all the businesses that sit in the region, being really open-minded to new ideas. We have a three-year plan in place, but this is about much more than three years – this is really about the legacy of the region. The success of what we do will be felt long after we have gone. It will be felt positively by our children and grandchildren. It's important that we challenge ourselves to continue to improve and be better, to look for best-in-class examples in the UK or the world, and become a benchmark that others look to learn from.
cambridgeshirepeterborough-ca.gov.uk
Leave a Reply