Leading by example: Women Leaders Awards 2017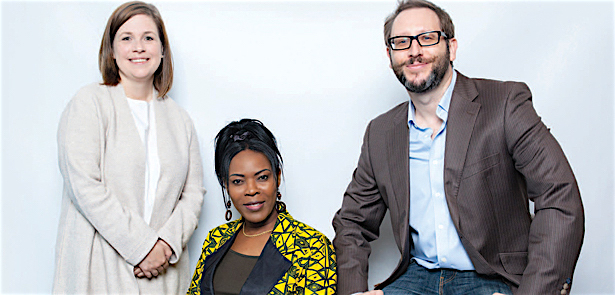 In September 2017, Moment publisher Mark Wilson was invited to judge nominees for Peterborough's first Women Leaders Awards in a round of intensive interviews at ABAX Stadium. The Moment followed him behind the scenes to find out what the awards are all about and what it means to those involved.
It's the morning of 13 September and we're sitting in an Executive Box overlooking the hallowed green of the Posh football ground. It'll soon be time for the competition to kick off. Some players are on the pitch, stretching, warming up and having a kick about. But it's not them we've come to see today. Today, this Executive Box – in common with all those neighbouring it – has had most of the seats removed and replaced by a central table with several chairs on one side, and a single seat on the other, its focus not on what's going on outside, but within. Interviews to decide the winners are about to begin, and the first of the nominees is due any minute. Some may end the day over the moon. Whether any are as sick as a parrot remains to be seen. What's certain is that this competition is at least as serious as anything that could take place on the pitch.
This is one of the many rooms where nominees are to be quizzed by panels of judges for the Women Leaders Awards. This particular panel is judging the 'Creative Industries' category. Thankfully, I'm just along to observe – in the judging hot seats are Moment magazine publisher Mark Wilson, Director of Nera Accounting Ltd, Rachael Dudley and paralympian Anne Wafula Strike MBE. As they go through their notes, preparing for that first knock at the door, I ask Rachael what she's looking for in the nominees. 'I think there are some key attributes that all business leaders should hold in the work that they do and their interaction with the community,' she says. Some of these are actually outlined in a handy criteria list given out to the judges beforehand. But there's clearly more to it than this. 'I think we're also just looking for a spark – someone who has real energy for the role they have, to drive it forward.'
Both Mark and Anne wholeheartedly agree. 'I'm looking for something extraordinary,' says Anne, 'and maybe something that not many people have discovered yet. We are going to see a lot of talent today, but it's someone with that extra magic that we're looking for, and I think we may well find it in someone who has not been recognised. It may even be someone who doesn't know they have it.'
Anne is now a veteran of the Women Leader Awards; this is her third year, having previously judged the first and second years of the awards in Milton Keynes, where they began. When it comes to 'something extraordinary' she is in a good position to judge. A British wheelchair racer who has no use of her legs, Anne is a board member of UK Athletics and recipient of numerous achievement awards including an MBE for services to disability sport. She has won so many gold, silver and bronze medals regionally, nationally and internationally that there are literally too many to list. She was the first wheelchair racer from East Africa to compete in Wheelchair Racing at a Paralympic Games and on becoming eligible to represent Great Britain, made her GB debut at the Paralympic World Cup in 2006, scooping a bronze, as well as three gold medals at the DSE Championships in Manchester. She now focuses on extreme challenges rather than competitive sport, and in 2016 completed a 66 mile charity wheelchair push from Bromley to Folkestone. By any measure, she is an achiever – and an inspiration. As the first knock comes, I wonder if those sitting opposite realise who is posing some of the questions.
The awards themselves were set up by Jan Flawn, once a resident of Bretton and a nurse at Peterborough hospital. Now head of P J Care, which has provided specialist healthcare facilities in Milton Keynes and Peterborough since 2000, she won the CBI First Woman Award in 2013. That award changed things for her. 'It gave me confidence,' she says. 'P J Care is a very successful company, but when I was nominated for the national award and had to go for interview I was shaking like a leaf! There was an international judge – from Brazil – who at the end came and said to me: "Whether you win or not Jan, I just want to shake your hand because I think you have a wonderful story". I was flying high on the fact that someone from a global company thought that. Then when I did win there was so much publicity around it. It was amazing. And it's given me so much confidence. Now, I'll go and talk to anybody. That's important.'
Never one to simply leave it at that, Jan set to create her own awards, and pass on that inspiration to other women. 'I mixed with lots of women who were very successful on their career paths, made many friends, all of whom had wonderful stories to tell, and I realised you can overcome obstacles. You can leave school with no qualifications and still be a success. You can be an exceptional volunteer and be recognised for that. That's what it's about; recognising that you've achieved something or given something back to the community.' To put this in context, Jan cites an example from the Milton Keynes awards. 'We had a young lady who has just finished her apprenticeship with Red Bull Racing, and she is a leader because she is the first female mechanical apprentice working in Formula One building engines!'
In this, its inaugural year in Peterborough, the awards received 92 nominations, many of whom had no idea they were being put forward (see our interview with Julie Taylor over the page). The winners are also automatically put forward for the national CBI First Woman award, and the regional and national Forward Women award. But Jan is keen to emphasise that every one of them is a winner. 'Of course, the people who win are exceptional. But the people who have been shortlisted are exceptional too. I am sincerely hoping that on the awards evening they will feel really special, and spread the word so next year we have even more wonderful women involved.'
The women we see over the next couple of hours are all achievers in entirely different ways, but all seem to echo Jan's thoughts. 'Simply being identifed as a woman leader is such an honour,' says Caroline Raines. 'It really makes you feel your work is worthwhile.' Caroline is Associate Director of Communications at BGL, and is clearly still a little staggered at her nomination coming out of the blue.
Later, sat in the same chair, Jackie Chibamu, MD of Creative Achievers adds: 'When you get nominated for something like this, it really gives you a push.' Jackie – who is also raising three children on her own – fosters emerging creative talent of all kinds in the city.
Faith Horne, Business Development Assistant at Roythornes Solicitors, is only 22 but already getting noticed. 'I was overwhelmed, really,' she says. 'It was amazing that people thought I'd made enough of an impact to be nominated.'
Lauren Purser – also a mum – has been in business as a designer less than a year, setting herself up after three consecutive redundancies. 'It's a privilege – but also a bit mindblowing to be in this category with these other women,' she says.
This is a story we hear again and again from all the women who walk through the door. It's clear that, for them, just being here has already made a difference. All of them also seem touchingly unaware they they are themselves major sources of inspiration. At the end of a long day – during which the judges faced the almost impossible task of choosing winners from all they'd seen – Jan Flawn declares that the panelists have been 'blown away by the calibre of the women they were judging'.
And, to those who comment on the lack of a Men Leaders Awards, she has this to say: 'Men obviously have much greater opportunity to put themselves forward for business awards. Nevertheless, we do have a category called "Best Male Supporting Women". My own mentor was male and without him I would not be where I am today.'
You can't put a price on inspiration – no matter where it comes from.
If you would like to be involved in Peterborough's Women Leaders awards, please visit the website www.womenleaderspb.co.uk or follow them on social media. @UK_WLs for Twitter and /WomenLeadersMK for Facebook.
Leave a Reply