Is the internet an essential utility?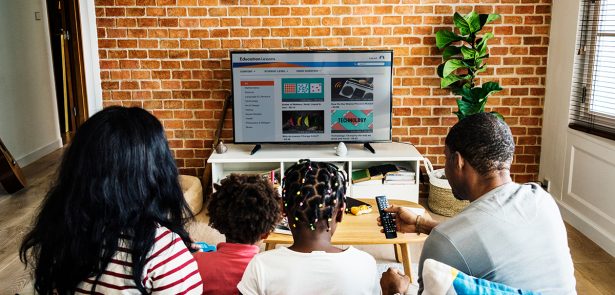 Which utilities in our homes are essential? Are there household items we couldn't manage without? At a time when technology has never been more important in our lives, most of us in Peterborough agree that internet access is now an everyday essential. But just how important do we consider it compared with universal needs like heating and running water?
Very, it seems. At CityFibre, we wanted to know more about the role the internet plays in peoples'
lives, so we asked over 2,000 people in UK communities to rank the importance of a range of items and services in their homes. After nearly two years of homeworking, internet access scored second only to lighting, underlining how important it has become. Connectivity came before other essentials such as TVs, the kettles and even smartphones, although, of course, many of these items now need internet access to deliver many of their main functions.
This theme continued when participants were asked which utilities they couldn't live without. Internet access ranked higher than gas for heating and cooking, and even sewage – only electricity and water were considered greater needs.
This shows that the internet is now one of those things that households depend upon and expect to work when they need it. For the people of Peterborough, this should absolutely be the case now they have access to future- proof digital connectivity they can depend on.
Read on to find out why.
FIRST OF ALL, WHY IS THE INTERNET SO IMPORTANT? 
As internet access has become more widely available, its value to us has increased to the point that almost 90% of our research participants said they now recognised their internet service as an essential utility. The arrival of smartphones really accelerated our dependence on connectivity enabling us to connect 24/7 without being tethered to a desktop PC. This unleashed a seemingly endless stream of new innovations and applications for connected devices, which are now at the heart of everything we do, from managing our homes, social lives and health, to doing our jobs, educating children and dealing with our finances.
Indeed, the internet has proven itself a great leveller across society, unlocking access to services and opportunities with a host of benefits for all. In fact, the World Economic Forum's 2020 Global Social Mobility Index highlighted access to technology as one of its ten pillars for supporting social mobility, alongside health, education, fair wages and working conditions.
During extended periods of lockdown over the past few years, the internet has kept us connected with loved ones, helped us keep businesses running and acted as a gateway to information, education and entertainment. However, it has also highlighted the need to improve the standard of connectivity we are using.
INVESTING IN A CONNECTED WORLD
In recent years the UK Government has pledged to have at least 85% of UK homes connected to Gigabit capable broadband (an internet connection that offers a speed of one Gigabit per second (1Gbps/1Gb) or more) by 2025, a major upgrade on what is available today.
Almost 70% of homes currently still rely on legacy technology that was originally installed to carry telephone signals. This is clearly no longer fit for purpose as it cannot support the volumes of data we consume today, with demand for data, speed and reliability skyrocketing in recent years.
Fortunately, a solution exists, and more and more homes are gaining access to them every day: full fibre networks.
At CityFibre, we are investing up to £4 billion in extending our full fibre network rollout to reach up to eight million homes, 800,000 businesses and 400,000 public sector sites, which is the equivalent of a third of the UK Government's target. Currently we are building in 285 cities, towns and villages across the UK.
This includes right here in Peterborough, where we have been working since 2018 to rollout a £35m project that will see our state- of-the-art network reach almost every home and business across the city. As part of this investment, we have contributed to the area by creating jobs (120 to date) and supporting local initiatives. Most recently, we have worked with a wide range of causes, including Digital People in Peterborough, Inspire Your City, Start-up Peterborough, Peterborough Celebrates Reading, the STEM Festival, Peterborough Rugby Union FC and Thorpe Wood Rangers FC.
WHY FULL FIBRE?
Full fibre networks are designed specifically to carry data, taking fibre optic cables 100% of the way from the exchange to the home, with no legacy telephone network left to slow it down. This technology is not only faster – carrying data at light speed – it is significantly more reliable and is capable of scaling to support data consumption as it grows in the years to come. It really is the best technology for the job.
So, what does this mean for you? It means households across Peterborough will be able to access content and download files much faster, streaming will be seamless, and you will be able to watch your favourite TV shows and films without any buffering. What's more, homeworkers will have a better time accessing remote systems and joining conference calls, while residents can be sure that all the connected devices in their home – smart speakers, security systems, tablets and more – will operate as they should.
You'll be able to depend on your network too – full fibre isn't impacted by stormy weather or flooding, like copper networks often are, and if it's CityFibre full fibre, then we build our networks to ensure services can be rerouted on the rare occasion there is a fault. In fact, we constantly monitor our network, so, in most cases, we'll have identified and fixed the problem before they're even noticed.
FUTURE-PROOF YOUR ESSENTIAL INTERNET SERVICE
Given the vital role the internet now plays, the networks that carry services to our homes and devices deserve attention and investment, and households across the country should have
the option to improve and future-proof their connectivity with full fibre.
In places like Peterborough and increasingly across the UK, this is the case. However, it is not always clear that this choice is available. Savvy consumers should, therefore, be looking beyond the promise of faster speeds, and instead looking at the type of network the service is being offered when changing their internet service provider.
As an independent platform, our full fibre network gives you a choice of who you want to provide your internet. Here in Peterborough, residents can access our network through a number of our partner ISPs including Vodafone's 'Gigafast Broadband' service, TalkTalk's 'Future Fibre' packages and IDNet's gigabit-capable home broadband services.
To find out if you can connect to full fibre with CityFibre and to see which service providers are available, check the postcode checker at www.cityfibre.com.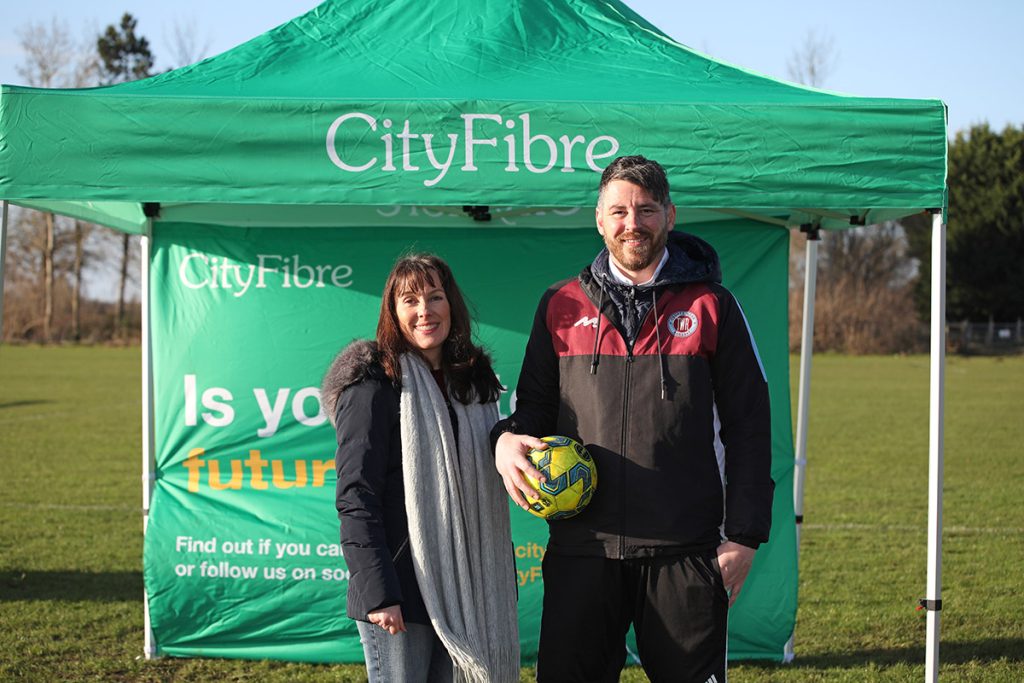 CONNECTING COMMUNITIES
Building on its investment in Peterborough, CityFibre recently announced it had started work on a new digital transformation project to bring full fibre connectivity to the Fen town of March, helping to future-proof its digital capabilities for decades to come.
Construction of the £5m town- wide full fibre network is being delivered by Granemore Group on CityFibre's behalf, with the team using a range of construction methods and working in close partnership with Fenland District Council to deliver a fast rollout and manage potential disruption.
Each area will usually take a few weeks to complete, however, construction teams will typically only be outside each home for two to three days. As the network is completed in each neighbourhood, internet service providers (ISPs) will 'light them up' with some of the fastest and best value broadband packages available in the country.
The network is not yet live, but once activated, services will be available from an increasing range of broadband providers (check out the postcode checker to register your interest).
Speaking of the project, Councillor Chris Boden, Leader of Fenland District Council, said: 'It is fantastic that CityFibre is now ready to start delivering its £5m infrastructure investment programme in March, which will deliver a town-wide network that will benefit residents, businesses and services alike. This is a once-in-a-generation upgrade that will futureproof our network infrastructure at a time when connectivity has never been so important.'
SUPPORTING BUDDING SPORTS STARS
CityFibre has become fully immersed in Peterborough life since it started working with Peterborough City Council in 2013, and the company has backed many local initiatives. This can be seen in CityFibre's recent donation of sports gazebos to the junior teams at Peterborough Rugby Union FC and Thorpe Wood Rangers FC to help ensure young sport stars can keep active in all weathers.
Both clubs work hard to promote healthier and more active lifestyle choices for Peterborough's young people and CityFibre was eager to show its support. The new sports gazebos will prove valuable in helping to protect players, coaches and fans against harsh weather when on the sidelines.
Speaking of the donation, John Dalton, who coaches the under 13s team at Thorpe Wood Rangers FC, said: "At Thorpe Wood Rangers FC, we are grateful to CityFibre for their donation. The new sports gazebo will help protect our junior team against the wind and rain."

Eddie Smith, who coaches the under 13s Rhinos team at Peterborough Rugby Union FC, added: 'We are really, really grateful for the gazebo, thank you. As a community members owned club we rely heavily on sponsorship for success, having such a stable shelter provided by CityFibre will enable us to provide a safe haven for our players and parents on the side of the pitch in all weather, home and away!'
CityFibre is invested in the future of Peterborough and excited to watch the city grow as residents
reap the benefits of their full fibre infrastructure, which will help fuel productivity, innovation and economic growth. CityFibre has supported local organisations – like Peterborough Rugby Union FC and Thorpe Wood Rangers FC – to thank residents for their patience while this digital transformation got underway.
Rebecca Stephens, CityFibre's Regional Partnership Director and City Manager for Peterborough, said: 'We are proud to have helped these local sports clubs as a token of our thanks to the residents of Peterborough for their support and enthusiasm as we rolled out our state-of-the-art full fibre network and future-proofed the city's digital infrastructure.'
Leave a Reply