Happy birthday Peterborough One!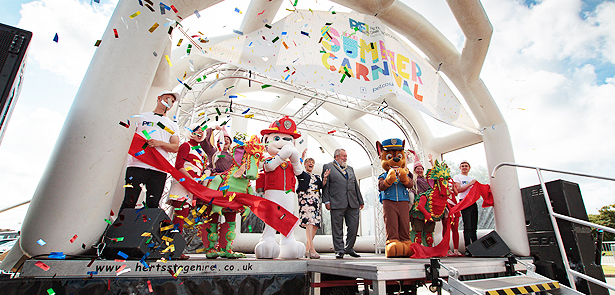 It's been a year since new owners, Targetfollow, rebranded and launched Peterborough One Retail Park – and what a year it's been for the site. The Moment talked to Antony Moore, Group Marketing Manager of Targetfollow, to find out how it's been, how they are celebrating and what's in store (literally) for the future...
PE1 celebrates its first birthday on 28 July. What will you be doing to celebrate?
We are hosting another fantastic summer event, themed around a Hatters Tea Party. There will be stage shows and games hosted by Producer Josh from Heart FM, activities, attractions and walkabout acts, face painting, craft workshops and appearances by Gekko from PJMasks. Our fabulous traders will be getting involved with some exclusive shopping offers and maybe even a little dressing up too. It's going to be a fantastic day that will kick start a summer of fun at Peterborough One and we hope everyone can join us!
What have been the highlights of your first year?
Welcoming new retailers to the park has been wonderful. Kiddicare, a one stop shop for all your baby and toddler needs, has been a fantastic addition to the trader line up as has Breast Cancer Care, a boutique style charity shop funding a great cause. The Ice Rink we held in partnership with our anchor store, Van Hage, was big project and a collaboration the likes of which the park had never seen before. It was a fantastic venture which I believe was very well received by visitors and definitely something we want to bring back this year. Then there was our Christmas Light Switch on. Wow! What a spectacular event that was, which culminated in one of the best, if not the best firework displays to music I have ever seen. The positive feedback we got form this event was overwhelming.
What do you think is the secret to a great retail park?
Well, without giving away too many of our insider tips… A good retail mix, a happy, upbeat, vibrant environment, a fantastic enlivenment programme and of course, lots of hard work. We are constantly looking at innovative ways to bring and improve upon all of these elements to ensure the success of the park.
Car boot sales have become a regular feature – why include those?
We always welcome commercial activity on site. We have a wonderful plot of land and loads of car parking space at Peterborough One Retail Park, perfect for a car boot sale. Our car boots are set in an idyllic location with tarmacked roads, plenty of amenities, competitive trader pitch fees and free entry to browsers. That's why we bill our car boot sales as Peterborough's Premier Boot Sale. And don't forget whether you are a trader or a buyer, there is nothing better to reward yourself after a successful car boot than one of Van Hage's legendary breakfasts!
Do physical stores face stiff competition from internet sellers, or are people coming back to face-to-face shopping?
It's no secret that there is competition from online retailers. But we believe that there is still very much a market for face to face shopping and our retail ethos and enlivenment programme of regular events is a big part of combatting the online competition. Our aim with Peterborough One is to create a destination retail experience where customers can enjoy a day out shopping, grabbing a bite to eat and socialising, in a beautiful and vibrant environment. All of our retailer teams are very personable, approachable and welcoming. You don't get that online.
What plans are there for the future, and what will we see happening next?
We have some really exciting things happening at the park including new retailers in the pipeline, a fantastic programme of events continuing through the year and we will be focusing on bringing more all year round leisure activities to the park. We have only just begun!
Peterborough One
Eye Road, Peterborough, PE1 4YZ
www.pe1.co.uk
facebook.com/PeterboroughOne
twitter.com/PeterboroughOne
Leave a Reply