Grand designs at Allia Future Business Centre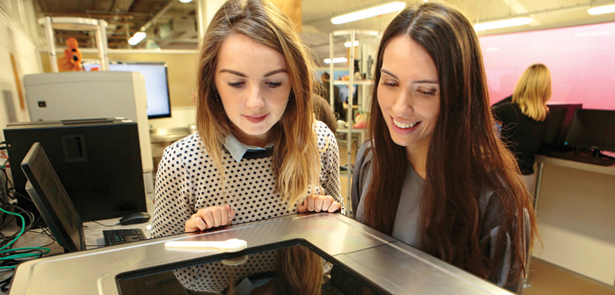 Peterborough welcomes a new, state-of-the-art innovation lab at the Allia Future Business Centre. Inside can be found outstanding design, prototyping and testing facilities for use by the region's entrepreneurs, engineers and inventors
Virtual reality, drones and computer control systems are among the state-of-the-art facilities now available for use by entrepreneurs, engineers and inventors at virtually no cost, thanks to a new resource in the Allia Future Business Centre.
The Innovation Lab is one of the country's most advanced 'maker spaces', containing design and rapid prototyping equipment, such as computer-aided design software, electronics design, hi-tech making equipment, a range of 3D printers and a digital media lab. Also available is space and tools for the construction of larger projects and access to full-time technicians and business advisers.
Making excellence accessible
Dr Shailendra Vyakarnam, Director of the Bettany Centre for Entrepreneurship at Cranfield, says: 'Traditionally, these types of facilities are located in very large cities, academic institutions or are the private inventing spaces for large corporates, and can be expensive to access by people in the early-stages of their entrepreneurial journey. In addition to being very low cost to access, what makes this truly unique is that it goes beyond simply providing space and equipment. This innovation lab provides the technical expertise and the business mentoring essential to help turn ideas into sustainable ventures.'
The Innovation Lab is aimed explicitly at those who want to make a positive impact on people, the planet and place. It has been made possible through Allia's Serious Impact initiative, supported by the European Regional Development Fund, Opportunity Peterborough and Peterborough City Council under the Peterborough DNA Future Cities programme.
Promoting innovation
Tim Jones, Chief Executive at Allia, explains: 'The Innovation Lab will encourage and promote innovation to create the technologies that fuel tomorrow's jobs and keep the city and region at the forefront of developments making positive impact on people and planet. Peterborough has a highly skilled engineering-based workforce, a commitment to using technology to improve the lives of its citizens, and an emerging entrepreneurial community. We felt this would be a region that would embrace the facilities that are on offer and use it as the basis to create some really innovative products and solutions.'
Steve Bowyer, Chief Executive of economic development company Opportunity Peterborough, adds: 'All too often business ideas and new start-ups can be stifled by lack of support or poor testing facilities, but here in Peterborough we offer our entrepreneurs an invaluable network of expertise to help get their ideas off the ground and into markets. The range of equipment on offer in the new Innovation Lab will only serve to support and inspire city entrepreneurs to innovate further. The Allia Future Business Centre is Peterborough's smart city hub, so it's the perfect place for the Lab to be based. This firmly makes the Centre a hub for the smart city work for which Peterborough is world-renowned.'
The launch of the Innovation Lab was celebrated at a special event attended by the former CEO of the employment charity, Tomorrow's People, Baroness Stedman Scott; the Rosetta Mission's space scientist Monica Grady CBE; and Cambridge tech entrepreneur, Chris Curry of Acorn Computers. 
Innovation Lab
There is a small fee to use the Innovation Lab of £30 per month. For more information or to find out how to access it visit www.seriousimpact.co.uk/innovationlab
Leave a Reply