Goodbye Tension, Hello Pension!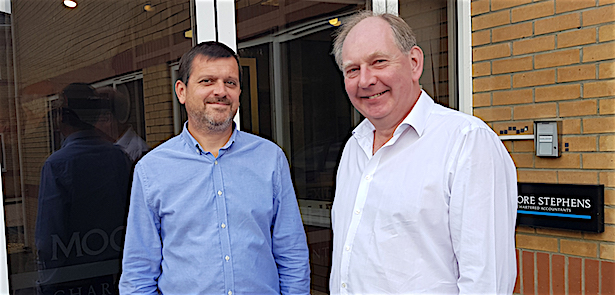 Dickon Sandbach, Senior Partner at accountants Moore Stephens, has retired after 40 years with the firm. We caught up with him...
How did you start in accountancy?
People often ask why I decided to pursue accountancy as a career. I didn't, I just thought it would be a useful qualification that would open more doors and, quite frankly, I hadn't a clue what I wanted to do! My father introduced me to Nicolas Hart (Partner at Stamford-based accountancy practice, Nicolas Hart and Co, which later became Moore Stephens). My interview, if you decide to call it such, was over a pint of beer. At the end of the meeting Nic said to get back in touch if I was interested in a job. I thought about it for a few weeks and decided to accept. He replied that he was pleased that I accepted the job, but he had not realised he had offered me one! Nonetheless I started after the August Bank Holiday in 1978.
What have you enjoyed most during your career?
Seeing people coming into the profession and helping them develop, take on responsibility and succeed. It's very rewarding to have been able to provide good employment for a number of people over the years. None of this would be possible without the clients. The most enjoyable part of the work is talking to them about their businesses and how they can succeed in their objectives – sometimes even helping them to work out what it is they want out of life! In some cases, this has been as simple as helping them to prepare personal budgets to manage their retirement, for others it has involved helping businesses to grow or even survive. It has been an enormous privilege to work with my clients.
How have things changed?
Technology has had a huge impact. A couple of years before I started, the firm had used hire purchase to acquire a couple of 'adding machines' (a kind of mechanical calculator). Everything else was done with pen and paper. When we got our first firm-wide computer system, the terminals worked at a speed of 1200 bits per second. So from our Stamford office, you would press a key and there would be a noticeable delay while that transmitted to Kettering and then returned to be shown on the screen in front of you!
Do you have any regrets about retirement?
Whilst there are some things and many connections I would like to continue with, I have to say that I am pleased with what I have managed to achieve, confident that the team at Moore Stephens will continue to develop. What I certainly will not miss is the regulation. Shortly after I started work, the first auditing standards were introduced – they were about three paragraphs long. Now there is a hefty book giving the auditing standards and guidance! The main accounting standard is massive, and growth in tax legislation has been extraordinary. It's no longer feasible to be expected to know all the rules in all areas, which means having to specialise in one particular area of expertise.
What are your plans?
I've long wanted more time to go walking, cycling and to do more photography. I am often to be found walking my dogs along the Nene Valley with a camera and enjoying the scenery and the steam trains. We have also bought a house near Inverness with about four acres which we intend to make reasonably productive.
What's next for Moore Stephens?
I am proud of the team I have built around me, so I am able to leave knowing that we have high quality people with a lot of expert and specialist knowledge. They will be able to take the firm further and to a higher level than ever I could. I have tried to prepare for retirement – after all, one of a manager's duties is to make sure that no one is indispensable, including himself. If I have got it right, I will fade out of the picture, and they won't notice that I've gone!

Moore Stephens
01733 397300
www.moorestephens.co.uk/eastmidlands
Photo: Andy Hancock congratulates Dickon Sandbach (right) on his retirement
Leave a Reply