How full fibre connectivity will change our lives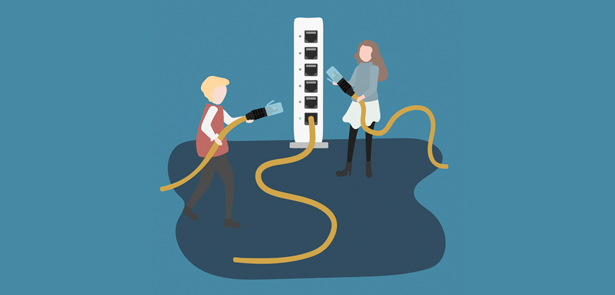 Andy Starnes, Head of City Development at CityFibre on how 'full fibre' is transforming the city's digital network
With Peterborough's digital transformation now underway, I want to talk about the impact ultrafast connectivity will have on our city and what changes we can expect to see in our daily lives. According to a new report, Peterborough could be in for a multi-million pound windfall. The study by economic consultancy Regeneris examines how the economy is likely to benefit from ubiquitous full fibre connectivity, quantifying its impact on the city over a 15-year period. Peterborough homeowners and the wider property market can expect to reap huge rewards. Up to £45m could be added to the value of local homes, as access to reliable, high speed broadband becomes ever-more critical to buyers.
This is great news as CityFibre recently started construction work to expand its full fibre infrastructure to nearly every home and business. As one of the first areas to be announced as part of our strategic partnership with Vodafone to deliver ultrafast full fibre broadband to over a million UK homes and businesses by 2021, Peterborough is fast becoming one of the UK's most attractive places to live and work. With all eyes on the city's digital transformation, now is a great time to consider the role connectivity plays in our communities, and the applications we can expect to enjoy as residents of one of the world's best connected cities.
At home
Recent research conducted by Censuswide has shown us just how important the internet has become in our day-to-day lives. More than a third of respondents said they now considered the internet to be just as important as water and energy, and a significant majority acknowledged the role it played in keeping people connected with their friends, family and the wider world. A quarter even said they couldn't function without it! The applications for home internet are constantly evolving. Shopping, social media and online banking are still popular functions, but now we can use connected devices to keep us safe, well and happy at home – think security systems that link to your phone, smart meters that keep your energy bills in check and apps that help us eat better and exercise more. Imagine how these might develop in the future if speed, capacity and reliability were a given for everyone?
Just think about the possibilities open to us with Internet of Things (IOT) for example. Wouldn't it be great to save time on our daily tasks with smarter homes? Intelligent homes can help us wake up on time, manage our refrigerators to minimise waste, control room temperature and lighting, improve energy efficiency, and help us save time, effort and money so we can focus on what really matters to us. With full fibre providing the necessary foundation for endless innovation, this can all become a simple reality. I certainly like the idea of my alarm clock telling my coffee pot to be ready to welcome me every morning!
In our communities
Full fibre transforms public services too – this has already been happening in Peterborough. Since 2014, CityFibre has been providing next generation connectivity to the city's schools, council offices, as well as Peterborough Hospital; helping them to operate more efficiently and explore new opportunities in areas such as e-learning, telemedicine and digital skills development. Always ambitious to spearhead digital initiatives, Peterborough is globally recognised for its implementation of smart city initiatives and was even named as one of the UK's top 10 leading Smart Cities in a 2017 report published by global information and communications company, Huawei.
The council has implemented initiatives such as an IOT-based sustainable drainage programme which is giving us a better understanding of the city's rising river levels, as well as high-definition CCTV and smart traffic management systems which are vastly helping to improve local security, ease congestion, and generally improve the city environment. Full fibre provides the supporting infrastructure for these initiatives. According to the Regeneris study, further public investments in smart city enablement could add as much as £54m to Peterborough over the next 15 years; while digital enhancements in the delivery of healthcare services could be worth £8m.
This is good news for residents and a real driver for local investment. So whether it is at home, at work or within our community, it is clear that new technologies have the ability to transform our lives for the better – with full fibre the key to unlocking that near limitless potential. All eyes are now on Peterborough as we forge a path towards becoming one of the most digitally connected cities – not only in the UK, but across the globe. The future is a bright one indeed.
At work
The same goes for our work places. Censuswide's survey revealed that the average UK business can cope for just half an hour without internet connectivity, proving just how vital it is to our local and national economies. But the value connectivity brings is about more than just keeping businesses working – it's about providing the tools for long-term growth, productivity and innovation.
Full fibre is a future-proof infrastructure on which data-hungry services, systems and innovations such as remote working, e-commerce and even blockchain systems can thrive long term. Reinforcing this, our research with Regeneris shows that access to gigabit-speed full fibre connectivity could unlock at least £55m in business productivity and innovation; allowing local businesses to boost their customer and employee experience with newer, faster, more reliable technology. The stats also highlight that a further £25m in growth could be driven from new business start-ups in Peterborough, with enhanced connectivity making it easier and less expensive to set up base and run efficiently. The increased ability for companies to support flexible working could also add a further £22m according to the research. This will not only help to reduce barriers to work but improve employees' work-life balance which in turn improves motivation and retention.
● To find out more about the Gigabit City infrastructure in Peterborough visit: www.cityfibre.com/peterborugh or follow @GigabitPboro  
Image: www.freepik.com/free-vector/illustration-of-human-avatar-using-technology_2803298
Leave a Reply