Fletton Quays: riverside revival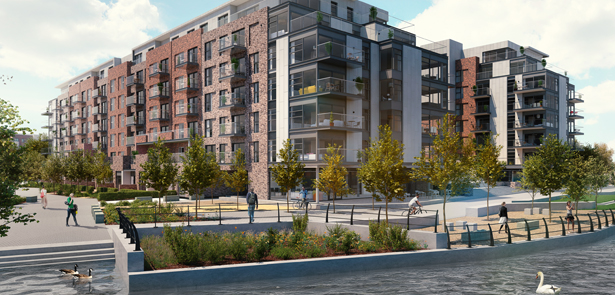 Peterborough is in the midst of a riverside building boom. It's a visible reflection of the city's growing confidence and it promises a positive contribution to both its economy and cultural offering. Bob Weston, Chairman of Weston Homes, tells us why he decided to invest in the redevelopment of Peterborough's South Bank through the property developer's Fletton Quays Development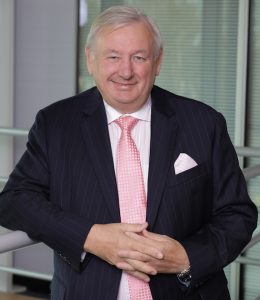 The Fletton Quays Development is a bit of a first for Peterborough. All that cutting edge architecture wouldn't look out of place on London's South Bank, let alone Peterborough's!
It feels more like a London river frontage scheme that's true. It's not what you would have traditionally seen in somewhere like Peterborough, but why not? Together with the tree-lined waterfront boulevard and green areas planned for the development, it will create a really striking impact.
Why did you make the decision to invest in Peterborough? What is it about the city that made it an attractive place to build?
Over the last 10 years there has been a much keener political will for regeneration. Instead of seeing the potential pitfalls, they're recognising the very obvious benefits to such a scheme. The atmosphere is a lot more proactive and welcoming, which makes it easier to make those decisions.
You then have to temper that with where we are at in the current economic cycle, and where the values fit. We have just finished another scheme in Peterborough, so we're already in the city and we understand what makes it tick.
Why does Fletton Quays work for us? It's a different type of build. There's a higher build cost than traditional housing, but that's our expertise. With this sort of scheme we feel we have a massive advantage over our competitors. We can make the build costs work whereas perhaps others couldn't.
Is it economies of scale, streamlining of methods or your particular expertise that's making it easier to build to a certain price point?
There are certain house builders who are just that, house builders. So reinforced concrete structures such as those used at Fletton Quays are outside of their comfort zone and they probably don't have the skillset or aren't geared up for that skillset. But this is something we do regularly, so we have the expertise and we can control the project in a manner that makes it viable.
You mentioned about the political will being there. Has the involvement of the City Council through the Peterborough Investment Partnership been crucial to your decision to invest?
It's been absolutely crucial. The council has set up a team of people who have the right brief and the right skillsets and, dare I say the right attitude to make things happen. We are a delivery business; we don't have any land banks. Anywhere we've got an ability to dig holes and pour concrete – trust me we do it! It's really quite simple – I don't make a profit until I do deliver.
The City Council increasingly seems to be taking a more business-like approach, probably as a result of cuts to it's funding. You could argue that in some cases, particularly the South Bank redevelopment, it has forced things along.
That particular site had lain derelict for 20 years. The site is right in the centre of the city, opposite the cathedral. How could there have been that much of an eyesore for that long? But it needed that right mentality. Now there's going to be a vibrant frontage to the river, while the council is getting new 70,000 square feet council offices. Then there's the gin distillery, our residential development, a new nine-storey hotel – it really is going to regenerate and revitalise the city centre.

Waterfront developments have helped to transform the fortunes of other cities, for example Birmingham. Do you think this is going to have a similar effect in Peterborough?
Absolutely. I think Peterborough may have bad press in the past but as I've said, over the last 10 years there's been a marked move politically to drive it forward, and the city is going to benefit from it.
So what effects do you think the whole riverside redevelopment will have on the city centre's economy?
Hopefully it will stimulate the night-time economy along that side of the river and bring a little bit more life to it. And when you consider we're putting in 358 homes there – that's another thousand people coming and going, which creates a constant flow and buzz.
That's a good point. Peterborough city centre used to be a bit dead in the evening but it's gradually coming alive as its night-time economy grows. Having more people living in the city centre will help to fuel that growth.
That's right.
Often these sorts of developments are more avant-garde than the more traditional housing stock. You could argue they're more cosmopolitan and exciting too.
I would like to call it aspirational.
There's a reasonable chance that the new Peterborough University campus might be located nearby on The Embankment. How do you think that will fit into the overall feel of the city centre?
The city centre is the sum of its individual parts. The new university, along with the redevelopment, along with this and along with that – I don't think you can pull out any one specific thing that's going to make the difference. But for the city as a whole they all contribute. A university can make an enormous contribution to a city, so having that added to the mix will certainly be a benefit along with all the other positive changes taking place.
Peterborough's a pretty well located city. It's close to Cambridge with all its research and tech and it's obviously quick to get into London. Do you think that along with things such as this redevelopment the city is finally coming of age?
I think people's first reaction is that Peterborough is a long, long way away. And when you say to people 'do you realise it's 42 minutes on the train to London' – it's crazily fast because it's on the East Coast Mainline. Of course, not everybody goes to London, but being connected either north or south by a very high-speed railway line is one of its key features. It's undoubtedly contributed to its rapid growth. The redevelopment of the South Bank is also sure to cement the city's status as one of country's fastest growing cities and a great place to do live, visit or do business.
Once completed, the redevelopment is going to transform the river frontage of the city. It will refresh the city.
It will do. It will refresh that whole part of the city. We were very keen with this redevelopment to do the river frontage and get it finished as soon as possible. We're already halfway along. I think it's important to demonstrate the infrastructure journey early on.
As well as new residents moving into your apartments, do you think the redevelopment as a whole has the potential to attract more businesses into the city?
There are a lot of new businesses in Peterborough, particularly on the edges of the city. Some of those businesses will be looking for new office space, as will companies from outside the city. Through the Peterborough Investment Partnership the development includes a new office building, alongside the council's building. I also think the redevelopment expresses a new confidence in the city – it's a city that's clearly going places. So yes, I think it will attract more businesses into the city.

Have you got any upcoming plans to build elsewhere in Peterborough?
We will look at every opportunity that comes along and if we can possibly make it work we will. We are talking with the Peterborough Investment Partnership on a couple of other things and our experience of Peterborough so far has been excellent, so why wouldn't we continue to invest!
---
Fletton Quays
Fletton Quays is part of the wider £120 million redevelopment of Peterborough's South Bank. The development comprises four residential buildings of three to seven storeys housing 358 one to three-bedroom apartments. Fletton Quays is designed to be modern, economically and environmentally sustainable and low-carbon, yet sympathetic to the history and culture of the city. Prices start from £164,495.
For further details visit weston-homes.com or call 01279 873300.
Leave a Reply