Fletton Quays – bringing the riverside to life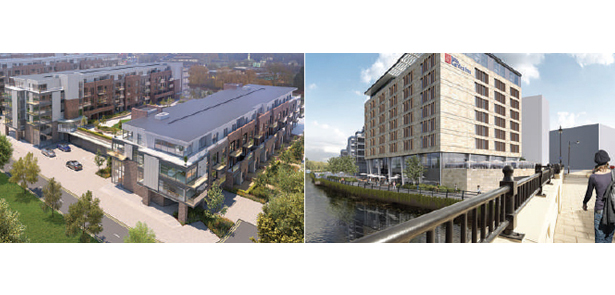 Anyone who has travelled over Town Bridge in recent weeks will have noticed that work is progressing rapidly on the Fletton Quays development. One of the city's key regeneration projects, the scheme is creating a vibrant, sustainable community which will bring new life to a landmark and long-neglected city centre site
Fletton Quays is revitalising the south bank of the River Nene in the city centre by creating new river-fronted homes, leisure and retail facilities and office accommodation for a range of organisations small and large. Since work began on site in December 2016, the development has gone from strength to strength.
The office buildings which will house Peterborough City Council are now well-advanced, including the restoration of the Grade II listed engine shed. The work to createWeston Homes' high-quality apartments is progressing at a pace, with a show home expected to be open in early 2018. The development is being brought forward by Peterborough Investment Partnership (PIP), a joint venture formed by Peterborough City Council and the GB Strategic Land Fund which aims to support the sustained growth and development of local communities across the city. Fletton Quays is its first regeneration project, with others due to come online in the near future.
PIP was recently shortlisted for a Royal Town Planning Institute East of England Award for Planning Excellence 2017 for the Fletton Quays scheme. This well-respected award recognises the positive impact planning has on our quality of life and celebrates the contribution that planners and planning make to society. The innovative approach and collaboration involved in planning Fletton Quays has ensured it will benefit the whole of Peterborough.
SO WHAT'S NEXT FOR THE DEVELOPMENT?
Recent months have seen a number of exciting announcements, with more to come. The jewel in the Fletton Quays crown was recently confirmed as being a Hilton Garden Inn hotel, including a rooftop bar which will boast impressive views over the river and Peterborough Cathedral. The ninestorey hotel will include 160 guestrooms, a riverside restaurant, meeting rooms and a fitness centre. A planning application was submitted for the hotel by its developer, Norlin Hotels, in September, and if permission is granted work will begin very quickly on site with a view to welcoming guests by mid-2019. Peterborough City Council has recently submitted a planning application to turn the disused mill on site into an arts hub for the community. The proposals would see the Whitworth Mill transformed into a base for artists, with a range of studios and workshops. The centre would also be the new home for the Metal arts group, which is currently based at Chauffeurs Cottage behind the town hall.
The transformation has been helped by a £490,000 grant from the Arts Council which will cover the first phase of redevelopment, namely the structural changes, which is scheduled to be complete by summer 2018. Fletton Quays will complement the wider growth of Peterborough city centre which includes new restaurants like Turtle Bay and Middletons Steakhouse & Grill as well as independent bars to enjoy a drink including The Bumble Inn, Puzzles and The Stoneworks Bar. When the site completes in 2019, it will create a flagship development for the benefit of the whole city.
For more information, visit the Peterborough Investment Partnership website: www.peterboroughinvestmentpartnership.com
Leave a Reply