Five minutes with PJ Care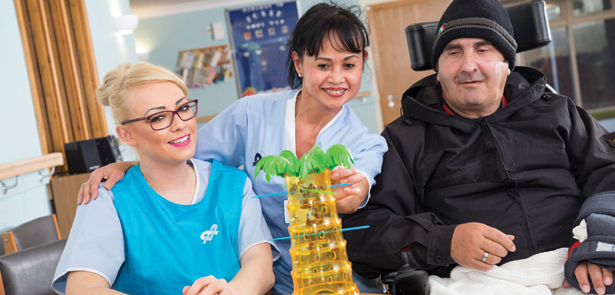 Few cities can say they have a Specialist Neurological Care Centre, but here in Peterborough PJ Care has been providing this service for more than five years. We caught up with the team behind the care...
Tell us in a nutshell what you do. 'Specialist neurological care' sounds complicated!
Well, one of our care models is 'Complex Care' so we can't disagree with you there! The residents we care for here in Eagle Wood (and in our other two centres in Milton Keynes) cannot be supported in nursing homes and traditional care centres due to the intricacies of their conditions and challenging behaviours. This is why our service is so important and why we care for people from all over the UK and beyond.

What sort of conditions do you care for?
We care for a huge range of conditions from Dementias, Huntington's disease, Multiple Sclerosis and Korsakoff 's Syndrome, to acquired and degenerative conditions such as road traffic collision injuries and Strokes. Our care models allow us to care for individuals from age 18 and onwards, through to end of life care.

So if you're not a traditional nursing home, what could someone expect when visiting one of your centres?
We encourage visitors and think it's great to be given an opportunity to help more people understand what we do here. All our units (there are four in Peterborough and three in Milton Keynes) have their own character – colourful, bright and airy with access to gardens and outdoor spaces – and residents are involved in decorating their ensuite rooms to ensure it feels like home.

And what does day-to-day life look like?
Every day is different and having an in-house multidisciplinary team means we are flexible enough to adapt to anything. Facilities are important too. In Eagle Wood, we have a Hydrotherapy Pool, Physiotherapy Gym and Sensory Rooms. What this all means for our residents is they receive the care they need, when they need it, without the time and resource constraints we see elsewhere. It's not all work and no play here, though! We have dedicated activity teams who put together individualised activity plans for each resident based on their hobbies and interests. We aim to enable people to live life to the fullest and maximise their capabilities. Care is at the heart of all we do and we've received countless awards for our commitment to training, investment in people and end of life care.

This all sounds amazing – but what about the cost? And how do people get to stay in one of your centres?
We have a dedicated Referrals and Placements Team, and their job is to speak to anyone who needs help understanding anything relating to our service or the general provision of care for neurological conditions. We are also very mindful of the challenges and stress the process of a loved one moving into a care home can cause, so it is good to have a direct line to someone who can provide advice. In terms of funding, it all depends on the situation of the potential resident. Once we've received a referral (this can be from anyone; a family member, NHS Commissioner, social worker) and assess, a decision can be made as to whether our care is right for someone or not. Pricing is based on individual needs and the support they will require from our skilled team. Some residents may be privately funded while others have NHS Continuing Healthcare funding in place to cover the cost.

We are privileged to be entrusted with the care of others and we do not take that responsibility lightly.

If anyone needs more information or wants to speak to you, how can they get hold of you? Visit our website www.pjcare.co.uk People can also email or call 0330 2020304. You can reach our Referral and Placements Team on 0330 2020305. We're ever-growing, so if people are looking for a career in healthcare, they can check the job section of our website for opportunities or call our recruitment team: 0330 2020306.
Leave a Reply