Fane Clinic: Putting people first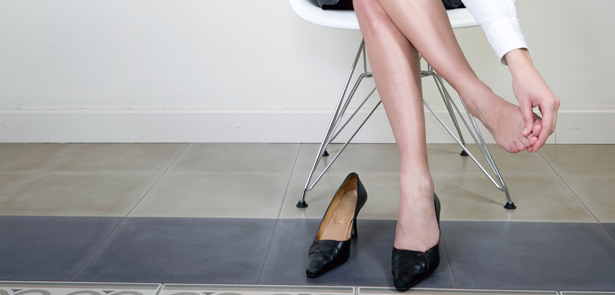 The Fane Clinic Ltd has offered Foot Care, the provision of prescription orthotics, and the treatment and management of injuries since 1993 – and it continues to grow and develop. The Moment talks to the MD Adrian, about the latest additions to the service and how he is guided by his staff and patients
You're often adding something new to the clinic, but the latest addition is a little more unexpected perhaps…
I have a beautician who's just started here – so, not a medical appointment, but certainly another string to our bow. Her name is Jo Crosse – she's been a beauty therapist for over 20 years and has 15 years teaching experience at Peterborough Regional College. I knew her from the time I lectured there for the Football Association. I heard she was looking for a base and so she has settled here. I'm aiming to make this a one-stop shop – so if for example someone comes in to have a Foot Care treatment they can, while they're here, have a pedicure and manicure as well. It's something our patients have mentioned they would like, so I've had it in mind for a while – and what that also means for a lot of our patients is that they don't have to go into town where parking is an issue. Although it's something a bit different, it fits nicely with what we do.
Are ideas such as this always led by patients?
I've got my own strong ideas about how I want the clinic to develop, but I talk to patients all the time, and listen to my staff. There are eight of us working here now, and eleven other Practitioners looking after Foot Care in the 34 care homes we offer this service in. I'm always prepared to look at any ideas that will benefit the patient, the staff and the business, but it is always patient first. Essentially, what I want is for people to walk through my front door and for us to have a solution for them. That's what it's about for me.
What other developments are taking place within the practice?
Victoria, who works as a Sports Therapist, has recently been on an acupuncture course, so can offer 'dry needling'. That adds a new means of treating the issues that her Sports Therapy tackles, such as muscular pain and stiffness. A lot of people find that the trigger point therapy, where the needle goes into the problematic area, can really improve flexibility and range of movement. Victoria regularly uses this on patients when more traditional treatments are not having the desired effect. For example, patients with fibromyalgia have reported back that they have had very good results. It's just another modality to add in our aim of getting the best results possible for the patient.
Also, Stephanie, who is one of our Foot Health Practitioners – and happens to be my stepdaughter – has recently passed her diploma in biomechanics, so she'll be coming on board to assist me and our Podiatrist in this department. Biomechanics involves looking at the posture and function of the feet during the gait cycle; the feet are our base, and if the feet are not working as they should than you can have problems all the way up the body. This qualification gives her the knowledge of how the feet should operate during the gait cycle and how to spot when they don't. Up until now it's been myself assisted by Podiatrist Kevin Watts offering this service, so Stephanie's presence will allow us to offer more flexibility there.
You seem to have pretty much constant development amongst your staff members…
I just think if you stand still, in this day and age, you're not offering your patients the best. I like to have the latest equipment and the latest knowledge at our disposal. I feel we owe it to our patients, really, since they come in and trust us to treat them. But it's also about the staff. Both Louise and Stephanie are due on a CPD course – which is just me and them making sure we keep on top of any new medical knowledge, techniques, equipment etc. – and I've got Emma who started with us recently as a Receptionist and she's been absolutely excellent with regard to driving the business forward with her enthusiasm and ideas – so much so I'm also putting her on some courses to take her from Receptionist to Practice Manager, because I feel she'll be here long-term and is certainly already an asset to the company. The members of staff that I have here now – eight in the clinic itself – I would expect to still be with us in ten years' time, because of the way we do things. Everyone enjoys working here, and I like to think I run the business in a very open way, so if anyone has any issues or problems, or if there's anything I can help them with, I'm always happy to do that. If it's good for the patient, the staff and the business we'll do it.
At the moment I have Connor Peters with me on work experience – we have two or three work experience students a year – who is a Young Academy player at Peterborough United. His ultimate ambition is to be a professional footballer, which I think he's got a good chance of achieving. I've known him and his mum and dad for a while now; he's been a patient himself and has expressed an interest in doing what we're doing as a sort of back up if he doesn't make it in the ranks of professional players. He's been very good! I try to put something back into the community, because I know at one point I was looking for placements and good ones can be very few and far between.
That idea of putting something back – especially in the area of sport – seems important to you.
My working background is sport and that's where my business has developed from. When I was younger someone paid for the kits I played in and the grounds we played on. I've now got the business in a position where it's nice to be able to help out in a similar way. At the moment amongst others we provide some funds as sponsors to Peterborough Town Cricket Club, Oundle Rugby Club, Thorney Rugby Club, and Peterborough Sports and Leisure Under-18s football team. I sponsored their kit during last season and they were very successful winning the league and a cup. There are also a couple of individuals – a strong man and a strong woman, Bob McStay and Daisy Rivetti, who we provide free treatments for at the clinic, as an aid to them trying to attain their goals. Bob was London's Strongest Man last year, and Daisy's on her way to similar success in the sport. For me, it's essential to maintain that direct connection with sport – it's what my business was founded on. And on that front, in the last few months I've also been lucky enough to become involved in playing for England over-50s at football – the official FA veterans team. That has been a very nice thing to do and whilst it's not entirely based on talent it has been great fun and very satisfying to pull on a shirt with the three lions on it!
The Fane Clinic The Old Farmhouse, Freston, Paston Ridings, Peterborough PE4 7XB. 01733 571555 www.thefaneclinic.co.uk
Images: www.freepik.com/free-photo/woman-massaging-her-feet-after-day-s-walk_1092061
Leave a Reply