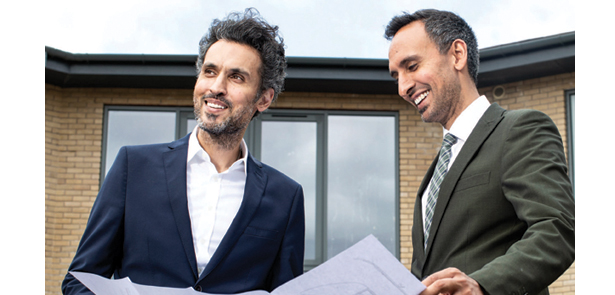 Deciding whether the time has come to move into a residential care home is one of life's biggest decisions. And how do you know which one is right for you? AmarMarjara tells us why he thinks family run homes are best and offers some guidance for potential residents and their families
Amar, you and your brother Ajay are now running Peterborough Care but it was your mother who started it all off wasn't it. What was her motivation?
My mother Shammy is a registered nurse and has always had a passion for working with older people. She had spent most of her working life on older people's wards at some of London's most renowned hospitals. When my parents moved to Peterborough in 1976 it wasn't long before they decided they wanted to open a care home. At the time the only care homes in Peterborough were run by the local authority, so when Broadleigh opened its doors in 1984 it was the very first private care home in the city. As a family we love Peterborough and both my parents are still very passionate about providing the best possible care for the people of this city.
How did your father get involved?
It was my father's job that brought my parents to Peterborough. He was an accounts manager for Pearl Assurance and was one of the first people to move to Peterborough to help set up their new corporate offices in Thorpe Wood. When there was an opportunity to take a voluntary redundancy, he did just that and joined my mother to help expand the business. I think this was a very good move at the time as my mother is not really into the business side of things – her focus and passion has always been very much on delivering hands-on care.
What sort of values do you hold today? How have things changed over the years and can you still offer that same handson approach?
The company has grown and we will be opening our fifth home in Peterborough, Thorpe Wood Care Home this autumn. Our growth has primarily occurred because we have stuck to the fundamentals laid down by my mother – focusing on delivering handson personal care. In my opinion, this is what you must always get right as it significantly contributes to the health of a person. We pride ourselves on the basics, such as making sure people are well presented, that they are well fed and hydrated and that they are treated as individuals. We must remember that the current elderly population that may need our help have been through the toughest of times, through hardships, rebuilding and getting our country to where it is today – would you not want to work towards making sure they are looked after? I most certainly do.
Would you say limiting Peterborough Care homes to just Peterborough has helped you to hold onto your values?
We have 36 years' experience running care homes as a family-run business, and we have a day to day involvement in our homes. This can only be achieved because our homes are all in Peterborough. People generally come to us through word of mouth, by hearing about someone else's experience but also because we are family run. We are very passionate about what we do and that passion can go a long way to reassuring a resident or their family.
Family run care homes are quite rare in the sector, and it's one of the things that makes Peterborough Care unique. Was it a given that you would join the business?
No, my plan was always to go to London and so at the time I joined my parents, it was with a view to assisting them on a short-term basis with the implementation of the Care Standards Act. The Act was the first major breakthrough in regulating standards within the care home sector. My parents are very traditional operators – their focus was not on policies and procedures. Joining them offered me the perfect opportunity to help get those processes and procedures in place. As I started to work more and more on the operational side of things, I began to enjoy the challenges that the sector presented, and just being involved with older people. A big factor for me and Ajay to continue operating the business is that it is very natural for us – we both grew up with the business. My first experience of caring for older people wasn't when I started working with my parents, it was when I was aged six. During school holidays, after school and even at weekends we were brought into the home.
And I bet the residents enjoyed having some youngsters around!
Absolutely right. When I look back at it now, I am very glad that I grew up around the homes and the residents. More importantly I've seen how hard my parents worked, how committed they were to a very hands-on involvement and the strong relationships they formed with the residents, their families, staff and medical professionals. Coming into the business, I didn't know any different from working this way.
Are there any other specific benefits to family run care homes?
One of our unique points is that we are family run. We are working owners so things just get done and dealt with a lot quicker. However, and most importantly for me, it is the relationships we are able to build with the residents, their families and our staff. We want them all to feel that they are part of our wider family.
It's great to hear such an emphasis on the personal approach, but how can you tell a good care home from a notso- good care home? What should potential residents and relatives be looking for?
For me it's not about the building, it's about what goes on inside that building: the ethos, the culture and the stability of staff. Staff are the key to any care home. We are extremely fortunate to have a very loyal and dedicated workforce. Our staff are our number one asset and without them, we would not be able to achieve the goals we wake up every day wanting to achieve. We are very proud of each and every one of our staff, right from our home managers to our domestic staff. As a potential resident or family member you need to be asking plenty of questions. If you choose to go and view a home, speak with the staff.
Take note of the greeting you have received but also the interaction of the staff with the residents. You can also begin by reading the Care Quality Commission (CQC) report about a specific care home. You can download any care home inspection report from the CQC website (www.cqc. org.uk). The CQC is our regulator and their inspections take place unannounced. There are so many other sources of information available too. Some of these include speaking to other healthcare professionals, speaking to your GP, telephoning the adult social care team, speaking with Healthwatch, or if you are being discharged from hospital speaking with the discharge team at the hospital. But of course, go and view the homes – there really is no substitute for visiting in person. I also believe that you should be able to view a home at any reasonable time without the need to make a prior appointment. Every year there's also a national care home open day, so it's good to go along to this event even if it is just to go and say hello to the residents living within the home.
How early on should families of loved ones begin preparing for a move into a care home?
It's never the mindset that mum or dad will inevitably progress into a care home, but it is nonetheless important to familiarise yourself with social care and the options available. It is important because sometimes a move can be reactive and not planned. Familiarise yourself with the conditions that can affect older people and how quickly needs can change. The City Council has a wealth of information available on its website, as do organisations such as Age UK, the Alzheimer's Society and Age Concern.
How do the staff at Peterborough Care go about ensuring residents are entertained and can lead a fulfilling life?
We are members of NAPA, the National Activity Providers Association, which is a charity that supports care staff to help older people live fulfilled and meaningful lives. All our homes employ dedicated activity staff. In fact, much of the emphasis nowadays is on what the quality of life will be like for an individual on a day to day basis and not just 'we deliver good care' Food plays a significant part for the daily lives of our residents and this is also a routine social gathering. Residents should look forward to this experience. We have daily menus that cater for all diets and all our fresh food is bought from local suppliers on a daily basis so we can ensure quality and freshness.
Dementia is an illness that is increasingly common among older people. What's your take on how we should be caring for those suffering with dementia?
In our care homes we believe that residents with dementia shouldn't be segregated from other residents. Dementia is a condition that is increasing the world over and we need to raise awareness of the condition. As we were noticing the increasing demand for this illness, it was one of the reasons why we decided to build a new dementia care home, as we strongly believe that anyone living in a care home with the illness should have the ability to enjoy open spaces and shouldn't be restricted or restrained from going anywhere. Dementia is an illness, not a disease, and people suffering with dementia have every right to receive the best possible care for their condition.
PETERBOROUGH CARE Peterborough Care offers residential, dementia and nursing care across five locations in Peterborough. Please visit the website or phone for full details, including more on choosing a home, options for funding and what living at one of their homes is like. ● Contact: 01733 562328, www.peterboroughcare.com
Leave a Reply