The East of England's largest skills and careers event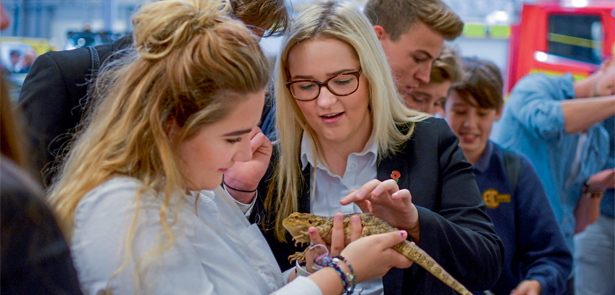 Are you aged 14-24? Seeking inspiration for your future? Then don't miss the annual Mission Possible Careers Show, the biggest and most exciting careers event in the East of England. Taking place on Friday 23rd June, from 9:30am to 3:30pm, the event uses the huge space at the East of England Showground in Peterborough to showcase thousands of opportunities that are available to young people, both locally and beyond…
Free to attend, the Careers Show is organised by The Skills Service and WorldSkills UK, with funding from Signpost 2 Skills and The Careers & Enterprise Company, in addition to sponsorship from key local organisations.
EXHIBITOR NEWS NEW FOR 2017
Over 200 exhibitors have already booked stands at the Careers Show with some key local employers supporting the event for the first time, including: ● A14 Project ● Amazon ● Baker Perkins ● Breheny Engineering ● Costa Coffee ● Lloyds Banking Group ● PrinceBuild
'HAVE A GO' ACTIVITIES
All exhibitors are encouraged to bring along activities to help engage visitors, providing a unique chance to try out a variety of skills and get a feel for what it would be like to work in different industries. Some of the highlights confirmed so far are
● Amazon: warehouse robot demonstration and an engineering challenge
● Atkins: touchscreen flood modelling simulation
● Breheny Engineering: mini excavator activity
● Cambridge Science Centre: COSMOS roadshow – pop-up science centre
● Cambridgeshire Fire & Rescue: BATAK wall to test reaction times
● GE Water & Process Technologies: mobile water treatment trailer
● HMP Whitemoor Prison Service: metal detection exercise
● Ikea: manoeuvre material handling equipment via remote control
● Perkins: Greenpower (electric vehicle) car demonstration
● Peterborough United Football Club: 'keepy uppy' competition
● PrinceBuild: try your hand at basic plumbing
● Service AV: digital sound mixers, lighting desks, live cameras and vision mixers
INNOVATIVE NEW TECHNOLOGY FOR VISITORS
Thanks to sponsorship from British Sugar, all visitors to the Careers Show will have the chance to use exciting, innovative technology to collect information about exhibitors, reducing the amount of paper waste at the event. Each exhibitor will have its own unique 'Zappar' code, which will contain useful information about their company, such as the benefits of working for them, different routes into employment and key recruitment dates. Visitors just need to install a small App on their Smart Phones in order to 'Zap' the stands that they want to find out more about. This information is saved for 12 months.
GET INVOLVED
The Careers Show is free to attend and there's no need to book. There's ample free parking on site or bus numbers x4 and 24 stop on Oundle Road at the front of the venue. There will be several refreshment and picnic areas on site so you can make a day of it.
TOP 10 THINGS TO DO AT THE CAREERS SHOW
1. Navigate through 'Experience Zones' to explore your future career options
2. Speak to over 200 employers from all business sectors about different career paths and the skills they look for when recruiting
3. Take part in 'Have a Go' skills activities to find out where your talents lie
4. Watch demonstrations of 'Skills Competitions' to see college students showcasing their skills
5. Find a job! Some of the exhibitors on the day will have current job vacancies
6. Drop-in to the 'CV Bootcamp' in the 'Enterprise Zone' to get useful tips from business professionals on improving your CV and succeeding at interviews
7. Visit the 'Creative Zone' to see live music, drama and dance acts performing throughout the day, co-ordinated by the Zone sponsor – Peterborough Music Hub
8. Discover options to carry on learning through Further and Higher Education
9. Find out about earning while you learn with apprenticeship opportunities
10. Take control of your future and be inspired!
Here's a taste of the 2016 event…
https://youtu.be/HbTsLJ8IcXY
ABOUT THE ORGANISERS
The Skills Service
The Skills Service is a global award-winning team and part of Opportunity Peterborough's economic development portfolio, providing a brokerage role between businesses, education and training providers in Peterborough, Fenland, Rutland, King's Lynn and West Norfolk, East Cambridgeshire, Huntingdonshire, South Kesteven and South Holland.
WorldSkills UK
WorldSkills UK champions world-class apprenticeships and technical skills by engaging young people in skills competitions, delivering experiential careers events, role modelling to challenge stereotypes and supporting the apprenticeship agenda.
Signpost2Skills
Signpost2Skills was designed by the Greater Cambridge Greater Peterborough Enterprise Partnership to connect businesses, training and education providers to develop the workforce of the future.
For more information, contact The Skills Service on 01733 863696 or email info@ theskillsservice.co.uk. Keep up-to-date with plans for the Careers Show by visiting www.careersshow.co.uk, liking 'The Skills Service' on Facebook or following @UK_Skills on Twitter.
Leave a Reply