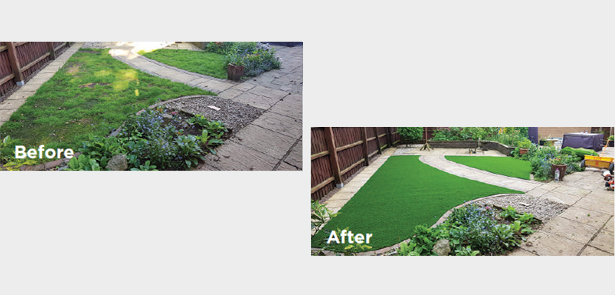 The grass is greener with an artificial lawn from Easigrass!
Easigrass Cambridgeshire is a family owned business with more than 40 years of hard landscaping, horticultural, garden maintenance and design experience. In the last eight years Nick and Clare Howard and their sons have focussed their attention on artificial lawns, offering a wide selection of synthetic grasses to meet your needs for a mud-free, year-round perfect lawned area.
They also offer a complete garden design and installation service incorporating Easigrass into your dream garden. Their astroturf products are the ideal solution to any problem areas where natural grass simply isn't practical. Forget cheap, fake turf – using unique shock pad safety surfaces as part of the Easigrass installation process will ensure safe and clean fun for all the family looking for a hard-wearing, longlasting alternative to a natural lawn.
'A lot of our work involves replacing artificial grass that has been poorly fitted by other people. It's a lot more difficult than it looks! Artificial grass is a big investment, so it's important to get it fitted properly and we pride ourselves on the quality and finish our jobs,' says Clare.
Easigrass Cambridgeshire offers a range of durable and safe artificial grasses. Advances in fake grass technology provide customers with a great choice of incredibly realistic looking lawns that feel great too, with products for pet owners who don't want to compromise between a great-looking lawn and a happy outdoor-loving pet, and child-friendly lawns that include soft foam pads beneath the grass to cushion any falls. All lawns come with a warranty of up to 10 years.
Easigrass Cambridgeshire
● 0800 1513351, www.easigrass.com/uk/cambridgeshire  
Leave a Reply