Desperately needed cash sat in local authority bank accounts

Data released on Monday 20 April highlights that many businesses have not received the grants that they are eligible for.
As part of the government's coronavirus business support package, launched 17 March 2020, the UK government has distributed £12.3 billion to local authorities in England in respect of The Small Business Grants Fund and The Retail, Hospitality and Leisure Business Grants Fund.
As of 20 April 2020, £6.11 billion has been paid out to 491,725 business properties, approximately half of the grant funding allocated (49.58%).
The figures for Cambridgeshire, Peterborough & Stamford do not make for positive reading.
John Bridge OBE DL, Chief Executive of Cambridgeshire Chambers of Commerce, said:
"We are finding that much of the money is still sitting in Local Authority bank accounts when it is so desperately needed by businesses.
"It is difficult to understand the reasons behind this, and how there is such a significant difference between the local authorities that cover our Chamber area.
"It is imperative that the local authorities ensure these funds reach businesses as a matter of urgency. Many of these companies will not survive without these grants, which they are eligible to receive."
The full set of figures for every Local Authority in the Cambridgeshire Chambers of Commerce area: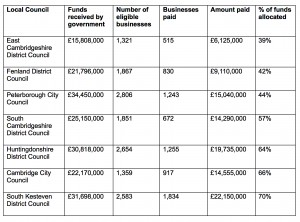 Leave a Reply