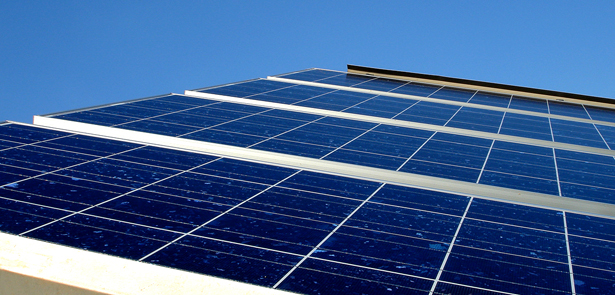 Electricity generated from the sun can save a business money, reduce its carbon emissions and improve public perception. Solar panels are quick to install and can generate an additional income stream for the next 20 years. Peterborough-based Lark Energy Commercial is at the vanguard of the rapidly expanding commercial and utility scale solar industry, undertaking projects from rooftop size to solar farm scale and transforming the way we look at electricity 
The supply of electricity generated by the sun has seen a meteoric rise in recent years, fuelled by Government incentives such as the feed-in tariff (FIT), which pays for every unit of electricity generated. The returns are excellent and, furthermore, solar energy can form a significant part of a company's CSR strategy, making investing in this easily accessible renewable sound business sense. Today, solar in the UK provides 8 GW of power, enough for 2.6million households annually. It produces energy when industry, schools and hospitals need it. It supports 30,000 jobs and contributes £10billion to the UK economy. All this has cost just £10 per year on consumer electricity bills, or less than £1 per month.
Many companies, land owners and public organisations have already made the leap to solar, generating homegrown electricity from on-site photovoltaic (PV) panels that make the most of the sun's abundant and free energy. Peterborough-based Lark Energy Commercial designs and builds PV projects both for clients who are funding the projects themselves and for investors. By working with a range of investors, Lark Energy is able to offer innovative funding solutions for building or land owners who aren't in a position to commit their own capital but may still wish to see the benefits of reduced energy costs and carbon emissions reduction.
BRIGHT SPARKS
Lark Energy's track record is impressive, having installed 250MWp of UK solar electricity over the past four years – that's enough to power 65,000 homes, close to the size of Peterborough itself! The company has gained planning consent for more than 300MWp of solar farm projects and has installed more than 800 rooftop systems. Offering both design and build of PV systems enables the most profitable solution to be found for each very unique site. Managing Director Jonathan Selwyn explains some of the advantages to a Lark Energy system.
'We have a really experienced team here that works hard to find the most cost-effective option for your budget, always with an excellent return on investment in mind. Because we use top-tier products with industryleading warranties, we know our projects are of the highest quality.' The in-house maintenance team works with businesses long after installation to ensure the system continues to operate to its maximum potential, throughout its lifetime.
FUNDING OPTIONS
Lark Energy Commercial works with businesses of all sizes to deliver roof or ground-mounted solar systems. Many of the systems are self-funded by the building or land owner, though an increasing number of companies are opting for fully-funded projects without upfront capital costs. Larger companies can even opt for a fully-funded option that doesn't require an accompanying roof lease. Instead, the funder enters into a long-term power purchase agreement (PPA) with the building/land owner, which offers a guaranteed discount for the energy produced by the system. The funder owns and maintains the system for the duration of the PPA, after which the company takes full ownership of the panels enjoying free electricity for the remainder of the system's life.
For organisations or individuals choosing to self-fund their solar project, the benefits are significant. By owning a solar system and registering for the FIT, a company receives an income for all electricity produced, savings on grid electricity, together with a further income from any excess electricity exported to the grid. This provides a long-term, guaranteed and index-linked return on investment with a short payback period and a significantly reduced carbon footprint – an investment that pays off in so many ways.
AWARD WINNING
The quality of Lark Energy's projects hasn't gone unnoticed. The company's solar farm at Hanson's Cement Works, near Stamford won two prestigious awards in 2014. Lark Energy worked in partnership with Hanson and Armstrong Energy to install a 9MWp solar farm, with a further 3MWp to follow. Covering 20 hectares of former quarry, the 38,544 solar panels generate enough energy to supply about a tenth of the cement work's substantial annual consumption. Cement is notoriously energy intensive to produce, so these savings have brought a considerable reduction in carbon emissions. In 2013 Lark Energy won the tender to install a 250kWp rooftop system on vegetable grower and packer G's cold store in Cambridgeshire. The rooftop installation was complicated by a lack of grid capacity in the locality. To get around this a completely new approach was needed. The flexible 'plug and play' system design allowed local electricity network operator UK Power Networks to remotely manage energy exported to the grid, overcoming the network's limitations and enabling G's to enjoy significant clean power to its cold store.
Of course, the vast majority of installations are very straightforward. After more than four years in operation, Lark Energy Commercial has grown to become one of the country's leading experts in solar-generated electricity, which means that straightforward or otherwise, no project is too complicated. Whilst solar is currently once again in the news because of Government proposals to reduce support for solar, the long-term outlook remains positive. The country desperately needs new power generation. The Government's own surveys suggest that 80 per cent of the public want more solar. It can deploy very quickly and, together with the great strides being made in other renewables and battery storage, could well provide the future baseload required at a fraction of the cost. It is on track to be the first subsidy-free energy source before the next general election. With most energy analysts predicting solar will become the dominant energy source worldwide over the coming years, the future is bright for both solar electricity and the companies with the business nous to invest in it.
Lark Energy Commercial Future Business Centre, London Road, Peterborough PE2 8AL. 01733 666610, www.larkenergycommercial.co.uk
Leave a Reply