Social Mobility: The Mobility Aids Centre 
Social Mobility: The Mobility Aids Centre  1 2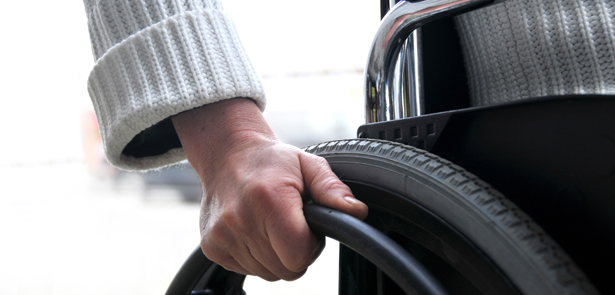 In 1985, Jason Watling went to join his dad in the new family business servicing wheelchairs in the Peterborough area. 30 years on, the Mobility Aids Centre has become a £2.5m a year concern, providing solutions to every kind of mobility issue, importing from all over the world and boasting clients as diverse as Professor Stephen Hawking and Big Brother. But, as Jason explains, it's the bespoke service and personal touch that remains the driving force. Toby Venables talked to him 
TO BEGIN AT THE BEGINNING… THE COMPANY WAS STARTED BY YOUR DAD IN 1982 – BUT HOW AND WHY DID IT COME ABOUT?
My grandad – my dad's dad – broke his back. He was a farm labourer and was painting the farmer's house. He came down the ladder to get more paint, the wind blew the ladder off the side of the house and it came down on him. So, my grandad used to go for physio, and one day he was chatting and found out they were looking for someone to make a carrier to fit on a wheelchair for a lady who'd had a baby and wanted to change and bathe the baby herself. And he said: 'My boy's an engineer… He'll do that!' Dad was a metal fabricator, and got involved with the hospital making one or two specialist pieces. They also suggested that he should contact Cambridge Artificial Limb and Appliance Centre (A.L.A.C.) and apply to be a "Government Approved Repairer" to repair, maintain and store wheelchairs in the Peterborough area. This in fact was not a simple task as a wheelchair service centre didn't exist in Peterborough at that time, and all wheelchairs were issued from Cambridge A.L.A.C. and serviced by Frost's of Cambridge. After lots of discussion about Peterborough increasing in size and population it was decided to create a Peterborough Wheelchair Services in our local hospital with The Mobility Aids Centre becoming the official approved repairers (the first new appointment in the country for many years). We did that for many moons, and as we were going around doing repairs clients would ask "Can you get me this, can you get me that…" And it really just grew from there, our first major sales being for all the equipment to set up Peterborough Shopmobility in the Queensgate Centre, and later the Cambridge Lion Yard scheme.
ENGINEERING IS A GREAT PETERBOROUGH TRADITION – BUT WHAT DID YOUR FATHER MAKE AS A METAL FABRICATOR BEFORE MOVING INTO THE MOBILITY MARKET?
Pretty much anything someone would come to him to ask for! Van racking systems for Akermans service fleet, cradles for Perkins Engines to hold engines whilst in transit, a hotel wanting a bespoke stainless steel cooker hood, and major parts for a local railway bridge over the river Nene. All sorts! And from my very early days of him making trailers and stock cars, I'd always been involved and tagged along the side of him.
IS IT TRUE YOU LOST PART OF A FINGER HELPING HIM WITH THAT…?
Yes, health and safety wasn't quite what it now is! That was when we were building a trailer and I was changing the tyres on the rims. I put it on the machine which breaks the bead on the tyre and got my finger in the way when the clamp came down. I would probably have been about four or five then. I wasn't put off, though. Academic skills were probably never my forte, and working alongside my dad was all I ever wanted to do. I couldn't wait to get school out of the way to start work.
WHAT STAGE WAS THE BUSINESS AT WHEN YOU JOINED?
It had been going about three years – Dad doing the mechanical side, Mum looking after the books, and two other employees. We were very lucky with our new bank manager at Nat West, John Burcham. This crazy guy – my dad – went in to say what he wanted to do, then John went home from work and said that he'd seen this chap who was willing to lose his house to get this business up and running. By chance, his wife Sue worked as a district nurse and said that there was nothing quite like it and it should be encouraged!
HOW HAS THE COMPANY DEVELOPED SINCE THOSE EARLY DAYS?
We've now got 15 staff, on one site. We don't manufacture anything anymore, but we will modify things to suit an individual's requirements. One of the people we've worked with for many years is Professor Hawking. His original chair was something that we bought in and then changed to suit him. As you can imagine, his requirements are very bespoke, and over the years we've built head rests and moved arm rests and helped with all sorts of things.
PRESUMABLY EVERY ONE OF YOUR CUSTOMERS HAS DIFFERENT NEEDS, WHICH MAY ALSO CHANGE OVER TIME?
Children that we've had as customers go from a buggy into their first wheelchair, and we've been to the 21st birthday parties of some of those customers. That side of things is quite wonderful. The smallest change can make the biggest difference to people. As the years have gone on, with increasing legislation, it becomes much harder to make something bespoke for every individual, because things need to be thoroughly tested. But we do want to look… [cont]
Social Mobility: The Mobility Aids Centre  1 2
Leave a Reply