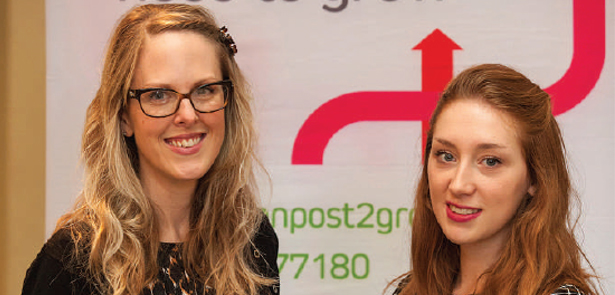 The Greater Cambridge Greater Peterborough Enterprise Partnership has launched its one-stop shop for business advice. Laura Welham-Halstead, Head of Communications and Connectivity, tells us all about it
The Greater Cambridge Greater Peterborough Enterprise Partnership is our region's Local Enterprise Partnership (LEP). What is the purpose of a LEP?
The purpose of a LEP is to help businesses overcome barriers to growth. Our LEP was set up to help our economy grow and to create the right conditions for businesses to employ more people. This is achieved on a really big scale through infrastructure projects, such as the Bourges Boulevard upgrade, the development of the new Future Business Centre at Peterborough Football Ground, and by funding The Skills Service. Signpost 2 Grow is a much more localised, face-to-face way of helping individual businesses.
What was the impetus behind getting Signpost 2 Grow off the ground?
Essentially Government asked us to demystify the business support landscape. We know the help's out there, but businesses aren't finding it. They wanted us to sort this out on a local level. So we came up with the Signpost 2 Grow concept – a way of gathering all that disparate information together into one place. We won funding from central Government to get it off the ground. Quite a few of the team, including myself, have run our own businesses and remember how difficult it was to find networking events or to find the mentoring we desperately needed, particularly for things like business planning. I know I found it really difficult and if there had been one place I could have gone to it would have saved me hours of online searching!
Would it be accurate to describe Signpost 2 Grow as a business help search engine?
You could call it that, yes. There are a couple of parts to it. One part focuses on the business support and grants available. You can search by business size and then by topic – everything from finance to recruitment. Then there is a separate event finder tool, which allows you to search for events based on how far you're prepared to travel.
You touched on a couple of business support topics. What breadth of advice is searchable on the Signpost 2 Grow website?
There is such a broad range of help out there, from face-to-face support through to help from an enterprise agency such as NWES, who can offer business planning advice to both start-ups and businesses looking to expand. There are grants available for different purposes – for example buying a new piece of kit. Then there's help from the likes of UK Trade & Investment for companies looking to start exporting; they can give specialist advice on particular countries and can help with the paperwork. There's also guidance on internationalising your website. There's just a huge range of areas you can seek help on – from staffing to planning and everything in-between.
One event recently highlighted on the website was a pop-up business surgery. How did that work and are there plans to hold more?
We're starting to roll these out. That surgery saw me and an enterprise adviser setting up shop and opening the doors to businesses to come along and meet us. We're doing something similar in Ely, when we'll have an accountant, a bank and an HR consultant in attendance, because businesses in that area say that retaining staff and understanding cash flow are key issues. Businesses get a free 20-minute appointment and during that time they can ask whatever they like. In Peterborough we worked in partnership with Opportunity Peterborough, The Future Business Centre and what was then the Manufacturing Advisory Service to find out whether a manufacturers' association would be useful. So we tailor the support for the local area, identifying gaps in the support landscape where we can come in and have that physical contact.
What else is in the pipeline for the Peterborough area?
On the back of the event around manufacturing we held in Peterborough last year, we are launching a local Manufacturing Association this spring together with our partners. We're also looking at doing some pop-up events in Peterborough too. We want to work with organisations such as Opportunity Peterborough and The Future Business Centre on these; our approach is very much to work in partnership with those already on the ground. There are other events we are planning for the summer too and these will all be listed on our website. Beyond our events programme, we will be launching Signpost 2 Grants very soon – grants funding that we will be able to give out to businesses. Full details will be available on our website.
What would you hope the legacy of Signpost 2 Grow might be?
The whole purpose of Signpost 2 Grow is to enable local businesses get the help, support and funding they need to grow. So for me it will be looking back and seeing a whole raft of businesses that have been able to employ more people and make more money as a result of the information and support we've been able to give them.
Will Signpost 2 Grow run indefinitely?
We've just had an email through confirming funding for another couple of years. And our Board is fully committed to this, so Signpost 2 Grow is now an integral part of the LEP. We've only been up and running for a few months, but we have already managed to connect several businesses with support and funding, so it's really bearing fruit. In a recent finance workshop, for example, we helped people appreciate the difference between a bank account and company accounts – that their bank account doesn't represent all of their money because out of it has to come corporation tax, VAT and so on. You could see the penny drop with some of those attending, so some quick and easy wins have already been made.
Can people pick up the phone if they prefer?
While the Signpost 2 Grow website is very easy to use, there are of course those would prefer to talk to someone over the phone, and that's fine too. We have what we call 'navigators' who can help people to find what they are after. Ultimately we want to make it as easy as possible for people – we're here to help.
Signpost 2 Grow 01733 602060, www.signpost2grow.co.uk
Leave a Reply