People power: Western Union Business Solutions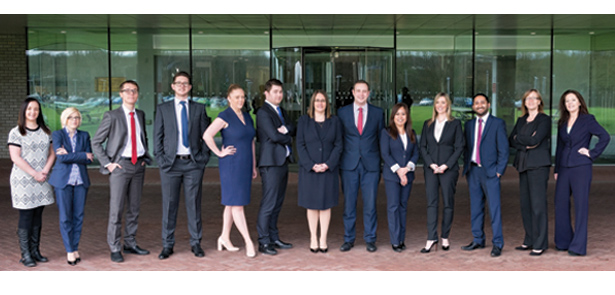 Joanne Kennedy of Western Union Business Solutions (WUBS) heads up a more than 100-strong team based here in Peterborough. In 2011 she was recognised as UK manager of the year and in 2015 was awarded 'global most engaging manager of the year'. We secured a precious window in her busy schedule to find out what makes her and her team tick
Joanne, you've got a pivotal role at WUBS. Tell us who and what you're in charge of.
I'm the UK and Europe Operations Director for Business Solutions, heading up a team of about 130 people in Peterborough. The operations team is responsible for processing payments. That means ensuring details such as where payments are going to are correct and that payments are routed through the banking network in the right way so that they get to where they need to be as quickly as possible. It's all about quality and accuracy. As well as this back-office function, the team has to deliver exceptional customer service, going above and beyond to meet exacting customer expectations. Then in addition to the Peterborough operation I head up customer service teams across Europe, managing customer telephony relationships.
Ensuring the smooth running of all of that must keep you on your toes!
It does, but I've got a great team of managers working for me whose skillsets are focussed on developing people. This means making sure that every member of staff is kept engaged, inspired and has the opportunity to grow. Western Union is all about people – we are customer centric and want to meet our customers' ever-changing needs, but we also want to develop and grow our own people, because we know that employee engagement results in at least a 10% addition to business growth.
I suspect many businesses don't take employee engagement as seriously as they should, but that figure speaks for itself.
Yes, absolutely. Speaking to various external people there is a perception that employee engagement is often seen as a bit of a tick-box exercise – maybe occurring as infrequently as once every two years. Western Union takes a different approach. We run a pulse survey every six months and then a fuller survey once a year. The surveys are anonymous and delve into employee opinions centred on leadership communications – are our strategies and communications clear?
Does your manager coach you and is he or she the best you've ever had?
My team managers actively promote initiatives connected to what the business is up to. It's so important to bring a sense of fun to the role, because you spend so much of your time at work. I also want our staff to live and breathe our culture. That's the really great thing about working here – our employees genuinely care about the results we deliver.
You mentioned being customer centric. Is it hard to be customer focussed when most of what you are doing is essentially behind-the-scenes stuff?
There are two images I always keep in mind: a customer image and a people image. That's the way we drive our business and those are my two main drivers too. When I took on this role three years ago the change from being an account manager within a sales team to someone within an operational team that was transactional based and had no insight into the customer was quite stark. Essentially we're just about processing payments. But the customer should still be at the forefront of our minds. And that's a change in culture that I've introduced during my time. I want to give a customer-facing edge to the operations team, so that everyone understands the consequences of what they do. Achieving this will be my biggest win. The culture in the team needs to be customer centric from front to back.
WUBS has grown to become one of the largest employers in Peterborough. How did this come about?
The company has gone through a number of mergers and acquisitions. I initially started with Thomas Cook back in 1997. I thought I was coming into a job to sell holidays! But actually my role was nothing to do with holidays – it was essentially paying international suppliers. Thomas Cook was a game changer – the non-bank payment provider that stepped into the market about 25 years ago to leverage the SWIFT international payment network. Start-up companies followed. One of those was Travelex, who transitioned from their bureau de change business into the payments business. Western Union then acquired this part of the business and this in time became Business Solutions – the business-to-business side that complements Western Union's consumer-to-consumer business.
There are clear advantages to being based in Peterborough – gigabit-speed broadband and excellent connections being just two examples. Is there anything else that makes the city such a good place for your business?
For us it's also the great talent pool of individuals working within the customer service sector; there are a lot of call centres that are that are based in Peterborough. And while we are not a call centre, we're very much relationship driven. We empower our teams, so telephone calls are not scripted. We get to choose from the top talent of the area. The same goes for our operational staff – the Peterborough area gives us a good talent pool and WUBS is fortunate enough to attract this talent. As such as big employer WUBS must have a strong corporate social responsibility ethic.
What do you do on the ground to help the local community?
Western Union's company ethos is 'creating economic opportunities for individuals, families and businesses'. We are very committed to doing good within the local area. Volunteering days offer an opportunity for our staff to give something back. Last year, for example, some of us visited Sacrewell Farm to help with their water mill restoration project. Others have volunteered with Sue Ryder and once a month we send a team to help out at the P eterborough Soup Kitchen, which provides warm, nourishing meals to the city's homeless. Aside from this charity work, we are also forming local connections through our apprenticeship scheme, working with City College Peterborough and Peterborough Regional College. We've just come to the end of our first year on this.
How has the apprenticeship scheme worked out for you?
The apprenticeship scheme is a passion for me. Taking a closer look at our recruitment processes I could see that we were typically going for the 20-year-old plus age group. I wanted to give some of the younger talent out there an opportunity too; not everyone wants to go down the university route. By running an apprenticeship scheme we can shape and mould a career for these youngsters and help them with their first steps into an office environment. They get taken straight into our employee grading system, which means they get a really good salary from the off. The selection process is pretty rigorous. We put the would-be apprentices through an assessment. They then give a presentation, have an interview and take part in a group activity. The three apprentices we took on have set the benchmark very high for those that will follow. They've become really great staff having successfully transitioned into fulltime employees. We'll be going back to the college for another three this year. The operations team experience has been so positive that the sales department has also recruited three of their own apprentices.
Does recruiting younger members of staff bring a fresher outlook and more energy to the business?
Absolutely! These guys have phenomenal IT knowledge, they think differently and they always want to do the best they can to improve themselves. That pushes our other staff, some of whom may have been here for some time. It also brings an element of fun to the business, and that stimulates creative ideas.
You mentioned members of staff giving up their time to good causes locally. Local activity like that is so important in establishing a businesses' reputation. As an international company, how does WUBS connect with local businesses?
Our business development team is segregated out across the UK, so we have a team that focuses on the Peterborough area. The team networks locally and this gives it the opportunity to attend local events, present their offer and connect with local companies – the business equivalent of speed dating! The aim is to improve the cash flow of those companies; what our products allow them to do is to better plan for the future by giving them visibility of their foreign exchange exposure. So, for example, when a business pitches to an international supplier, they need to take account of the cost rate into any forward contracts in order to guarantee their profit margins. We can help them with that.
What is it about WUBS that you are passionate about, on a personal level?
It takes a lot to keep someone interested for 18 years! For me it is the fact that the company recognises growth potential – that partnership between a manager and an employee. It's not just a topdown, manager-led approach to business. There's a real partnership there, where the manager is able to recognise your strengths and give you the chance to go out and grow. Bringing in my own experiences, I've been able to demonstrate what I can do and I've been recognised for that. There's a people development ethos at play here. Then there's the brand and our foundation work. We do a lot of good work in the local community and internationally, helping to educate people and improve their lives. That's something that's very important to me.
And what do you personally hope to achieve over the next few years?
Technology moves very quickly in our industry and there are a lot of disruptors in the marketplace. Western Union may be a big brand but we've got to ensure we can move quickly enough to respond. That's one of the challenges we face. So with that in mind one of the things I'm most looking forward to working on is seeing what this next generation can bring to our industry and how their ideas might help to shape us. It's always about being quicker. The payments industry is quite old and the banks pretty much control the market. We need to work out how we can shape the market over the coming years – and that's a very exciting thing to be working towards!
Are you worried about these new start-ups chipping away at your market share and upsetting the applecart?
Our business is always forward-thinking and our size shouldn't be an issue. Disruption doesn't just come from outside; we're constantly searching for new talent that brings disruption from the inside too. Western Union may be a big player, but we can also be innovative and nimble. There's a balance between recognising our own talent – and we've got a strong history on internal promotion – and embracing those fresh ideas that are coming along and new, innovative ways of doing things.
Western Union Business Solutions 0800 0961229, business.westernunion.co.uk
Leave a Reply