Hegarty Solicitors: reasons to celebrate!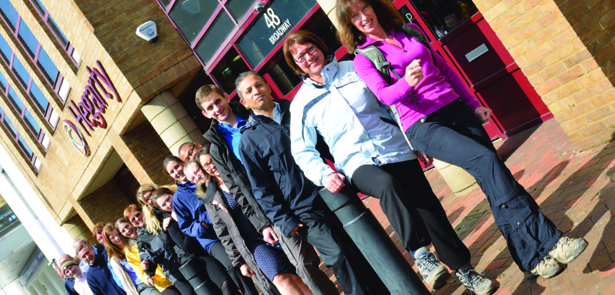 What does a local law firm have in common with Bagpuss, Stephen King, Christian Bale and the Rubik's cube? Angela Babb tells us
In 1974…
Bagpuss first aired
Stephen King published his first novel, Carrie
Christian Bale was born
The Rubik's cube was invented
Hegarty Solicitors was founded!
It is 1974 and the middle of a recession complete with high unemployment and the implementation of a three-day working week. An oil crisis is gripping the world while at home the shortage of power is compounded by miners' strikes. The trade deficit is enormous and inflation has peaked at 20 percent. This, then, was probably not the ideal time to start a new business! Nevertheless, this is exactly what one local solicitor did. Richard Hegarty, then an early 20-something (actual age undisclosed!), was a Stamford-born law graduate who undertook his Articles with a firm in Leicester. He then chose to start his own firm with guidance and support from his father, who just happened to be a very experienced senior law clerk.
Richard saw the opening for a new law firm when Peterborough was designated a 'new town' in 1968 and the Peterborough Development Corporation was established to grow the city. (For those who aren't aware, Peterborough's population doubled during a 20-year expansion plan in the 70s and 80s.) The expansion of Peterborough's population, together with the Solicitors' Remuneration Order of 1972, which allowed reduced fees, set the scene for the inexorable growth of Richard's new law firm. His determination to make the lawyer more accessible to the client also played a big part in those early years.
During the first nine years of business the office evolved from two rooms within a small building on Lincoln Road to a four-partnership law firm employing 30 staff. Tim Thompson was the first to join Richard in 1977 and was appointed a partner just two years later. Martin Bloom joined in 1979 to become a partner in 1983. As the practice grew they occupied a number of offices in the early years culminating in the construction of the purpose-built flagship office on Broadway in Peterborough and the opening of the Stamford office in 1984.
The Hegarty team has always been forward thinking. Hegarty & Co (as it was then called) was the first local law firm to introduce the use of the telephone to conduct business. Before then solicitors either wrote to their clients or insisted on face-to-face meetings! It was also common practice for firms to communicate with each other via letter, with a resulting impact on case duration. Much of this painfully slow process was due to the requirement to produce a paper trail. The introduction of fax machines, and later email, improved things significantly. Also, when The Law Society finally permitted law firms to advertise in 1986, the firm was one of the first to take advantage of the new freedom by printing a brochure explaining to clients the services on offer.
A down-to-earth approach to conducting business and a constant desire to find better ways of working for the benefit of clients clearly won much approval, as the ever-growing loyal client base testifies. It is this customer-friendly ethos that sits at the heart of the organisation and is echoed by all of the partners and staff, ensuring its continued success. So a firm that was forged at the peak of the mid-70s recession emerges from the fourth recession of its trading history stronger than ever, with nine partners and over 75 members of staff. All the staff are proud of the firm's achievements for the local community, its charity work and, of course, the many thousands of clients helped over the years. With the hard work of both partners and staff, and by adapting to change the firm has gone from strength to strength. Forty years later Hegarty LLP is still providing first class legal services and helping more clients than ever before.
Find out more: www.hegarty.co.uk
This year, Hegarty's nominated local charity is Thorpe Hall Hospice. Thorpe Hall provides exceptional care for seriously ill people as well as supporting their families. This vital resource and the incredible people who run it touch the hearts of everyone they help. Their campaign to build a new, purpose-built hospice has reached stage two, with over £2million raised. But with a £6million total target, there's a long way to go. Hegarty LLP partners and staff want to help promote this lifeline and are aiming to raise £10,000 to celebrate the firm's 40th anniversary. So far a World Cup-themed dress-down day and cake sale have helped contribute to the current total of £1336.50. In keeping with the 'life begins at 40' theme, individual staff members have signed up to attract sponsorship for their own personal challenges. For example, Yvonne is a lifetime nail biter and has committed to stop biting her nails by the firm's anniversary date of 15 October. Breaking the habit of a lifetime is no mean feat! Ali and Ashley are going to run the Perkins Great Eastern Run on 12 October. And the firm is also aiming to fill 40 collection bags to sell at the Sue Ryder shop. Every staff member is helping in some way to help achieve this magnificent target. The keynote fundraising activity is a trek up Snowdon. The partners will be joined by 27 members of staff on 27 September to tackle the seven- to eight-hour walk and are seeking sponsorship to help motivate them to the summit!
If you are interested in finding out more or would like to make a donation please visit the Hegarty Team fundraising page at https://uk.virginmoneygiving.com/team/ Hegarty40
The firm is also seeking items to contribute towards a raffle to help achieve their target. Donated raffle items could include, for example, vouchers or experience days. If you can offer a prize please contact Angela Babb on 01733 295618 or email
Leave a Reply