Future Business: Peterborough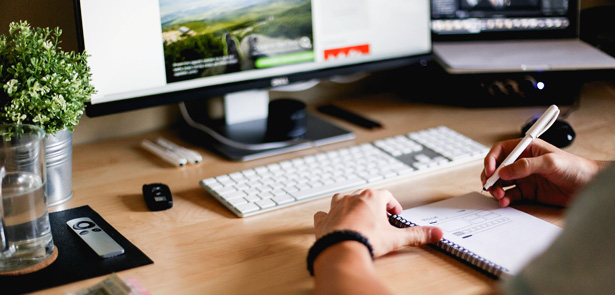 A year ago, we reported on the Future Business Centre in Cambridge – a pioneering business hub set up by the charity Allia to provide an enterprise home for social and environmental companies and organisations. Now, the second Future Business Centre is opening its doors at the ABAX Stadium in Peterborough. Toby Venables talks to Caroline Hyde, Director for Workspace and Enterprise Support overseeing both centres, about what it hopes to bring to the city 
FIRST OF ALL, PERHAPS YOU COULD TELL US HOW YOU FIRST GOT INVOLVED WITH THE FUTURE BUSINESS CENTRE PROJECT, AND HOW THE PRESENCE IN CAMBRIDGE LED TO THE NEW CENTRE HERE.
I joined Allia in 2013 as the centre director for the then unopened Future Business Centre in Cambridge. Opening the Centre had an impact on the growth of Allia as well, and we have focused Allia's work into three key business divisions: Workspace and Enterprise Support, Social Finance and Development. My role developed into Director for Workspace and Enterprise Support allowing us to look strategically at our workspace offering and how we deliver our mission of helping social ventures to flourish and resource social impact. We had always had aspirations to open further Centres and were delivering social enterprise support across the East of England so we started looking at the next step, and Peterborough as a fast-growing city, seemed a good opportunity.
WHY PETERBOROUGH?
A number of reasons, really. Ultimately our mission is to work in areas that need us. Unemployment – and especially youth unemployment – can create wider social issues and we believe that social entrepreneurship – which we class as anything that makes a positive impact for people or the planet – can create new opportunities for communities and individuals around skills development, business creation, jobs growth and innovation. That is the essence of our activity in Workspace and Enterprise Support. We believe that there is a real opportunity in Peterborough to develop a centre in this phenomenal building that the City Council has invested in, to bring our learning and experience to another location that was geographically close as well as support the commitment of the city in establishing itself as the environment capital of the UK. We're excited about building on our existing work with the clean tech and agri tech clusters with those businesses based in and around Peterborough. Another compelling reason is that both areas belong to the Greater Cambridge Greater Peterborough Local Enterprise Partnership, allowing us to create a joined-up offering that is also tailored to each city's needs.
IS THAT PART OF THE STRATEGY, BRINGING THE TWO CENTRES CLOSER TOGETHER?
There is so much potential here and there are so many things that Peterborough has got right. That makes it an exciting place for us to come. And having the two locations certainly provides us with a new opportunity to see how we can create more collaboration between the two. We've firmly established ourselves within the business ecosystem in Cambridge. Now the task is to try and do the same in Peterborough, which for us is very much about creating partnerships. This morning we were talking with the Ignite programme, who are about supporting young entrepreneurs, we're talking with Opportunity Peterborough about their aspirations, PECT, engaging with the community and voluntary sector through the LEP committee and the education community through the skills service… It's really about trying to identify where we can add additional value. But we also recognise the great potential for some of the companies we're working with in Cambridge to maximise opportunities in Peterborough One fantastic example would be Arcus Global, who moved into the Future Business Centre in Cambridge as one of our first tenants, and who are now working with Peterborough City Council. We have companies who are excited by the prospect of being able to undertake trials and research in Peterborough and we want to help facilitate that too. There are all sorts of opportunities to develop new business links, networks and opportunities between the two centres and their tenants.
WHAT KIND OF TENANTS IS THE FUTURE BUSINESS CENTRE LOOKING FOR?
Future Business Centre Peterborough aims to be a home for predominantly early stage businesses who are actively working within the social or environmental field. To give some examples from the Cambridge centre, on the social side we're home to WonderGears, who work for homeless people and people who are disadvantaged or finding it hard to engage with society, and they use bicycle repair and maintenance as a way of developing skills, building confidence and creating employment opportunities, Ginibee who launched the UK's first professional jobshare platform and Goshawk Communications who are developing a software solution that enables hearing-impaired people to receive a personalised audio signal based on their hearing loss direct to their mobile phone or device. Origami Energy is one of our clean-tech tenants who is an ambitious high-growth business developing an innovative technology platform for the intelligent active management of distributed energy assets and we have recently been joined by Informetis – a smart energy technology company spun out of Sony Corporation's R&D team. They can be for profit or not, but what we say when we're looking for people to come into the centre is that at the heart of the business they are tackling some social or environmental issue. So, not just ethical businesses but those really making a social or environmental impact themselves. And we've tried to create as many different ways of supporting them as we can, from hot-desking or co-working space to small offices for two to three people, workshops and larger offices that can accommodate up to 70.
WHAT ABOUT SUPPORT FOR NEW BUSINESSES?
This is a critical part of what Allia is all about – stimulating the creation of new ideas and businesses. As well as a programme of outreach and engagement work in education and through the community we also look to support those at the start of their journey. We've created an incubator space called the Hatchery, and later in the year we'll start running a structured programme of business support. There will be a prestart programme for those who are at the very early stages, helping them test and validate their business concept, looking at the market and so on, to give them the confidence that their business idea is worth pursuing. Then we'll introduce both an accelerator and incubator programme, which is about giving people the knowledge and skills so they can make the best start with their business, but also providing them with workspace and support, so they can take those first steps towards a successful startup. The Hatchery over at Cambridge has over 40 new, startup companies working on a myriad of business ideas and propositions. It's definitely the heart of the building. We're seeing our first cohort graduate this July, and are already welcoming some of them as tenants.
ONE THING THE PETERBOROUGH CENTRE HAS THAT CAMBRIDGE HASN'T IS OPPORTUNITY PETERBOROUGH…
We see that as a vital partnership for the success of the Future Business Centre here. The work that they are doing through Ignite, the Skills Service, the Smart Cities and the Future Cities Demonstrator programmes – these are critical to how we see the Future Business Centre delivering its vision of stimulating and nurturing entrepreneurship within the city, and supporting the city's aspiration to become the environment capital of the UK. That also means working with organisations such as PECT (Peterborough Environment City Trust) and using OP's bondholders as a way of communicating with existing businesses in the area. Opportunity Peterborough's bondholder network is impressive and we're looking forward to hosting the next bondholders' breakfast on 15 July as part of our official opening. We hope it will be an opportunity for businesses to come and see what we're doing.
TELL US A BIT ABOUT THIS AMAZING BUILDING…
It's an impressive space and PCC really took advantage of the stadium development to create an incredible space. We are still in set-up mode, but as well as the offices and workshops there's a huge atrium with lots of break-out seating for meetings or informal work, great conference facilities and meeting rooms for events. We have added our stamp the right environment and making it feel like a home for our tenants and users. It lends itself brilliantly to what we're trying to create and we hope will be a welcome addition to the venues in Peterborough.
WHAT'S IT LIKE SHARING PREMISES WITH POSH?
Being co-located with a football ground is an interesting one! We're actually quite familiar with that, as we took over the football ground on Milton Road in Cambridge for a while, and turned that into affordable workspace. Right from my early conversations with Bob Symns (Peterborough United Chief Executive) we found common ground as he sees the role of the club as very much a community hub, and we both feel we're developing something that works to serve Peterborough and the wider community. I think this will be a strong and supportive relationship
ABOUT THE ALLIA FUTURE BUSINESS CENTRE
Allia is a charity, with its headquarters in Cambridge, that resources social impact. It started in 1999 and has a number of areas of activity including Allia Future Business Centres.
An Allia Future Business Centre is more than a building, it's a space for innovation and enterprise to thrive, for people who want to have a positive impact on the planet or people's lives. The Future Business Centre in Peterborough provides high quality, affordable offices, workshops and co-working spaces, along with meeting and conference rooms for hire. The Centre provides a range of opportunities to help start-ups or growing enterprises, make a success of their venture and build skills and expertise. Future Business Centre in Peterborough will run challenge and social venture weekends where people test their ideas with enterprise experts and mentors. Businesses can shape their ideas and hone their skills and thinking through intensive training programmes and "expert hours". There will be flexible co-working spaces for start-ups and pre-start-ups and virtual tenancies where people can use the space and support without leasing a physical office. At the heart of a Future Business Centre is a social incubator which supports people who have an idea for a business to get their enterprise off the ground. Allia is running the Social Incubator East programme at its Future Business Centre in Cambridge with Cambridge Judge Business School in association with the Cabinet Office, Foundation East and Keystone Development Trust. The programme works with ambitious social entrepreneurs, offering teaching and free incubation space to help launch investment-ready enterprises.
FUTURE BUSINESS CENTRE PETERBOROUGH ABAX Stadium London Road Peterborough PE2 8AL 01733 666600
FUTURE BUSINESS CENTRE CAMBRIDGE King's Hedges Road Cambridge CB4 2HY 0845 456 2432
Leave a Reply