Dream Doors: dream kitchen…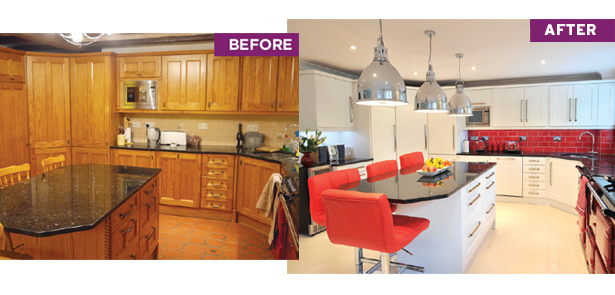 A new kitchen is top of many people's dream list of expensive home makeovers, but it's often postponed due to the expense, and the inconvenience. But what if there was a middle way, one that gave you the look of a brand new kitchen at less than half the cost – in two days? Kevin Thornton of Dream Doors explains…
'Dream Doors transforms old and dated kitchens by replacing doors, worktops and drawer fronts, saving time and money. A Dream Doors kitchen makeover costs less than half the cost of a full kitchen re-fit and can be finished in just 48 hours, meaning far less disruption to the home.
'The company is the UK's leading kitchen makeover firm, but will also design and fit an entirely new kitchen, as well as offering a host of integrated appliances. All its doors are made-to-measure and of the highest quality, coming in a variety of different styles and colours to suit all tastes.'
This 'kitchen makeover' isn't a solution that's meant to be a stopgap until the real kitchen renovation can go ahead, either: the quality is superb and will last as long as a new kitchen. Kevin explains how, with this in mind, it's worth thinking through how you might use your kitchen in five, even ten years from your makeover.
'What will your social life be like? Will you be retired or approaching retirement? Perhaps you'll be working part time, or putting in long, full-time hours at work? Maybe you're planning to travel more or perhaps you'll entertain more often. How do you think your health will be? Do you think you'll spend more or less time cooking in the kitchen? Are there any niggling issues now that might impact you in some way? Answering these questions honestly are the first steps in future-proofing your kitchen.'
These are certainly things to think about, alongside all the fun bits such as choosing tiles, styles and colour schemes, and it's something Dream Doors can help you consider. Trained and experienced consultants will offer clever, design-led solutions to issues such as storage, lighting, space for dining, and so forth.
Top tips for future-proofing your kitchen
● Consider curved doors and rounded cornices to avoid accidents, bumps and scrapes.
● Opt for taps with easy to turn handles – think lever style rather than traditional style.
● Think carefully about lighting – opt for LED lighting in places where you might prepare food or need more concentrated task lighting, for example in units, under units and in plinths. Dream Doors can advise, supply and fit a range of lighting solutions including drawer, drop and over cabinet lighting.
● Select easy-to-clean surfaces and splashbacks to minimise cleaning time.
● Make sure your kitchen storage works for you and ensure lower level cupboards are easily accessible and can hold heavier items. Consider innovative storage solutions such as carousels and corner optimisers that pull out smoothly and easily and can store more items at lower levels.
● Think about easy-access pull-out drawers.
● Choose wide handles, which are easy to grab from any angle. Dreams Doors has a bespoke handle brochure featuring over 200 styles of handles including wide handles and larger knob styles.
● If you think you might sell your home or rent it out at some point, think carefully about the colour of doors. Make it more marketable by opting for white or cream – something understated and stylish, with sleek fixtures and fittings such as the Dream Doors York range in Satin White.
Dream Doors – Huntingdon Kitchen Showroom 3 The Causeway, Godmanchester PE29 2HA, contact or 01480 877554 01733 806997

Leave a Reply