Charters will float your boat!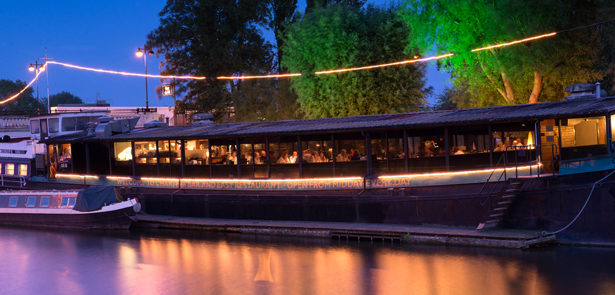 Few places in Peterborough can offer a setting as stunning as Charters. Moored on the southern bank of the River Nene next to Town Bridge, this real ale bar and Pan-Asian restaurant rests at the heart of the city, yet promises an intimate and welcoming atmosphere only experienced in a venue as quirky as this. Charters is the brainchild of beer-loving entrepreneur Paul Hook, who wanted to create a novel venue in the city to house his vision for a real ale bar. 'I knew a bit about boats and thought it would be a good idea to get as big a barge as I could possibly find up the river into Peterborough. There was also the thought that if for any reason it didn't work out, I could always up-anchor and move it elsewhere! But obviously it's worked out and we're here to stay.'
Paul opened Charters in 1991 having spent considerable time and effort sourcing and refurbishing the barge. 'It took a lot of toing and froing to find it,' explains Paul. 'Of course, eBay didn't exist back then, so having looked around the UK and failed to find anything big enough, I went across to the Continent. I trawled around France, Germany and Holland to meet people, even talking to barge owners at the side of the river and telling them what I was up to in the hope they could give me a lead.' The right boat had to fit a number of criteria: large enough to be a decentsized venue yet slim enough to pass through the Dog in the Doublet lock – the only lock between the sea and Peterborough. It also had to be squat enough to pass under Town Bridge. 'After asking around I finally got a phone call from an agent in Holland who thought he'd found something that fitted the bill. I went back out, inspected it, put my tape measure over it and said 'yep, that's just the right size'. So we purchased it!'
Logistical challenge
With the purchase complete the next challenge was to sail the boat from The Netherlands back to England – a task not as straightforward as it might seem. Originally named 'Leendert-R', the 176ft-long barge was built to work the inland rivers and canals of the near Continent, carrying cargo such as sand and grain right up until 1990. To prepare the barge for its trip across the North Sea it was taken out of the water and given a full inspection and service. After some remedial work, Paul and a professional skipper had to wait for a settled period of weather and strike out, hoping that the forecast was accurate! 'We came into Wisbech; it took 25 hours and was a very nice trip. But picking a proper window in the weather was essential because barges like this weren't designed for the open water.'
The heavy work to prepare the barge for the next chapter of its life was completed in Wisbech. This took a total of 18 months and included all of the steelwork necessary to prepare the structure. Only after all was in place was the barge sailed up the Nene, through Dog in the Doublet lock, and on to Peterborough. The final challenge was to get the barge under the central arch of Town Bridge to its moorings. 'The boat was pumped with 500 tonnes of water to sink it down onto the riverbed. We were trying to position the boat low enough in the water to bump along the bottom of the river so that the top could clear the bridge arch. It was all in our original calculations – we had to look at the whole route and consider every single obstacle. In the end we cleared the arch, but only just. We could have done with a few more inches to make life easier. It was a very tight squeeze!'
Living heritage
Originally licensed to carry 616 tonnes, the barge is still, in theory, fit for purpose. Nothing has changed dramatically – the hull is intact and the engine still in place. 'We haven't bothered firing it up for years, though I'm sure that given a bit of love and know-how someone could get it going. All the systems are still there,' adds Paul. Despite being moored for close to 25 years, the barge is in remarkable condition. Regular surveys check the state of the hull, which being made of iron, doesn't rust and is therefore exceptionally durable. It's already withstood a century – the vast majority of that as a working boat. There's no reason it shouldn't last another.
Step aboard Charters and you get a sense of its history. It's a bohemian, rustic-feeling space that's very clean – basic almost. Much of the original wood remains. 'The floor of the boat, where all the cargo was stored, is original. It's a beautiful hardwood and has never been covered over.' The hard-wearing, chunky planks make Charters feel intimate and inviting. No clichéd portholes, lobster pots or chintz here! Paul thinks the unusual venue is what makes it so special: 'The pertinent point is that a barge requires a bit more attention than a building might… things like maintenance and services, that kind of thing. We're probably all guilty of treating it like a building at the end of the day; you get so used to just jumping on and off without giving it a second thought. But it's a great venue with a novelty and appeal that's obviously a great aid to it.'
Beer barge
As a real ale barge Charters quickly become the talk of the town's ale aficionados. With the first customers crossing the gangplank in September 1991, the pressure was on to search for the very best beer to sell to these thirsty punters. Many novel and innovative microbreweries were springing up at the time, including Oakham Ales. Charters was the brewery's first permanent customer and, while Paul didn't know it at the time, the relationship between Charters and Oakham Ales would one day be sealed for good. 'We used to have a nine-gallon, or firkin, of beer delivered every week. The owner would deliver the barrels in the back of his little red Citroen car. 'Then in 1994, when the opportunity came up to purchase Oakham, we were given first refusal. I jumped in with a couple of people around me and we went from there. We've been growing ever since.'
Today, Charters offers 12 ales throughout the season, dropping to eight to 10 over the winter so as to guarantee that every pint served is in perfect condition. The best beers from across the UK join Oakham Ales' much-loved favourites to give a wide selection of carefully chosen beers. With such choice and quaffing quality on offer, it's a bit like having a year-round beer festival on your doorstep. Next to the barge, on dry land, is a generously proportioned beer garden, where Charters Summer Sundays see a weekly schedule of artistes playing to a laid back crowd. 'You've obviously got the vagaries of the British weather but we have a marquee on site that provides a bit of cover should it rain. And the garden's nicely laid out – it's a really lovely atmosphere down here on a Sunday, with plenty of families popping down to enjoy the music while they enjoy a drink.'
Looking East
The upper deck of Charters is home to East, a restaurant owned by Paul's partner, Patcharee Shaweewan. East specialises in serving Pan-Asian cuisine cooked by a team of Thai chefs. Diners can expect a combination of Thai, Burmese, Laos and Vietnamese-inspired dishes, with some twists on Western staples, such as the Thai burger, served with sweet chilli sauce and Thai fries. The menu is constantly evolving around a core staple of the most popular dishes such as nasi goreng. 'We've got an excellent restaurant manager called Bee,' explains Paul. 'She's a real kingpin of the business, liaising between the front of house and the kitchen. She constantly monitors the quality of the food, how it's being served, and supervises the design of the menu. East has a dynamic team that's seamless from the quality of the ingredients right through to the customers' table. It's all fresh-cooked stuff that's made to order, and it's all very authentic.'
Beer and Asian cuisine, particularly Thai, go hand-in-hand it transpires. In-between starting Charters and launching East in 2002, Paul opened the Brewery Tap in town, with its fusion  of microbrewery and Thai cuisine. 'The two go well together. You've got spice in Thai food, yet it's still very fresh. The beer that we make at Oakham Ales is light, hoppy beer – so it's also fresh, but with a hop bite to it. 'So on the back of that, when we turned our attention back to Charters, which by then had been running for 10 years, we felt that introducing Asian food would help to take Charters forward. We separated the upper deck and established East, taking it a little up market with a contemporary interior, white tablecloths and glazing to separate it out from the real ale bar below. It's still an intimate setting and people love the location – being able to look out over the river while enjoying the food has been a recipe for success.' Paul's foresight has been well and truly vindicated. It's a barge for the people of Peterborough – a place to congregate and enjoy a pint or two of lovingly-crafted ale, or to savour the fresh flavours of East – or both. The marriage of great food and great beer is made only better by this great venue.
Charters Town Bridge Peterborough PE1 1FP 01733 315700 www.charters-bar.com  
Leave a Reply