Business profile: Vow Bridal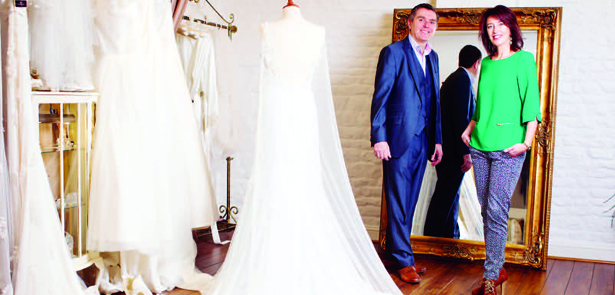 The launch of Vow Bridal's latest collection – of wedding sarees and saree-inspired wedding dresses – signals a confident outlook for this award-winning bridal and menswear boutique
For a company that started up just three-and-a-half years ago Vow Bridal has certainly wasted no time in making a name for itself in the Peterborough area. The bridal and menswear boutique is the vision of couple Lisa Smith and Dave Gallagher. Lisa explains how it came about. 'We wanted to work together and I wanted to do something more creative, so in 2011 we took the plunge and launched Vow Bridal. It was a completely new venture for us. But by offering both bridal and menswear under one roof we hoped we might be able to provide something fairly unique for the area.'
Vow Bridal's ivy-clad gallery sits within the courtyard of the Haycock Hotel in Wansford. It's different to the usual wedding boutique. 'Being located on the high street wasn't important for us as we wanted to create a shopping experience that people would travel to,' Lisa adds. 'Being just off the A1 we are well located for the whole of Cambridgeshire, and ample free parking adds to the convenience. People can come and enjoy afternoon tea at the hotel before their appointment, or the groom's party can chill out in the hotel while we carry out their fittings in shifts. It makes for a more relaxed experience.'
Lisa takes care of the brides upstairs while Dave sees that the bridegroom and his party are looking sharp downstairs. In most cases the bride will attend her fitting before the bridegroom, as Dave explains: 'The girls help a lot with the guys, particularly to ensure that the colour scheme works across all areas of the wedding. But it works because if a bride can come for her appointment and have a fabulous experience she'll know that the groom's going to get that same attention to detail at a later date.'
Vow Bridal operates on an appointments basis, which means they can take plenty of time over each customer. 'It's about making sure we're getting the right dress for the different personalities,' says Lisa. 'That's a big deal for us. It's not about them modelling for me; it's about them finding the right dress. They are going to remember their big day and look back on those photos for the rest of their lives, so it has to be perfect.'
Award-winning
Last year Vow Bridal won a national award by popular vote at The Wedding Industry Awards for their menswear. This year they reached the regional finals of the awards – recognition for the hard work and consistency of customer service they've achieved in their few short years. Part of the reason for their success is that they are, as Lisa and Dave coin it, design led not brand led. The couple has been working very closely with just three and, now, four designers.
'We purposely didn't go for big names. But our designers are well known within the industry and have won industry design awards. We concentrated on specific designs and the way the collections complement each other. We have built up relationships with these designers – we've got their mobile phone numbers,' says Lisa. 'It means we can have that one to one relationship, which can only help with the brides,' adds Dave.
Vow Bridal has secured exclusivity for these designers' collections in the Cambridgeshire area, which has helped to drive business. By concentrating on nurturing that relationship with their designers they are in the enviable position of being able to offer designs to suit their clients' exacting requirements. In the case of designer Terry Fox, that even means the possibility of tweaking her designs to create a truly bespoke creation. Lisa and Dave are convinced that the close partnering and ongoing dialogue with their designers has contributed to Vow Bridal's success.
But it isn't without its challenges, says Dave: 'Last year we were thinking of adding a new designer and we're still thinking of that now. But to find a new designer where we can have a similar relationship is a challenge in itself. It was thorough research that led us to our designers,' reveals Lisa. 'They had to fit with what we were looking for. For example, we liked the eco-friendly approach to Sanyukta's designs. She uses more natural fibres and fabrics: bamboo, organic cotton, silks and natural hemp – so there was an immediate connection there.'
Flavours of the East
The couple's latest venture welcomes a fourth designer added to the gallery. Ramani is a designer with Sri Lankan heritage who brings a modern twist to traditional Asian designs. Exclusive to Vow Bridal, her dresses use coloured lace rather than coloured silks in beautiful, muted and bold tones. It is hoped that the range of wedding sarees and saree-inspired wedding dresses will attract a new audience. 'They are perfect for an Asian bride wanting a wedding saree or, equally, a Western bride looking for a lace dress with an Eastern twist,' says Lisa. 'The lace is really beautiful – similar to the type of lace we've got on our current collections. So the East is inspiring the West and vice versa.'
Ramani's designs are available in gold, peachy tones to bolder cobalt blues or reds. The lace dresses come complete with a lace fall from one shoulder, providing a twist on the usual train or veil. 'We are always looking at how we get to different markets. And these are very beautiful designs that fit for us.' Wraparound bridesmaids' dresses by Eliza and Ethan are another recent addition. The dresses are the result of popular demand, a demand that Lisa and Dave were only too happy to meet, as Dave explains: 'We were asked by our brides if we would offer a range of a bridesmaids' fitting service. Now we do. It means that bridesmaids can experience the same level of customer service and design that their brides have had. And the dresses can of course be worn again for that next special occasion!'
Canny start
The client base Lisa and Dave have built up is impressive, particularly when you consider that they launched during very uncertain economic times of the recent recession. Were they foolhardy or canny? Judging by where they are today it's the latter. 'When we look back it was a bit frightening,' admits Dave. 'But hard work, determination and having the right designs means we're still here three-and-a-half years later. And we're moving in the right direction: enquiries, appointments and sales are all up.'
The couple had to learn fast, particularly when it came to marketing. 'You have to be quite strategic. We spend money now where we didn't when we first opened up. And we don't spend money where we did. We've looked at what's worked for us and we've now got a strategy that we stick to.' Social media is a big part of that strategy. By using Facebook and Twitter to wish their clients well on their big day they have helped to create a very personal experience. 'We may then follow up a bit later to say something about the wedding dresses,' says Lisa. 'It's showing to potential customers the whole journey of the wedding experience. We build up a real rapport with people. You're meeting members of their family and their friends and sharing that excitement with them.'
Many of Lisa and Dave's previous customers return to pop in for a catch up with Lisa and Dave – a fact that no doubt helps to build wordof- mouth recommendations and that has helped to establish their name in the area. 'Ultimately the rewarding bit is when they are grateful for what we've achieved together. That's the whole point of it – every piece of effort that we've put in has gone on to help make their day special.'
Vow Bridal
01780 781101
www.vowbridal.co.uk
Leave a Reply