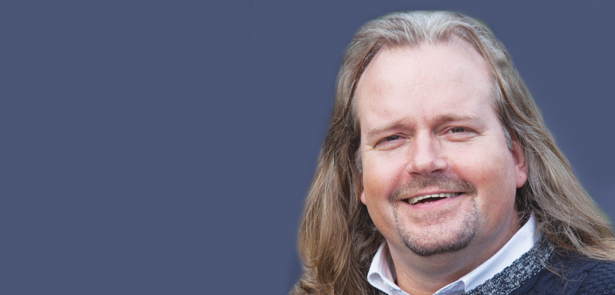 In 2012, PJ Care opened the cutting-edge Eagle Wood Neurological Care Centre in Peterborough. The brainchild of the company's Chief Operating Officer Neil Russell, it builds on the vision of former nurse and company founder Jan Flawn who in 2013 scooped the 'First Women of Business Services' award. Toby Venables talked to Neil about the business of healthcare, the NHS and how the Romans got there first…
The moment you walk through the doors of Eagle Wood, it's clear you're in a very different kind of care home. It's not just the new building itself – all clean lines, open spaces, with lots of wood and natural light – the kind of place that a more enlightened, employee-friendly business might choose as its base. It's what's in it. Around the walls of the foyer are display cases containing archaeological artefacts, and at its heart, surrounded by glass, a curious rectangular arrangement of large stone blocks, clearly of immense age.
'That's a Roman well,' explains Neil Russell. 'We had to do an archaeological survey when we took over the site, and when the archaeologists were digging they found this rock formation about an inch below the level they'd taken it to. If they had taken just four inches less soil, they wouldn't have found it at all.' Ancient and weather-worn though the three-metre deep well may be – a wonderful contrast with its surroundings – it seems there's life in it yet.
The British Museum's conclusion was that this the well was dedicated to Asclepius – the Roman god of healing
'When they dug it out, it filled with water. And that actually provided the water for the foundations of the building, because there was no water on-site at that point, so we just used the well.' It's almost as if it was meant to be. But that, it turns out, isn't even the half of it. The British Museum's conclusion, based on the offerings that were discovered in the bottom of the well, was that this it was dedicated to Asclepius – the Roman god of healing.
Now, thanks to Eagle Wood, the healing can continue. The centre itself consists of five neurological care units, each catering for different neurological nursing needs, including long-term neurological conditions, neuro-rehabilitation, frontal temporal dementias, learning disabilities and complex care. It's a highly specialised centre, providing for specialised needs. 'It's not about the number of beds,' says Neil. 'It's about the individual. The national minimum standard for a bedroom in a care home such as this is about 15 square metres. Ours are 24. There are places we could have put bedrooms where I've decided to put a window with a view of the oak tree instead. Things like that. The company was started to meet a need, for the resident that needs care. It wasn't started to make money. There's nothing wrong with making money, but the point is, we're not making money at the expense of something else. Southern Cross were making money that didn't actually exist, taking money out of the business that they shouldn't have, and putting the business at risk. As a family we take out what we need to live our lives, but we don't have venture capitalists taking their cut, and that makes things so much easier.'
"The vast majority of our residents have what are called continuing healthcare needs, so are fully funded by the NHS. The care is free to the end user"
The tension between healthcare and business – epitomised, at its worst, by the collapse of care home provider Southern Cross – is a controversial area, and one which invariably leads to debate about the future of the NHS. The case is frequently oversimplified, however – cast as a confrontational relationship in which one must inevitably lose out against the other. The reality is often very different, as Neil explains: 'The vast majority of our residents have what are called continuing healthcare needs, so are fully funded by the NHS. The care is free to the end user. We have one or two who are here for their social needs, who don't quite tick all the boxes for continuing healthcare. In their cases, either Social Sevices pay, or the families pay themselves, with a proportion paid by the NHS.' The centre also has a number of beds that act as overflow for Peterborough Hospital.
So, a private business it may be, but anyone thinking its services are the preserve of the rich is greatly mistaken. In fact, it is actually cheaper than the NHS. 'What has happened over time is that the NHS has taken on more and more, healthcare has improved, people are surviving longer – and surviving accidents they maybe would not even have survived five years ago. It's creating more and more of a strain on the NHS, and is costing them more and more to manage what they've got.'
"I was working as a diplomat for the Foreign Office, based in Brazil!"
A hospital needs a lot of kit and a lot of staff to function – but not everybody needs to be in a hospital. 'If they come somewhere like here,' says Neil, 'we can actually manage their care for less than it costs the NHS, and still make a profit within that so we can keep going. We're a private company, which means our infrastructure is a lot flatter. If we want to buy a piece of equipment, I can make a phone call and get a piece of equipment haggled for and bought in probably a quarter of the time my opposite number at the hospital can do it – and probably for about a quarter of the price, because I haven't got these long contracts that I've been signed up to by my predecessor. We can operate far more efficiently.' Neil reckons he can get a specialist medical bed delivered within 24 hours. In fact the record – set by his procurement officer – was two hours from order to delivery. 'She really pushed the boat out on that occasion…'
Because of specialism of the centre – and its reputation – residents also come from a wider catchment area than is the case with most care homes. Neil estimates about 25%-30% are from Peterborough, with the rest coming from further afield – Sussex, Lincolnshire, Leicestershire – each paid for by their own local health authorities. The very first PJ Care centre – called Bluebirds – was set up in Milton Keynes in 2000, by Neil's mum Jan Flawn. But how that happened – how Neil came to be involved and how Jan came to be a Peterborian – is a tangled tale indeed. He certainly came the long way round.
"That's great, Mum – but I've just been posted to Poland…"
'I was working as a diplomat for the Foreign Office, based in Brazil,' he says. 'My daughter had been born there and we were coming to the end of our tour, and due to be working back in London. We'd decided we were going to live in the Suffolk/Essex area, around Saffron Walden. Good train line into London for me, close enough to family so they could see their first grandchild.' At the time, Jan was head of the mental health service in Salisbury, but with Neil back in the UK decided to move closer – so she applied to be head of mental health in Peterborough. 'Three weeks later she'd got the job, moved house and was living in South Bretton, and phoned to tell me that she'd be close by. At which point I said: "That's great, Mum – but I've just been posted to Poland…"' Neil was due to be in Warsaw for three years, as British Embassy press officer.
'She was a little disappointed…' he says, somewhat ruefully. Meanwhile, new things started to happen in Jan's career. 'Her job in mental health here wasn't as challenging as Salisbury – which has to be a good sign for Peterborough – but then she got an opportunity in… [cont]
Leave a Reply