Bristows Cycles: Making Tracks 
Bristows Cycles: Making Tracks  1 2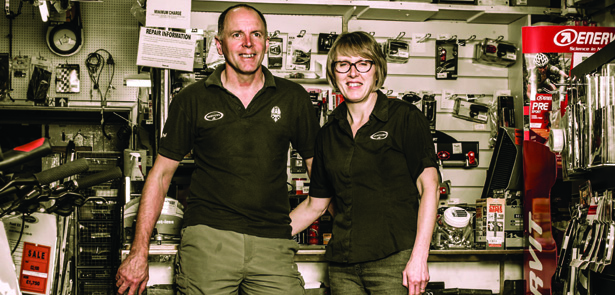 While lots has changed in the four decades since Bristows Cycles opened its doors, this small family business has stuck to its winning formula of personal service and shared passion for all things two-wheeled. The Business Moment speaks to owner David Coxhead 
BRISTOWS CYCLES IS SOMETHING OF AN INSTITUTION AMONG PETERBOROUGH'S CYCLISTS. CAN YOU START BY TELLING US A LITTLE ABOUT HOW IT ALL STARTED?
My parents started the business in 1973 when they took over an existing shop in Lincoln Road run by a guy called Les Bristow. The corner that the shop was on was widely known as Bristows Corner, so they decided to keep the Bristows name.
BRISTOWS CORNER? HE MUST HAVE BEEN AN INFAMOUS CHARACTER!
He was, yes! He used to sell fishing tackle and darts, plus a few bikes. When my parents took over they decided to concentrate on the bike side of things, as they were keen cyclists themselves. My dad also had an engineering background which had seen him travelling around to undertake maintenance and repairs. The shop was the perfect way of combining their shared passion and his professional background.
WHO WERE THE TYPICAL CUSTOMERS IN THOSE EARLY DAYS?
At that time there was the big engineering firm Peter Brotherhood just over the road from them. Most of the workers travelled to work by bike, so a lot of the business was maintaining and fixing their bikes. People would bring them in at lunchtime and hope to have them ready for the ride home.
AND WHAT ABOUT THE BIKE SALES SIDE OF THINGS?
It was in the mid-70s that the Raleigh Chopper came out – a really fun bike that became a cultural icon. Then the BMX boom of the '80s happened. This coincided with the opening of the Orton branch, when my parents went into partnership with another couple who took over the running of the original shop. When the new shop opened it was almost exclusively all about the BMX and for a good three years that remained the biggest part of the business. Then when the BMX craze simmered out mountain bikes came along to replace them. Nowadays what we sell can be broadly split into thirds between hybrids and commuting-type bikes, racing bikes and mountain bikes. So we're selling a bit of everything, from kiddies' bikes to top-end racers.
YOUR PARENTS OPENED THE NEW BRANCH IN ORTON WATERVILLE IN 1983. WHAT WAS THE LOGIC BEHIND MOVING OUT THIS WAY?
My parents lived on the estate. But as well as the convenience, part of the decision was down to all of the new development going on at the time. A lot of the new Ortons were springing up: Orton Malborne, Goldhay and Orton Brimbles. They could see that the population of the local area was going to expand, which would in turn bring in more business as these people would need bikes. That's when they started adding the cycle paths in as well. And it was in 1983 that I left Newall Engineering and joined the business.
THERE ARE QUITE A LOT OF CYCLE PATHS THESE DAYS. IS IT FAIR TO SAY THAT PETERBOROUGH IS ESPECIALLY BICYCLE-FRIENDLY, PARTICULARLY WHEN COMPARED TO CITIES OF A SIMILAR SIZE?
It is, yes. We've got a network of cycle lanes and paths that extends to more than 150 miles, which makes getting around a lot easier. The Green Wheel provides a continuous loop around the city, linking up its neighbourhoods and improving the appeal of cycling as a means to get to work, school or for leisure.
THE NETWORK IS IN PLACE BUT WHAT ABOUT THE NUMBERS ACTUALLY CYCLING? HAVE YOU NOTICED AN INCREASE SINCE OUR SUCCESS IN THE LONDON OLYMPICS? AND HAS LONDON'S CYCLING BOOM RIPPLED OUT TO PETERBOROUGH?
The big difference is that these days there's more sports-based cycling. People are taking it up as a fitness activity, rather than just for commuting or leisure riding. That's where the surge has been. People have also been buying better-quality bikes compared to even five years ago. I think there's a realisation that the cheaper bikes don't last as long, so the average spend has gone up quite a bit.
SO WHERE DO YOUR PRICES START – SAY FOR A DAY-TO-DAY COMMUTING BIKE? From about £300. AND FOR A TOP-OF-THE-RANGE BIKE? SHOCK US!
We get bikes that sell for £10,000 or more, though the majority of the best models we stock are up to about £3,000. But even at lower price points the quality of bikes has dramatically improved in recent years – you can now get really lightweight carbon frames at the £1,300- £1,400 level. The majority of adult bikes sell around £300 to £700.
WHEN YOU COMPARE THESE PRICES TO A CAR A BICYCLE IS STILL AN AWFUL LOT CHEAPER, AND RUNNING ONE IS OBVIOUSLY A FRACTION OF THE COST. BUT YOU MUST GET SOME PEOPLE WHO BALK AT FORKING OUT £1,000 FOR A BIKE. HOW DO YOU GET AROUND THIS?
We offer finance deals through V12 Finance, so people can make payments towards their bike in installments. We provide interest free credit, which means for the customer the bike ends up costing no more than its list price. Everybody's paid monthly these days, so by having a monthly repayment figure it's easier for people to allocate a set amount from their budget. A lot of people can't suddenly find a few grand for a new bike. Finance has increased… [cont]
Bristows Cycles: Making Tracks  1 2
Leave a Reply