Committed Peterborough care duo up for national BAME apprenticeship awards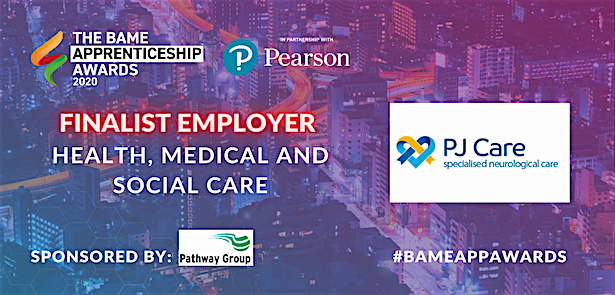 Two team members at Peterborough specialist care provider, PJ Care, have made it to the final of the national BAME Apprenticeship Awards 2020.
With over 300 nominations for the awards received across the country, in a wide range of categories, David Igbokwe and Aderonke Salawu beat off stiff competition to be shortlisted in the 'care' category. The BAME Apprenticeship Awards showcase the outstanding work and achievement of apprentices from black and minority ethnic groups (BAME) and inspire BAME apprentices to reach their full potential.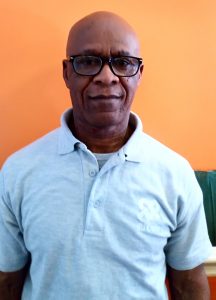 The pair are both based at the Eagle Wood care centre on Bretton Way. David, 57, is a Level 3 Team Leader Apprentice. Being of Nigerian descent, English is not his first language, and he came to the role with limited IT skills.
"The journey for David has not been easy," said PJ Care Apprenticeship Lead, Lyn Arnull. "He has had to improve his language skills rapidly, learn how to use a computer including email, spreadsheets, video conferencing and more, and he's embraced it all positively."
The judges recognised David's drive to learn in order to better support his team, develop his career and provide the best possible quality of life for the residents.
"David is a true role model who shines as a beacon for anyone doing an apprenticeship, whatever their age or circumstances," said Lyn.
Aderonke started work with PJ Care in May last year and is now part-way through her Level 3 Lead Adult Carer apprenticeship in Health and Social Care. Just like David, she wanted to be able to provide the very best care to her residents who have very specific needs and require lots of specialist care.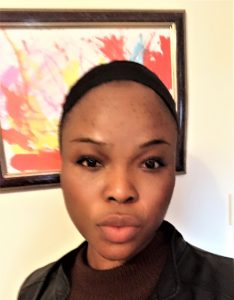 "Aderonke came to us with no qualifications but from the moment she started, she wanted to work on an apprenticeship because she was so keen to improve her skills," commented Lyn. "She really understands the relationship between knowledge and practice and she chooses the units in her studies that will directly impact on the residents she supports. She was one of our very first apprentices and she has inspired other carers around her to join the programme themselves. Her ambition is to become a nurse and we hope we can help her to achieve her goal."
PJ Care is a leading provider of specialist neurological care for people with conditions such as Young/Early Onset dementia, Huntington's disease and brain injuries. Receiving recognition as one of the best employers in the healthcare sector, their specialist facilities and training allow them to provide high quality care for extremely vulnerable adults. Most of their residents are under the age of 65 and need specialist nursing care.
The company itself is a finalist in the awards, having been shortlisted in the 'Health and Social Care Employer' category. Since October 2019, the company has gone from having one apprentice to 60, in business areas across the entire staff team including health and social care, team-leading, nursing, housekeeping, finance, catering, business administration and leadership and management.
"First of all, we are incredibly proud of David and Aderonke," said Chairman, Neil Russell. "They have had additional challenges because of their lack of skills but they are working extremely hard – not just to develop professionally and further their careers but ultimately to provide the best care, and that's what we're all here for.
"The lockdown has restricted their access to face-to-face learning, and demands on their time have increased at points when colleagues have been self-isolating, but David and Aderonke have been committed to continuing their learning throughout these challenging circumstances.
"Anyone in our staff team is able to apply for an apprenticeship, regardless of experience, age, sex or ethnicity. Currently, 30% of our staff who are from BAME communities are studying, or have applied to start, an apprenticeship. We also offer funding for those who want to further their qualifications but who can't afford to pay. Plus, staff can suggest an apprenticeship they would like to study if they can show a benefit to the company and, ultimately, to our residents.
"We would recommend other companies consider apprenticeships; our staff turnover has reduced, meaning greater continuity of care for our residents, and we have a better qualified team, two of whom we hope will be recognised in the final!"
The winners of the BAME Apprenticeship Awards 2020 will be announced on the 11th November.
---
About PJ Care
PJ Care is an award-winning, leading independent provider of specialist neurological care and rehabilitation for adults with physical illness, varying levels of mobility and challenging behaviours. We use a resident-centred approach in environments that are designed to promote the highest quality of life.
Leave a Reply