Charles Bright owners overwhelmed with response to closing down sale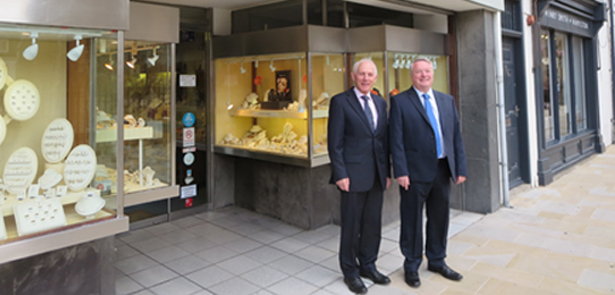 The owners at Charles Bright, one of Peterborough's most iconic and prestigious jewellery businesses, have welcomed hundreds of customers through their doors since the closing down sale started last weekend (8th October)
"Following the announcement that the store will close its doors after more than 90 years of trading, there has been a very positive response from customers" says co-owner Roger Aron, who is set to retire, as is joint business owner Kevin Roberts.
Roger, who took over the business in 1990, added: "So many people have expressed surprise that we are closing and are sad to see such an important, independent, well-established and trusted retail business leave the high street. However, they do accept that all good things come to an end and, by and large, people have wished us all well in our separate retirements or whatever we choose to do next."
It is now certain that the sale will run over the Christmas trading period. All stock will be priced at up to 60% off and everything must go.
Roger added: "The atmosphere in the shop has been extremely up-beat, with everyone enjoying an excellent bargain. There is still plenty of stock left and the store will be open 7 days a week until January."
Since the early 1920s, Charles Bright has offered the town of Peterborough and the surrounding district high quality and distinctive jewellery, fine diamonds and wedding rings.
The Exchange Street shop was originally opened by Charles Henry Ernest Bright, a reputable jeweller and watchmaker, in the early 1920s, as a small 9ft-wide jewellery and watch shop.
The business was acquired from Charles's widow by Mr R M Wood in 1958 who expanded into the adjoining premises, the former Peterborough Leather Company shop and part of Kirby's hairdressers, and fitted out the shop much as you see it today in 1970.
When the Queensgate Centre was being built, Bob Wood successfully fought off a Compulsory Purchase Order – deemed unjustified – and ran the business with the help of his wife Margaret until 1990. It was at this time Roger Aron with Kevin Roberts took over Charles Bright, retaining several members of staff, including Elaine Welch who is still a member of the team today.
Roger added: "Charles Bright has always been an important independent retail business in Peterborough; there are so few of these now in many towns. We have some wonderfully loyal customers, many who are third generation families and who often become firm friends. It just feels like the right time to retire, but I would like to thank my business partner Kevin and all our loyal customers for their support over the many years."
Leave a Reply