Sixth Peterborough charity conference a resounding success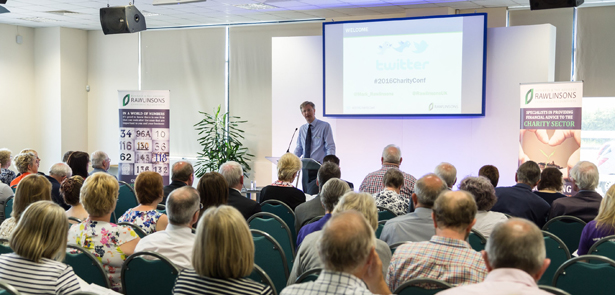 Over 150 delegates attended the sixth annual charity conference organised by city accountancy firm Rawlinsons, held at The Kingsgate Conference Centre last week.  It is the biggest conference of its kind in the area.
The event attracted delegates from across the charity sector in the Greater Peterborough area.  The full day conference programme included a wide range of seminars, workshops and networking opportunities.
Speakers covered topical issues, including a national view on the true value of the charity sector from ACEVO Chair Paul Farmer, who encouraged everyone to think about what they are proud of in their charity and to tell their story of how lives have been impacted through their great work.
As well as experts from Rawlinsons providing sessions of financial and governance, there were many other speakers from charities and advisers providing insights to help charities develop and be resilient.
"The early feedback from the event has been encouragingly positive once again, with delegates commenting on the breadth of great speakers and new ideas" said Mark Jackson, partner at Rawlinsons.   "One delegate commented that, having seen the quality of the event, they wished they had invited their CEO up from their head office in London."
During the conference, a team of five Rawlinsons' staff cycled 75 miles on a static bike to raise funds for five local charities as part of the company's 75th anniversary celebrations.  Staff taking part were Richard Monkhouse, Natalie Boyden, Phillipa Muxlow, Reece Gordon and Julie Bloodworth.
Leave a Reply