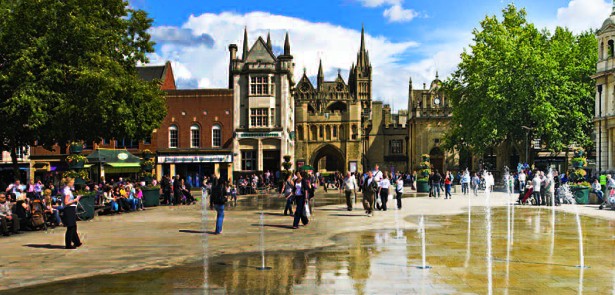 As 2015 drew to a close Peterborough had reason to celebrate with the announcement that the city has been named Smart City of the Year. The award recognises the innovative thinking in the local economy and reflects confidence among the business community. Steve Bowyer, Chief Executive of economic development company, Opportunity Peterborough, talks to The Moment about the economic outlook for the city and where it's heading in 2016 and beyond
Steve, it looks like these are boom times for Peterborough. The Smart City award must be the icing on the cake as far as you're concerned
It's a great reflection of what we're trying to achieve in Peterborough and a huge tribute to all the  businesses and citizens in the city. There were hundreds of applications from cities across the world such as Moscow and Dubai. What I think the judges liked best was our approach. One of the definitions of a smart city is where the digital, physical and environmental worlds combine. In Peterborough we've been adamant that we don't go down a single route, instead we've brought all of those elements together. It builds on a lot of the work the city has done in pushing the UK's environment capital agenda, in driving a circular economy and supporting businesses and citizens in that area.
So what does the award actually mean for Peterborough's economy?
It means a spotlight is on the city. On the back of the award we've had lots of conversations with everyone from Government officials to new businesses. People are saying this is a great achievement and they want to know more about what's happening in Peterborough. That's really important, because if we can raise the profile of the city we can get even more investment into it.
DID YOU KNOW?

Peterborough saw 373% jobs growth during the last 100 years – ranking 2nd out of the UK's 64 largest cities. (Centre for Cities report, March 2015)

More than 1,900 businesses were registered in Peterborough in 2014, making it a record year for start-ups in the city. And net company growth, the balance between births and deaths, totalled 825 businesses – the highest figure in the eastern region.

Peterborough is one of only four UK government future city demonstrators and is now working with the British Standards Institute to set the framework standards for smart cities.

In a national league table produced by the Centre for Cities, Peterborough is ranked as the 6th most innovative city by the number of patents granted.

A £1 billion regeneration programme is underway in Peterborough. Fletton Quays is the latest major development to gain planning consent which, with a £120 million investment, will see 20 acres of derelict land on the city's South Bank transformed to include apartments, a hotel, commercial office space, retail, restaurant and leisure facilities.
Secondly, it underpins that our approach was probably justified. We can build on that and say, well, if it's been recognised, how do we take that forward. This includes initiatives such as promoting a circular economy in Peterborough where we use, reuse and remanufacture resources to greater effect. It's also about how we're using peoples' talents and making sure they have a positive part to play. So it isn't just about material resources. It's about people, money and material and, quite often, ideas. The city is very innovative and the opportunity is there for us to build on that and make it relevant for our local economy, our local businesses and our local communities.
The rate of job growth in Peterborough over the past few years has been unprecedented. What would you put this down to?
I think the primary influence over the past four or five years has been a growth in confidence in Peterborough as a city. You can track this back with the claimant count rate which has fallen from just over 5% to around 1.5% over the last three years. There is a palpable sense of a city turning itself around. The city is more confident, so we're selling ourselves a lot better than we were before.
We're seeing good input into our skills agenda too, especially for young people in the city which is helping them to become work-ready so companies can recruit locally. There's a more positive approach within the city council too on, for example, planning issues; there's a 'can do' attitude there, which is really helpful. And of course there's the leadership in local businesses which is paramount. It's having the confidence to grow their business because they… [CONT]
Leave a Reply