Legal eagles fly to new heights for charity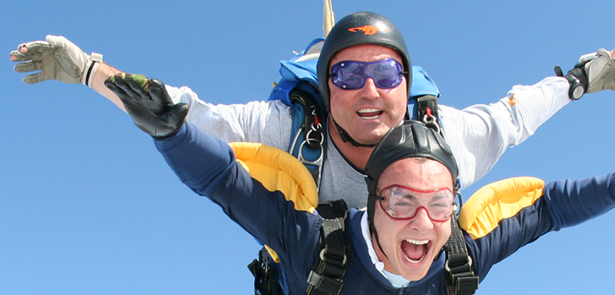 Daring legal eagles from Buckles Solicitors will be 'doing the double' to raise money for the company's chosen charity, East Anglia's Children's Hospices (EACH).
The charity stunts regularly organised by EACH have captured the imagination of Peterborough and Stamford staff with a head for heights at the leading law firm. The company has chosen to raise money for EACH during 2015, and has two events in the pipeline over the coming weeks.
The first will be on Saturday, 18 April, when a number of volunteers will be abseiling 70 feet from the roof of Peterborough's Park Inn Hotel. These include Mandy Johnson, receptionist; Devon Jackson, team assistant; and Rajan Kandola, IT Helpdesk/Analyst.
Devon said, "I have done an abseil before so I know what to expect but I will still be nervous. I like to push myself to do something different and I would much prefer to go down the side of a building than jump out of a plane – I hate flying – so it was the lesser of the two evils!
"This is my way of giving a little for something that will help so many. EACH gives many families the support and strength they need to get them through very hard times."
Meanwhile, one brave Buckles team member is taking to the skies over Suffolk before jumping several hundred feet from a plane at Beccles Airfield.
Duncan Jackson, partner and head of private client who will be taking the fundraising leap in June, said, "Despite suggestions they didn't make a parachute big enough I think it is important to challenge yourself, particularly in the interests of such a good cause as EACH."
The company hopes both events will raise a substantial amount for EACH, whose hospices around the region help to support parents and care for children and young people with life threatening conditions.
Meanwhile, the Buckles fundraising army continues to march on several other local events including the NSPCC Cycle Ride in June, The Perkins Great Eastern Run in October and the forthcoming Cambs Boot Camp 10km Business Challenge in aid of the Wildlife Trust in April.
To find out more, visit www.buckles-law.co.uk and www.each.org.uk
Leave a Reply