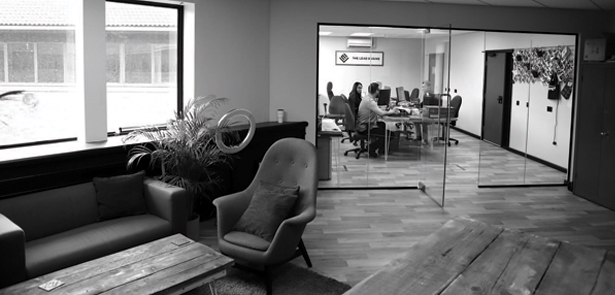 Whether you're a freelancer, entrepreneur or growing business, there's a bright new business space in town that's sure to suit your needs
The Brightfield Business Hub is the newest office space in Peterborough designed to fit the requirements of all businesses and business people, whether you are looking for a desk in a shared office, an entire managed building oramodern boardroom to host your next meeting. Choose from a range of serviced offices, meeting rooms, event spaces, a co-working hub, or simply choose to make Brightfield Business Hub your virtual office. The hub has an excellent café and gym to keep workers fed, happy and healthy! There are more than 200 car parking spaces on site and advanced plans are in place for an on-site crèche, making Brightfield Business Hub a truly convenient base for your business.
SPACE TO GROW
All of the serviced offices at Brightfield Business Hub include high-speed internet as standard. Offices are finished to a high standard and furnished with all the essentials, offering you a modern and stylish home for your business. There's a range of office sizes to suit your circumstances, whether you are a solo entrepreneur seeking a private space or a business with a cohort of staff to accommodate. Co-working desk spaces offer an alternative cost-effective and flexible solution for new and growing businesses. Co-working is available on a rolling monthly contract to suit changing business needs, with prices starting at just £100 per month. Or opt for the ultimate in flexibility with a co-working day rate of £12 for those who prefer to turn up as and when they need a place to work. With a prime Peterborough business address, administrative support from a reception team and meeting rooms for times when you need a private space, the Brightfield Business Hub makes for an excellent choice.
SPACE TO MEET
Tenants and external businesses alike will find the meeting rooms at the hub a handy option for their next meeting, conference, workshop or event. Whether you are looking to accommodate a large group event or hold a small meeting, there is the flexible space to suit the needs of you and your guests. All meeting rooms include full access to audiovisual equipment and refreshments can be provided if required.
SPACE TO LEARN
Brightfield Business Hub also offers access to a broad range of business support events, including one-to-one business surgeries, masterclasses, training and workshops. Guest speakers from some of the region's most successful companies help to inspire and encourage fledgling and expanding companies alike. This unusually high level of support is designed to cater to both new and growing businesses, ensuring businesses and entrepreneurs can tap into the very highest chances of success. The new home for businesses in Peterborough welcomes you to come and take a look for yourself. If you would like to arrange a tour, head online and book yourself in, or give them a call to arrange.
Brightfield Business Hub Bakewell Road, Orton Southgate, Peterborough PE2 6XU. 01733 595885, brightfieldbusinesshub.co.uk
Leave a Reply