From an apprenticeship at the age of 16 Trevor Palmer has gone on to establish PB Solutions, a successful and still-growing electrical contractors that prides itself on having 'total dedication to project delivery'. The Moment went to meet him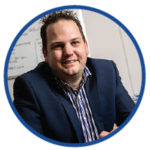 How did you get into electrical engineering; what drew you to it?
I started as an apprentice at the age of 16 with the construction company AlfredMcAlpine at their Sleaford branch. At the time they were working on some fantastic projects and I completed my apprenticeship with them at the age of 20. That Christmas I left to go travelling starting in New Zealand where I got involved in office refurbishments and fit-outs. For the next few years I travelled around the world, working in the electrical sector whenever possible. It was when I came back to the UK that I really honedmy experience, landing a job with a company based in Essex doing Marks and Spencer maintenance works.
That was a big turning point in my career, I learned a lot very quickly. During my time with them I put myself through my HNC in Building Services Engineering, which covered areas such as electrical and mechanical design. I worked hard and made my way up within that organisation before I left to take a position as Head of Maintenance at the University of West London, where I was responsible for all themaintenance, building fabric, electrical and mechanical services, including legal compliance documentation for seven buildings across their estate.
Working for a stable employer and receiving the regular pay cheques that go with that must have given you a reassuring sense of job security, so what made you decide to then go it alone and set up your own company?
Originally I moved on from the university because of an opportunity that came along to go into business with a couple of other partners. I started with them in good faith but quickly moved on when I realised they weren't all they promised. In January 2015 I had a choice to make, go back into the corporate world and work for a company or go it alone. I decided to put my experience to the test and that January I bought a van, put my tools in the back and set up PB Solutions as electrical contractors. Since then we have grown – from me o nmy own to six guys out in the field and three back of house, supported by selfemployed contract labour on larger projects.
That's some growth in the space of, what, five years. How have you managed to expand and get the word out there so quickly? What is it that has made you so popular?
A lot of it has been organic growth through word-of-mouth recommendations and existing connections. At the start is was mostly me getting out there, meeting people and introducing ourselves and the services we offer. Nowwe have a lot of repeat business, the volume is picking up, as people see what we are capable of.
So what sort of services do you offer, and how can you help local businesses?
In business everyone likes to talk about their USP. So what's ours? Our areas of expertise include lighting, plant room controls, electrical condition reports, general power, data cabling and so on. Where we excel is delivering projects on time and with minimal interruption to the end user. One area we have become particularly good at and well known for – our USP – is electric car charging points. We started installing them in October 2018 and nowwe fit or install charging points on about three sites a week, with each site generally having between two and four of them.
Is it particularly complicated or invasive work?
Yes, you have to rip up some of the tarmac to put in all of the ducting, then reinstate the tarmac, installing new distributing boards and, of course, fit the electrical chargers. It's a reasonable amount of work which we can complete in around a week. We have worked for some of the big car manufacturers, across multiple sites up and down the UK, and the quality of our work is appreciated by our customers with further sites being awarded to us this year.
There's also the regular testing and inspection that you do. What sort of legislation do businesses need to comply with and where do you come in?
The big one that businesses need to schedule in is FixedWire Testing, or an Electrical Installation Condition Report, which generally happens once every five years. This is essential to comply with the conditions set by most insurers. Like PAT testing (Portable Appliance Testing) it isn't in fact a legal requirement, but if there is a fire that causes damage to your building the first thing your insurer will ask for is that condition report.
Customer service – being polite, turning up on time and getting the job done to spec – is so important in a competitive marketplace and it's something you pride yourself on. Can you give us an example of a recent project that you are particularly pleased with and that left your customers ecstatic!
We have just assisted with moving Peterborough City Council's CCTV room. This was a really nice project but quite complicated. There were around 50 computer points to install, new distribution boards, computer racks and cameras to go up on the outside of the building too. Then there was all the desk furniture, 15 to 20 screens to go in for monitoring the CCTV, plus special lighting for the guys operating it all. The team received a personal thank you letter from the CCTV Manager.
There's a lot of call for industry to cut energy use. Is energy efficiency a growing area for you?
Yes, absolutely. New lighting is one area where we are helping businesses to cut their energy use. Some of this work has been in shopping centre car parks and we recently did a big job at County Mall in Crawley, West Sussex. That involved changing around 1,500 light fittings, but the incredible thing is the expected payback period. It should take around 18 months for the cost of all that new lighting to be paid back in energy savings, which is remarkable really. We have also helped do the same in Camberley Shopping Centre in Surrey, so we are getting well known in the retail sector.
One service you offer is thermography, or heat surveys. What can customers do with that information?
Thermography is non-invasive, which means there's no taking cables out, re-terminating them and potentially damaging them. It allows you to see any hot spots within a panel or distribution board. If there are any hotspots you can then drill down on that for later investigation; it could be a loose connection or that electrical loads are just too high for the size of cable. So it gives you that first opportunity to have a look at something without pulling it all apart. You can't pick these sorts of heat anomalies out through normal testing.
Businesses are increasingly reliant on electricity – whether for powering gadgets, information technology or, over the last few years, for the emergent switch to electric vehicles. Is there anything businesses can do to future-proof themselves?
Focussing on energy efficiency can help to offset the increasing demand — it's about taking a sensible approach. With electric cars there is quite a lot of infrastructure that goes behind a charging point. If you get that infrastructure right, the installation of further chargers in the future is much more cost effective. More businesses are looking to install chargers as we begin the switch to electric cars. Now is the time to consider the benefits of charging points to your business.
PB SOLUTIONS
From their base here in Peterborough electrical contractors PB Solutions work for growing SMEs and large organisations both locally and further afield. With expertise in project planning, building blackouts, office refurbishment, warehouse lighting and high street retail works, they can also support those in the facilities management sector to deliver projects on time and with minimal disruption. PB Solutions focusses on customer satisfaction. With combined experience of more than 20 years in electrical contracting, jobs of all sizes are completed on time and to exacting specification.
Areas of expertise include: • LED lighting • Electric Vehicle Chargers • General power • Emergency lighting • Electrical Condition Reports • Plant room controls installations • Data cabling: Cat 5, Cat 5e, Cat 6 and fibre optic • Heavy duty containment: ladder, basket, busbar trunking etc. • LV switching and switchgear maintenance
Get in touch: PB Solutions, Brightfield Business Hub, Bakewell Road,
Peterborough PE2 6XU

01733 310243
www.PB-Solutions.co.uk
Leave a Reply