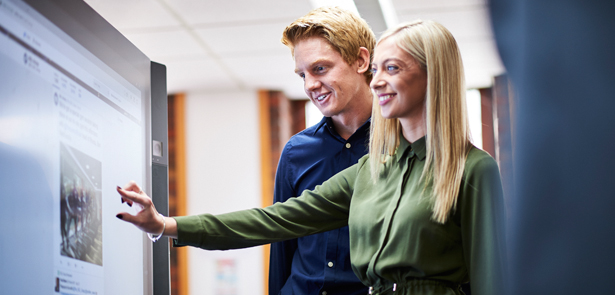 Modern apprenticeships are an attractive option for anyone, at any stage in their career – whether school leaver, job returner or career changer. And as a BGL apprentice you'll get the chance to impact the success of a leading insurance business from day one.
BGL Group is a familiar name in Peterborough, home to a number of iconic insurance and household finance brands, including Beagle Street, Budget Insurance, Dial Direct and, of course, those cheeky meerkats at comparethemarket.com.
As one of Peterborough's leading employers BGL has become an integral part of the city's fabric. It's a lively, supportive and, above all, fun place to work, with employees priding themselves on the company's values: ambitious, united, creative and authentic. And with an exceptional range of employee benefits and rewards, it's no wonder staff engagement levels are at an unprecedented high of 83%.
Opportunities for all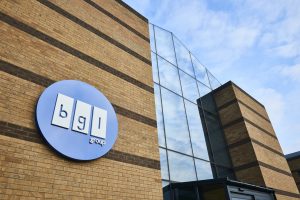 Employment opportunities exist at all levels, from career starters and career changers through to graduates and experienced professionals. This is all supported through the BGL Academy, a recruitment and development programme that ensures those who join can realise their full potential. The BGL Academy is always on the lookout for talented and ambitious people to help build the business – that could be you!
The point? To develop the professionals of the future, by sharing the wealth of experience existing within BGL's talented and driven workforce. There's no sink or swim here – every new graduate or apprentice is given dedicated training in a supportive environment, with tailored learning opportunities that include industry-recognised qualifications fromawards and diplomas to post-graduate degrees.
There are opportunities for people of all ages and levels of experience, and BGL is proud to offer that nurturing approach, with mentoring from professionals at the top of their game. Their apprenticeships are sector leading and are helping many individuals to kick-start or re-start their careers.
A modern apprenticeship
Apprenticeships are an exciting alternative to university and, unlike many career paths, offer the chance to impact the success of the business from day one. Consistent learning on the job helps to steadily build confidence and skills, turning apprentices into the industry experts of tomorrow.
BGL apprentices are valued as individuals but the best news is that anyone can become one! All that's needed is the determination to get on and succeed and the personality to match those BGL core values. And they really do mean anyone: school leavers, parents returning to work, those looking for a complete change in career, or even existing BGL employees hoping to advance their careers.
It doesn't matter what level of qualifications you have, if you have the right disposition there's an apprenticeship for you. Bring the dedication and the apprenticeship programme will support with the skills and knowledge you need to build a bright future, and gain those vital qualifications whilst being paid to do it!
Open doors
BGL offers a wide range of apprenticeship programmes that can lead to any number of career opportunities. Fancy designing code for comparethemarket.com, developing insurance policies, or handling customer relations at one of Europe's leading contact centre? There'll be an apprenticeship to set you in the right direction:
Digital: Digital is at the core of the BGL business, which is why this apprenticeship programme was created. Gain the skills needed to meet future business needs while studying aspects of digital, data and marketing.
Technology: Help to push the boundaries with the latest cutting-edge technologies designed to deliver the best for customers. Gain knowledge end experience in anything from project management to cyber security, while learning from the tech experts.
Financial Services and Insurance: Insurance is about helping people to protect what's important to them. Apprentices on this programme learn all about insurance, market risk and regulatory frameworks while gaining commercial awareness.
Customer Services: Join a team obsessed with delivering exceptional customer service! Gain the skills to work in a fast-moving environment. Study the financial services market and everything customer, and work towards a recognised qualification.
Professional Services: There are many Professional Services Apprenticeship options available. Experience working in several BGL support areas, including Finance, Human Resources, Legal, Risk and Compliance, then specialise in your chosen field.
Business Pathway: This scheme offers the chance to work in a number of areas within the organisation before making your career choice. Work towards a Certificate in Insurance qualification and gain experience through structured placements and rotations.
If all this makes you curious to find out a little more, read on! Over the page we'll talk to two of BGL's apprentices to find out what life on a BGL apprenticeship is really like, before unveiling an exciting new apprenticeship scheme which is recruiting now and for launch this September. Be part of a forward-thinking company that works hard at putting people first – and have some fun along the way.
Discover more about the BGL Academy and start your own journey at bglgroup.co.uk/careers/bgl-academy
---
An alternative to uni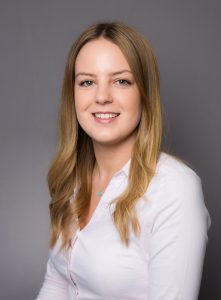 Keeley Tansley didn't fancy the idea of getting into debt. So she chose an apprenticeship on the Business Pathway. Two-and-a-half years later she's secured a job and is going places
Many school leavers head to university after finishing A-levels. Why did you choose a different path?
I had every intention of going to uni and had secured a place studying Business Studies. But then someone from BGL presented the Business Pathway programme to us at an assembly, explaining how apprentices got to move around the business as they gained on-the-job experience. I much preferred the sound of that to learning 24/7, so I put my name forward, was selected for interview and got the place.
It made financial sense too. I have friends who decided to go to uni and after comparing what I'm able to do in my free time with what they're able to do, I can see that following this path has definitely made sense.
What was the programme like and where are you now?
I've been at BGL for about two-and-a-half years. I was on the programme for two years and it was in my final placement that I secured my permanent role, as a Corporate Partnership Executive.
My first placement was in the Contact Centre. Anyone one who joins the company starts with a three-week induction, where they learn all about the various products and policies. This includes things such as how to talk to people on the phone. After three weeks of learning I was trusted and capable enough to start some real work, actually on the phone, talking to real customers.
Before coming to BGL I'd had a part-time job in customer service, but that was face-to-face. Making the move to speaking to people on the phone, where sometimes people aren't always as polite as you'd hope, was a challenge. But it was a really good place to start, because in the placements that followed I could really appreciate what effect that job has on everything else on the business.
What other placements did you try?
I then went into Call Centre Planning. This is the team that handles all the calls coming in and decides which should be delegated to which teams.
My final placement was on the team that handles the relationships with our insurance partner brands. In my role as Partnership Executive I now work on the administration aspects of this, so things like tracking performance, organising meetings or making sure everything is running as it should be by, for example, looking at process improvements.
What sort of support did you get as you moved through the programme?
As well as a line manager at each placement, I had an Academy partner, who I could go to with any questions about the Business Pathway programme itself. So there was always someone else aside from the person you reported to on a daily basis. New entrants into the programme now also get a mentor – someone who's already been through the process, knows what it's like and can offer advice based on that personal experience.
And what advice would you give to those leaving school in the next year or two?
Keep your options open. University isn't the only way to get on; you can learn on the job and do just as well. You don't necessarily have to study for another three years. Some schools hammer home the idea of university as the only option, which isn't fair. I don't know what position I would be in if I had decided to go to uni after all – I'd have only just finished and would be substantially poorer!
---
People person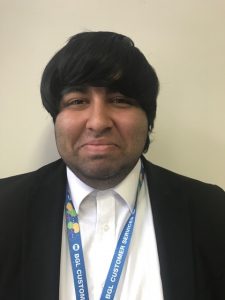 Ali Ayoub has always been a people person, so a Customer Service Apprenticeship couldn't have been a better fit. Less than a year after starting, Ali knows he's made the right choice

What were you up to before joining BGL Group and why did you make the change?
I worked at a gaming shop. It wasn't that interesting – I was more or less working on the till. It was still customer focused, but nothing like speaking to someone over the phone.
My sister worked at BGL and she told me how much fun it is to work here, and how many options there are – it's not just a contact centre! I looked at the website and the first thing I saw was the annual BGL ball, which celebrates achievements within the company. It looked amazing and I could see there were plenty of other things going on here. I thought, why not just go for it and apply to the apprenticeship scheme?
How did you find the recruitment process?
I applied online and got a call back within the week inviting me for an interview. When you think of traditional interviews, you can understand why I was quite nervous. But it wasn't at all as I had expected. The interview was a full day of different exercises designed to help BGL get to know you. About 20 of us were interviewed at the same time. Activities included things such as building a tower with a limited amount of equipment, and then there was a shipwrecked exercise – all testing how you'd react in different scenarios. About five days after the interview day I got another call saying I'd got the job!
And congratulations to you Ali! So what have you gained from your apprenticeship so far?
There are two elements to it: learning on the job by doing what everyone else is doing, then studying for a day a week. During our studies we learn all about insurance: its history, how insurance applies and to what situation. This additional training has meant I can offer an in-depth explanation as to why we do things in a particular way. It's allowed me to do my job a lot more easily and more efficiently.
What's the atmosphere like in Customer Services? Is it lively?
The atmosphere is probably the best part about this company! Another is the supportive environment I've found here. At no point have I felt left out or struggling. Whenever I have an issue with a client or a query about my work I know I can go to my team manager, Terri, who is absolutely fantastic. She's always there to help. But it's not just Terri – it could be anyone on my desk who is working with me at the same time. They won't be afraid to drop by and ask me how I'm getting on. I've always got the opportunity for help whenever I need it.
What is the best part of your experience at BGL?
Insurance is quite a big area, but it's fairly easy to learn. So for me it's the customer side of it that I really love. Getting on and selling the insurance and speaking to the clients, that's the fun part. You meet some real characters over the phone. Of course, there are always some challenging clients – many types of insurance are compulsory, so not everyone is going to be in the best of moods when they talk to you.
Another thing is the training I get, which is fantastic. As an apprentice I receive more training than other colleagues. Terri regularly books in one-to-one sessions to explain different areas of the job. Or if I have a difficult phone call she'll go through it with me, explaining what I could do better next time, or how to make the situation easier for myself and the client. It's all about building up knowledge and experience: always helping ourselves to help other people.
---
Makers Academy
Are you passionate about coding or itching for a fresh challenge? BGL's new Junior Software Engineer roles could be what you're looking for.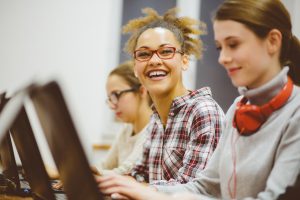 Junior Software Engineer roles are new apprenticeship opportunities to launch your career into software engineering. Being a software engineer is more than just working with computers, it's about solving problems. This requires creativity and collaboration – something machines aren't especially good at!
Apprentices will take part in an innovative scheme that includes the chance to attend one of Europe's leading Web Developer bootcamps with Makers Academy in London. You'll then be ready to start your career at BGL and join one of more than 30 existing Junior Software Engineers.
Let your skills shine
Core to the programme is the 12-week bootcamp at Makers Academy. This elite coding academy will give you a solid foundation in coding to progress to Level 4 Software Developer Apprenticeship standard. From here you'll return to Peterborough to continue your apprenticeship. You'll have the opportunity to work within a small, agile team and develop first class software engineering solutions, all while having access to a wide range of technologies.
The expectations are high – these apprenticeships have a focus on self-learning and the aim is for everyone to achieve distinction. In return you can expect a competitive salary and an excellent benefits package from day one. On completion you can continue your journey towards a Software Engineer role. If you've got dedication, resilience and a passion for a career in tech, BGL Group wants to hear from you.
Pursuing her passion
18 months ago Connie Reinholdsson decided to leave her job to pursue her passion for coding. Now she's almost a year into her role as a Junior Software Engineer – and she hasn't looked back! Here's her story.
The transition to Junior Software Engineer involved leaving my job, completing the Makers Academy course and being offered a role at Compare the Market. Emotionally, it required building my confidence, taking a risk and trusting my intuition. Needless to say, it's been a life-changing decision.
When I started working for Compare the Market I had no idea what to expect. I'd never worked in a software engineering team before, and despite my 16 weeks' experience in web development at Makers Academy, I had a feeling things could be quite different in the real world. But the scariest part was that I ended up joining the mobile development team which involved a range of technologies and programming languages I had never worked on. Talk about being thrown into the deep end!
Having worked in the mobile team for almost a year, one thing I can say for certain is that I've been pleasantly surprised. There were no expectations on us at the start and the first three months were completely dedicated to learning.
A year on, I've covered most of the basics to develop a range of apps. And not only that, I got the opportunity to speak on behalf of Compare the Market at the European Android conference Droidcon which was a fantastic experience!
Overall, I've truly felt part of the team from day one. I had some concerns about working as a woman in the tech industry, which is still quite a male-dominated industry, but the team have shown me more support than I could have ever asked for.
It's been challenging at times of course. There's a lot to learn and programming can be mentally exhausting at times, but being put outside of my comfort zone to this extent has been extremely rewarding. I still can't quite believe that I get to wake up every single day and code, build applications and learn a lot of cool stuff for a living!

Makers Academy
For more details about the apprenticeships with Makers Academy or to review the application process visit: apprentices.makersacademy.com/bgl
Leave a Reply