BBA – the small architecture practice with big plans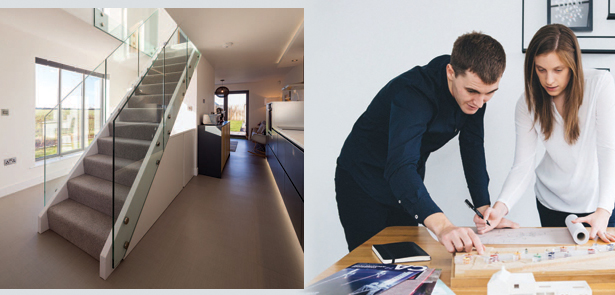 Based in Yaxley, Butcher Bayley Architects (BBA), is the local architecture practice with big experience. Together, Luke Butcher and Carrie Bayley deliver projects of all sizes, from site masterplanning right through to interior design
As individuals, both Luke and Carrie have storied careers already – having e ach worked for award-winning national architects on projects ranging from £150,000 to £150m – before establishing BBA together in 2016. We spoke to them about the business, their work and their plans for the future.
Delivering quality with care
"We founded BBA because we wanted to work on our own projects that allowed us to develop new and exciting ideas and deliver them to clients directly." Luke starts: "We're passionate about the importance of building relationships with clients as well as their projects – we're rooted in that collaborative approach."
Carrie continues: "One of the aspects of our offering that clients enjoy is that we can provide a full service; from liaising with councils to securing planning application, to choosing the perfect design details to complete the project. That takes a bit of the load off from those who are completing their first ever extension or re-design. "We understand too, that we're often working on projects that people have dreamt about for years, so we take particular care in making sure we make their project a reality."
Those projects range from breathing life into a conservatory-kitchen located in a Conservation Area in Cambridge; to the full design of a pair of semi-detached houses on the site of a former Anglian Water Pumping Station in Yaxley. "We've been lucky to work on some exciting, innovative projects already." Luke says: "Each project has its own challenges, but whether we're working on an individual property or a commercial site – we have a set of clear processes in place. That means every project, big or small, gets the same attention to detail from us."
Giving back
The company is strong on giving back too, being involved in a number of charitable initiatives – none more so than their close support of local mental health charity, Young People's Counselling Service (YPCS). BBA is currently providing input and expertise on the design of the charity's first Annabelle Davis Centre, which will be a community hub for the charity to deliver its vital services to children in the region.
"Being involved with charities like YPCS is important to us – because we believe in supporting the communities in which we work; and the causes that have a positive impact on the people in those communities." They're also invested in the future of architecture – with Luke having lectured at the Manchester School of Architecture and Loughborough University, among others and Carrie having previously taught at the Cambridge School of Art.
Carrie speaks about their educational roles: "Surprisingly, the world of architecture hasn't always been great at providing realworld experience to students; so much of our work with universities like Loughborough, has been to give students that insight into architecture in action. It's a role we both enjoy, and the standard of the students we see is really high."
So what does the future hold for BBA?
Luke concludes: "We want to continue growing and working on exciting projects. Carrie has experience working on large-scale housing developments and I've worked on projects from primary through to higher education, so we'd like to see things develop there. Ultimately our goal will always be the same, we want to keep delivering highquality projects for our clients whoever and wherever they are."
● To find out more about BBA and their services, visit the practice's new website www.wearebba.co.uk
Leave a Reply